Add to Favorites
Watch our recipe on the youtube channel. Yummy recipes will be coming your way soon. Coco Mango Tango yummylicious dessert easy, simple and quick You'll love it.
This is the harvesting season of mango, and who doesn't love mangos. I guess no one. Mangos are known as the king of the fruits. So, we decided to make a recipe with the delicious flavor of mango with its sweet, rich flavor.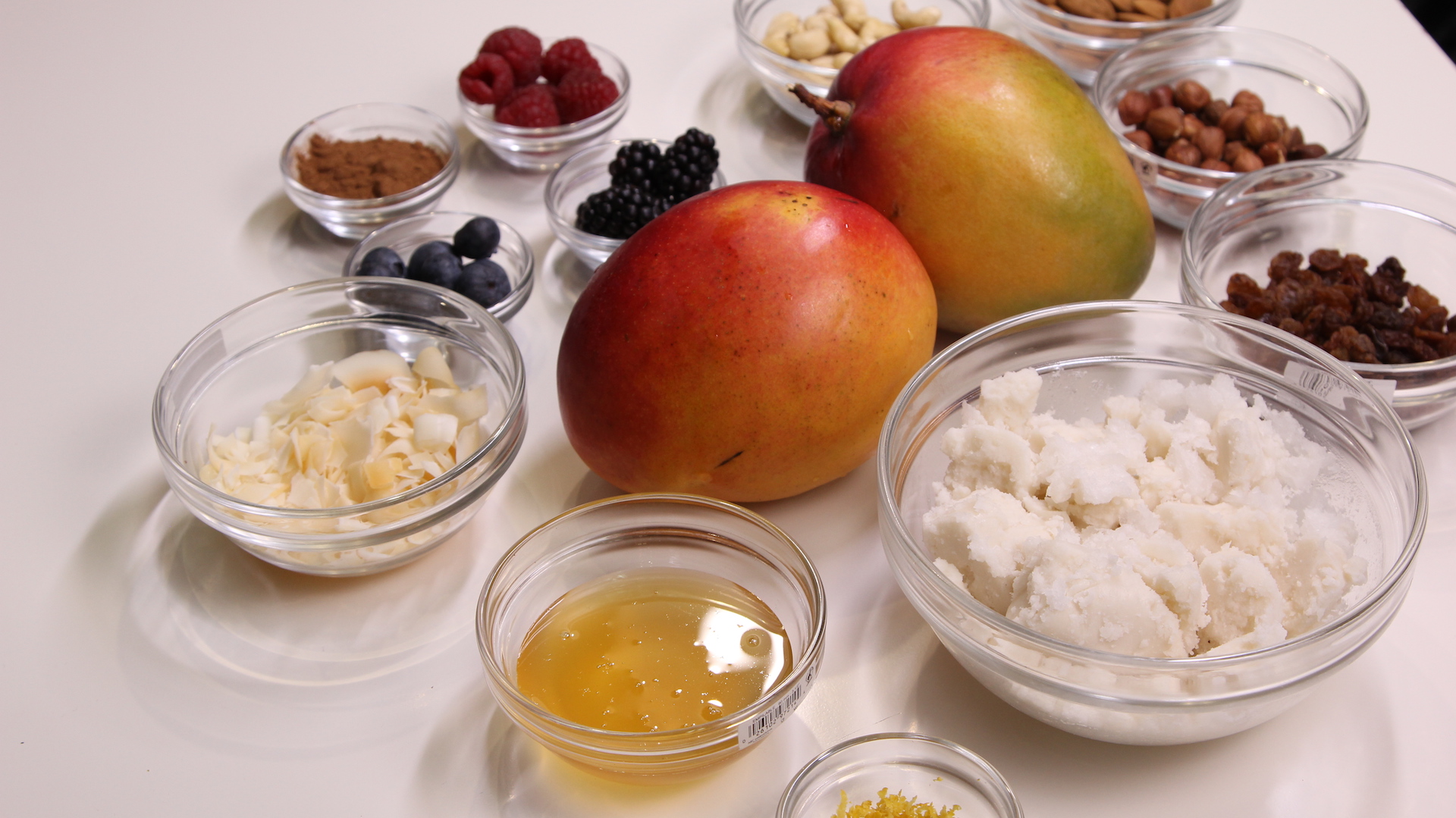 Print Recipe
CocoMangoTango
Coco Mango Tango, as the name suggests, is a perfect blended super healthy treat for any occasion, especially for your sweet tooth kids and partners. Rich cocoa and mango flavors with a touch of lemon give a burst of flavors.
Ingredients
Nutty crust base

1/2 cup Almonds roasted

1/2 cup hazelnut roasted

1/2 cup Cashewnut roasted

1/4 cup raisins

1/4 teaspoon salt

The filling

1/2 cup coconut cream

1 tbsp coconut butter

2 medium ripe mangoes sliced

3 tbsp rice syrup (if not available use maple syrup or honey)

Juice of one lemon (optional)

Topping

1 cup wild berries, coconut flakes, or chips

1/2 cup of shifted carob or cacao powder for the surface

Zest of one lemon
Instructions
1
Place all the roasted nuts and raisins for the crust base into a blender and blend until coarse mix. Please don't over blend it, as it will get smooth, pasty, and oily. Just keep it crunchy and chewy enough as your kids, and you like them. Then divide them into four parts.
2
Place each part into a clear glass cup and press it gently to form the base.
3
Place all filling ingredients blender and blend it until smooth.
4
Pour an even portion of the smooth pulp filling into each cup with "feeling." Remember, all the positive energy in the food will make you feel good.
5
Place some carob powder on a small sieve and dust carob or cacao powder over the surface of the mousse into each cup.
6
Use a fine strainer to gently sieve carob or cacao powder over the filling on the surface of each cup. Then sprinkle some of the lemon zest, or you may scrap the lemon skin directly over the surface of each cup.
7
Garnish with berries. Enjoy!
Notes
You can add any topping of your choice, feel free to experiment.