Add to Favorites
Cashew Berry Pie.
There are three parts to this delicious pie. First layer for the base with nuts, the second layer with coconut cashew cream, and the third layer with coconut milk and coconut sugar with berries.  It is quick, easy and amazinglicious. All you need is a regular blender to blend the nuts until it's smooth and the ingredients and a touch from your warm heart.
This delicious pie is made from raspberries and cashews that make it a perfect vegan niced treat for vegetarian lovers. The raspberries used in making this pie come from the raspberry fields that we grow ourselves.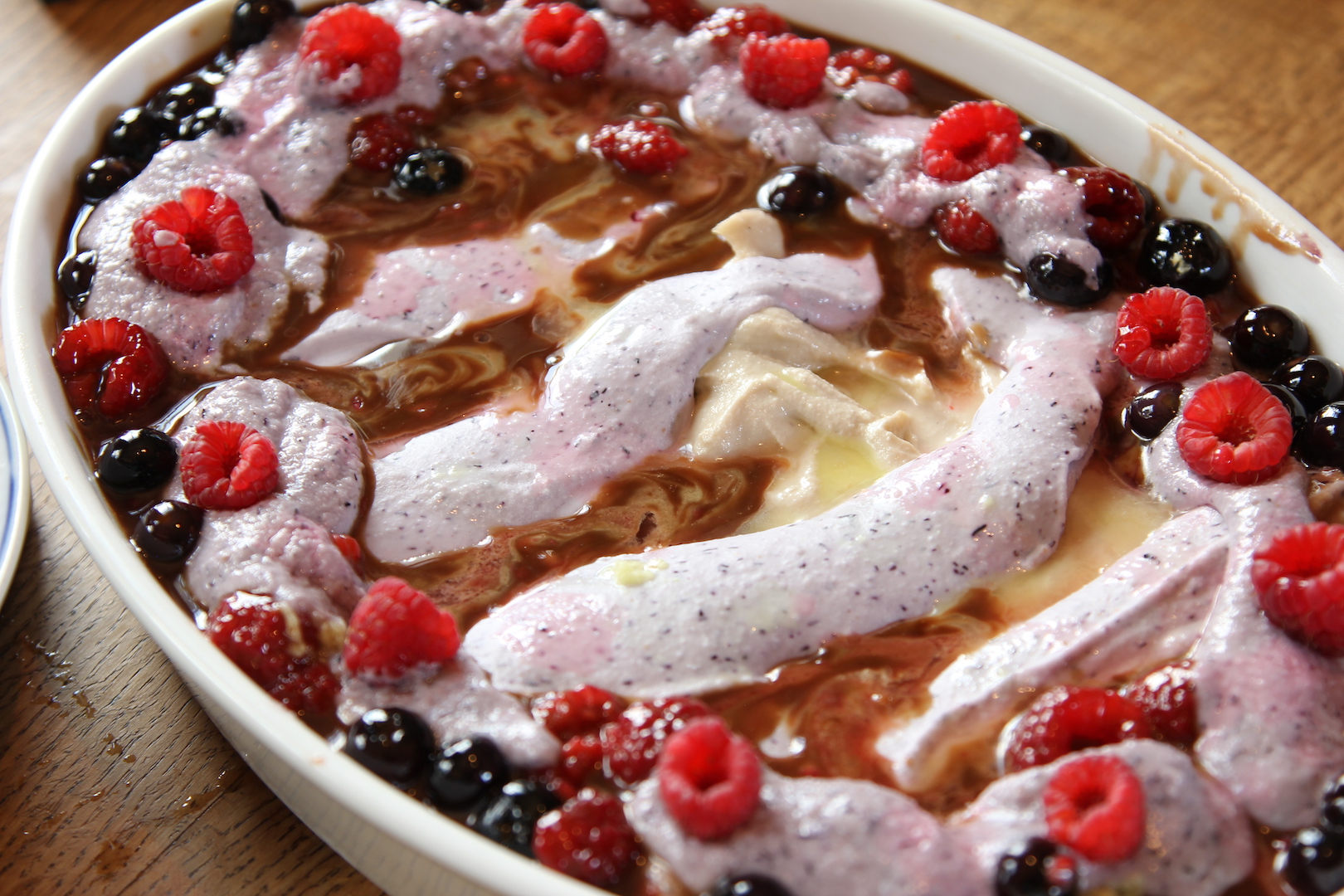 Print Recipe
Cashew Berry Pie
The ultimate go-to dessert that is loaded with healthy benefits. Try Cashew Berry Pie to satisfy your sweet cravings.
Ingredients
First layer Base

pinch of salt

1/2 cup raisins

1/2 cup brazil nuts

Juice of half a lemon

1/2 cup of walnuts raw

1/2 cup of pecan nuts raw

6 large soft Medjool dates

1/2 cup roasted cashew nuts

Second layer Cream

pinch of salt

Juice of one lemon

1/2 cup blueberries

1/2 cup raspberries

2 Bars of coconut cream

1/2 cup of rice syrup or honey

1 tablespoon of finely grated lemon rind

2 cups raw cashew nuts soaked for 3 - 4 hours in the water

Third layer sauce

1 cup blueberries

1/2 cup raspberries

1 cup of coconut milk

1/2 cup of coconut sugar

1 tablespoon coconut butter (normal butter optional)
Instructions
1
Blend all the nuts until slightly coarse and crunchy; form then adds raisin and dates to the crushed nuts. Next, blend them as well until you see lumped nuts all crushed and mixed with dates and raisins will be used to make a base for the pie.
2
On a tray spread, the nut mixture on the tray and firmly press it into place, spreading it evenly on the tray and set it aside for the next layer of filling.
3
The second layer consists of coconut cream, a part of cashew filling, mixed with blueberry and raspberries.
4
Blend the soaked cashew with coconut cream, rice syrup or honey, lemon juice, and rind of lemon skin. You need to blend all ingredients until they are smooth paste.
5
Pour half of the paste over the nut base to form a layer.
6
Now add the rest of the berries into the half of the cream and blend again until smooth.
7
Pour this over the cream layer allow it to chill in a refrigerator for an hour.
8
Now you have a nutty base, cashew, and coconut cream layer, a layer which is purplish after blending with blueberry and raspberries.
Third layer Berries with coconut sugar caramel
9
Melt the coconut sugar over low heat, As it melts add coconut milk and berries and mix them such that the berries have a coat of caramel.
10
Remove the tray from the refrigerator with coconut cream, which will be hardened by now.
11
Pour the fruit caramel over the frozen cream layer and garnish with some of the berries.
12
Or you can place it back into the fridge until it's ready to be served.
Notes
When it's ready to serve, cut out a piece, and you will see lovely layers of different colors. The flavour of coconut milk mixed with coconut sugar is a heavenly combination; it is a surely a yumm recipe. 🙂 You will certainly impress your friends and family with this raw natural nuts and berry delight.