Add to Favorites
Who doesn't love potato wedges? They're easy to eat, perfect finger food, and accompaniment for plenty of savory dishes. But let me tell you something I think is even better- Sweet Potato Wedges! They're healthier and, actually, even tastier. For this recipe, the nutritious grilled sweet potato wedges with spices make you go "Mmmm!" once it hits your tastebuds.
Once you sink your teeth into these, you are met with a crispy exterior from the corn semolina. The smoked paprika mixed with the rest of the spices with peanut oil gives it an exceptionally unique and smoky flavor. The natural sweetness from the potato makes it even better.
Give these healthy orange tuber roots a chance, and you will love them. There needs to be more appreciation for this root vegetable with enormous health benefits. They are rich in exceptional nutrients. Sweet potatoes are rich in antioxidants, minerals, fiber, and vitamin A, giving the orange color from beta-carotene and vitamin B, essential for the nervous system, and vitamin C.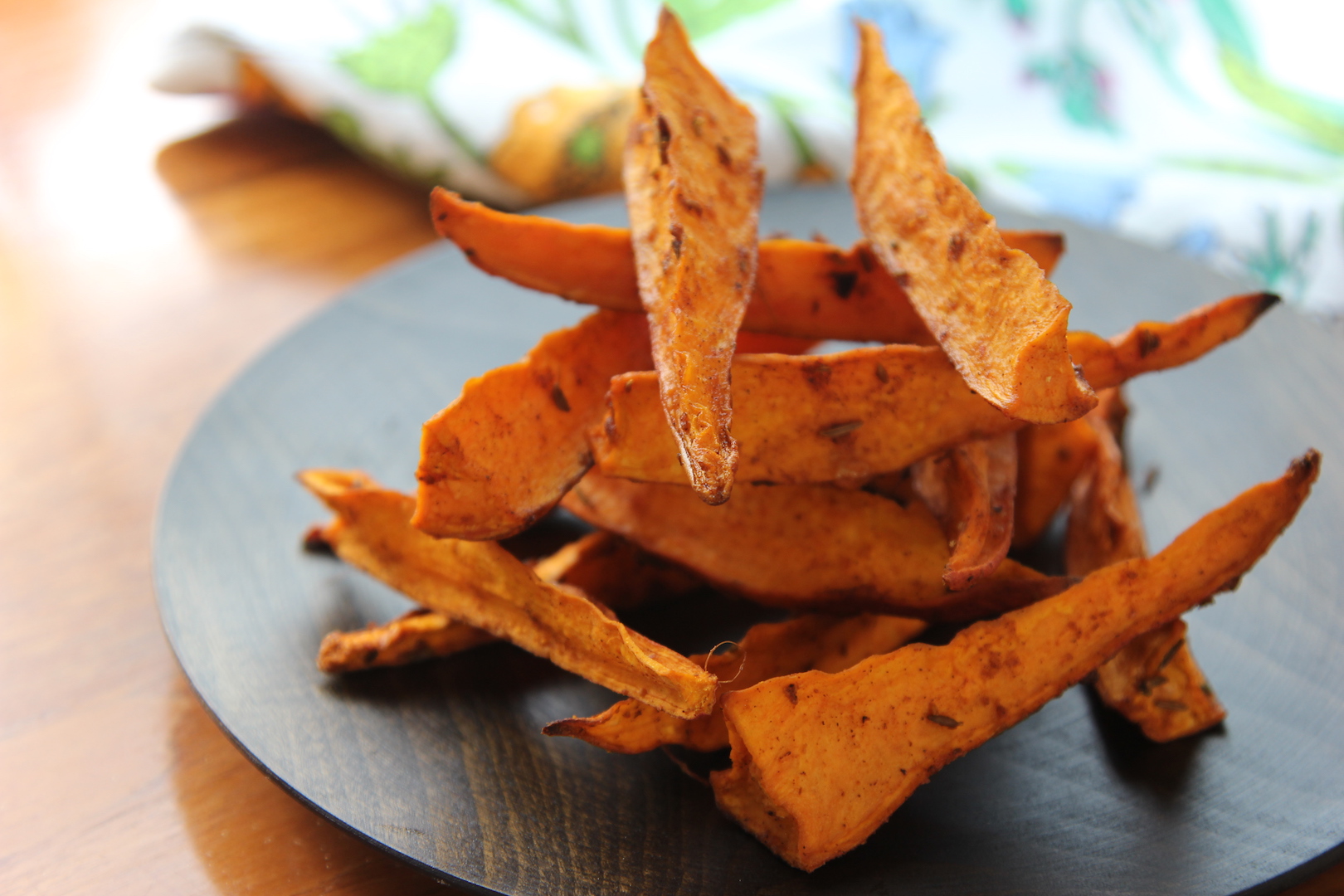 Print Recipe
Ingredients
2 medium sweet potatoes

1 tsp smoked paprika (Hungarian variety is one of the best)

1/2 teaspoon ground ginger

1 teaspoon fresh or dried mint

1/2 tsp himalayan salt

1 tsp coriander powder

1 tsp turmeric powder

2 tbsp rice or corn semolina

1 tbsp peanut or coconut oil

Freshly ground black pepper

Handful fresh mint leaves, chopped, to garnish

1/4 cup goat or sheep cheese crumbled as a side dish mixed with olive oil, lemon juice and sprinkle of pepper

(optional or use cheese of your choice)

For the dip

Salt and pepper taste

1 ripe avocado, peeled, pitted, cut into cubes

1/2 lemon, juice only

1/2 juice of an orange

2 tablespoon peanut oil

1 tsp cumin for garnish

1 tbsp of the zest of orange or 2 drops essence of orange (do-terra)
Instructions
1
In an oven preheated to 180 °C/356°F.
2
Wash the sweet potatoes thoroughly and cut into bite-size wedges.
3
In a bowl add all ingredients pour some peanut oil, season with salt, pepper, give it all a thorough mix with your hands, or you can toss them up very well to have an even coat of spices on each wedge.
4
Then on baking tray place vegetable or parchment paper arrange the wedges of potato evenly in one layer and bake for 30 to 40 minutes, or until it's nice and crisp.
5
As the wedges are in the oven, you can prepare the avocado orange lemon dip. Mmmm.
6
Pick two nice ripe avocado, cut across and remove the pit scoop out the flesh from the hull place into a bowl.
7
With a fork smash until it's a coarse paste, add orange juice, lemon juice black Himalayan salt and make into a puree. If you like smooth blend it with all ingredients
8
You can serve the hot wedges, with a garnish with cumin and mint leaves powder with avocado mash.
Notes
You can also make wedges with Yams, Tapioca, and regular potatoes Ginger powder has the capacity to balance the three "Doshas" as in traditional Ayurvedic medicine and aid in the digestion of food.