Add to Favorites
Easy Raspberry Jelly Tart  
You can do these quick gel pies with pulpy fruits, papaya, blueberry, mango, strawberry, melons, etc.
when we made this recipe at the harvest time we first spend a lot of time collecting raspberries one fruit at a time from the plants. We have huge fields of raspberry that have almost 3000 berry plants. We harvest them in May and June. There was so much raspberry we made all sorts of desserts. This raspberry jelly tart was given to many volunteers at farmer's markets in Portugal and Covilha.
All of them loved the tart, especially the young people who have sweet tooth. It was loved by people who prefer vegan foods but don't know how to cook.
Raspberries are delicious any time of year, whether fresh or frozen. These beautiful gems aren't just tasty and versatile; they also have an excellent nutritional profile, making them one of the healthiest fruit options. More than half of the daily vitamin C requirement is found in one cup of raspberries, which helps to boost immunity, skin health, and collagen synthesis. Raspberries also include manganese and vitamin K, both of which are crucial for bone health. The levels of vitamin E, B vitamins, magnesium, copper, iron, and potassium are all decreased.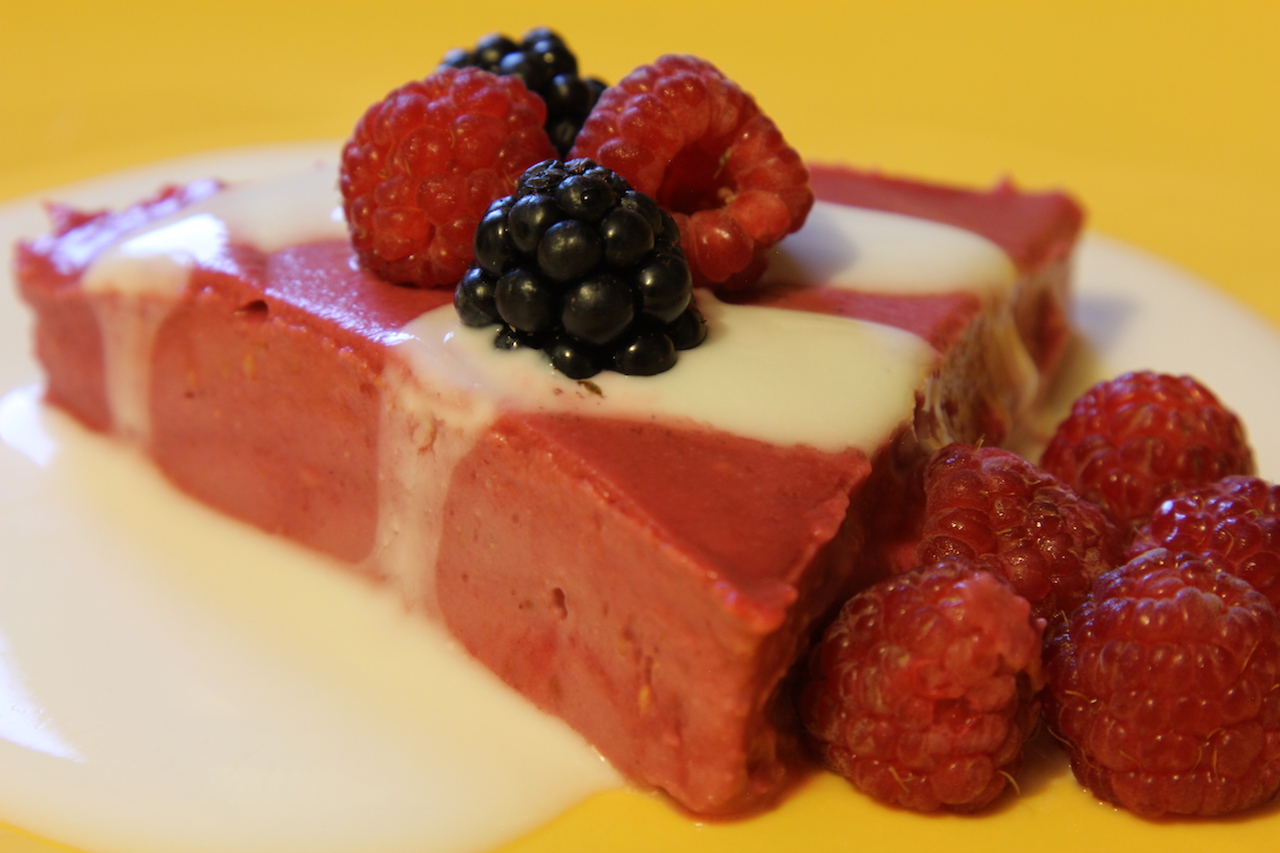 Print Recipe
Raspberry Jelly Tart 
So quick and yet so pretty! Can't beat this for a last-minute dessert. A delicious Pie that will bring pleasure to your taste buds. Go ahead and give it a try.
Ingredients
2-litre Organic Raspberries

1/2 cup lemon juice

2 cups of rice syrup

2 tbsp agar agar

1/2 cup water
Instructions
1
Place all fresh raspberries in a blender with rice syrup and lemon juice
2
In a small pot add water and bring to boil and add agar-agar
3
Keep stirring until it all melts and forms a clear fluid
4
Add to the raspberry in the blender and blend until smooth.
5
Pour the smooth raspberry gel into a round tray and allow it to cool and firm.
6
Then it ready to be sliced and served with few raspberry fruits on top with some coconut milk.