Add to Favorites
This Vegan Farofa Especial goes well with Feijoada, a black bean stew. Slightly buttery, quite toasty, and slightly crunchy, the Farofa adds a beautiful element to the meal as a side dish. For this recipe, the traditional method is grinding the Tapioca root into a coarse flour called Mandioca or Mandioc flour. Feijoada and banana farofa are delicious mixes commonly served in Rio de Janeiro. In Brasil, you can customize farofa with any ingredient of choice. 
There are various ways to make Farofa, and different types of Tapioca flour can be used. In Brazil, you can find white or roasted mandioca flour has a nuttier taste. Untoasted flour is milder in flavor. You can choose the type of flour you will use according to your preference. Farofa is also sometimes made with maize semolina, and many cultures worldwide use semolina of wheat, corn to make a relish with vegetables. 
Tapioca flour/manioc starch is usually used to make delicious "Pãos de Queijo" (Brazilian cheese rolls or balls)! There are various brands to choose from. One of the popular brands is Yoki which is used in this recipe. You can also use corn or wheat semolina to replace the Brazilian version of manioc.
This easter Farofa recipe is made with white mandioc flour and toast with coconut butter with poppy and sesame seeds. Look for coarse manioc/yucca flour (Farinha de mandioca) when making this recipe. Farofa especial is an easy, fun recipe to make with the different colored vegetables. Read on to learn how to make Farofa!
There's also a great
Banana Farofa
recipe available on this site.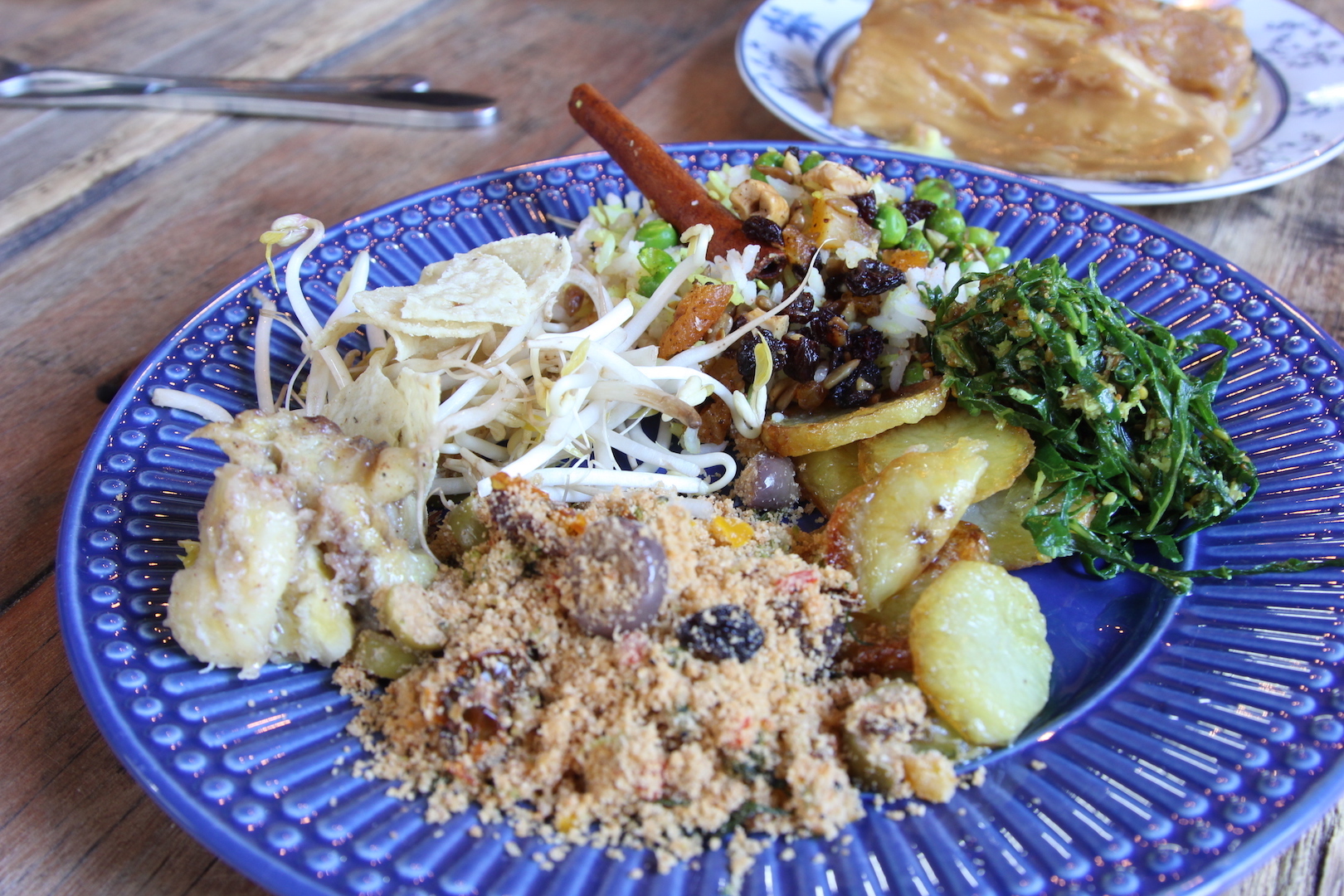 Print Recipe
Farofa Especial
Tapioca is perfect food for Upavasa / Vrata. While it is easy to digest, it is a good energy source, filled with carbohydrates, some protein, and some nutrients. It's also rich in calcium and vitamin K, which are essential for bone health. Tapioca is also gluten-free, which is a factor in digestion.
Ingredients
4 cups farofa flour

2 cups broccoli florets

1/2 cup capers

1/2 cup raisins

1 cup black olives, sliced

1 cup green olives, sliced

1 cup red bell pepper, diced

2 tbsp olive oil

A dash of salt

A dash of pepper
Instructions
1
Heat olive oil in a wok or wide pan over medium heat until hot but not smoky; add the capers and sauté for a minute.
2
Add the raisins and sauté for a minute as well.
3
Add the black and green olives and sauté.
4
Then stir in the broccoli florets and sauté for about 5 minutes or until the broccoli is cooked.
5
Add the bell peppers and sauté for 2 minutes.
6
Once you see that there is some liquid forming in the wok, add farofa flour.
7
Gently fold the ingredients together with a spatula until everything is loose and casually formed.