Add to Favorites
By chance, during the lockdown, instead of using the batter to make dosa, I thought, let's try the dosa batter on the newly bought waffle maker, sitting right on the table where I was going to make dosa. And what a surprise, the waffles came out superb. Utterly gorgeous, crispy, crunchy, light golden brown, with all the characteristics you want of a genuine waffle. 
The simple urad dal is Southern India's basis for the most popular dosa, and dal makhani in northern India is popping up everywhere! From countless curries, gravies to plates of pasta and raw sprout in salads! The urad dal originated in India and has long been a staple in Indian cuisine. 
Urad dal versatility is boundless.  You can even make marvelous gluten-free bread out of this batter to form a dough with the right blend of rice flour. Let's get you initiated with the black skin urad dal and white inside. It is sometimes called black mung bean, or black lentils, grown in the Indian subcontinent.
You can use this dal for making splendid meals like healthy burgers with the combination of gram flour from chickpea flour. In this blog, I've used urad dal as a popular alternative to dishes like Bacalhau a Gomes Sa,  Vegetarian Fillet 'o' fish, and béchamel sauce, among many others. 
At lunch, we enjoyed these urad dal waffles with a sweet and savory topping. It's perfect for breakfast, snacks, or as part of a meal for brunch when they're savory. Click on the link to see how to make pancake and savory sauces. 
What Ayurveda says
Urad dal's health benefits are noteworthy, and integrating this lentil into your diet is recommended. It proffers an impressive range of advantages and is also a culinary delight. It also is known for its potent strength promoting and nourishing properties as a cardiac tonic and as a medicine to treat sciatica, asthma, fatigue and debility, constipation, Parkinson's disease, and as an integral part of Panchkarma therapy.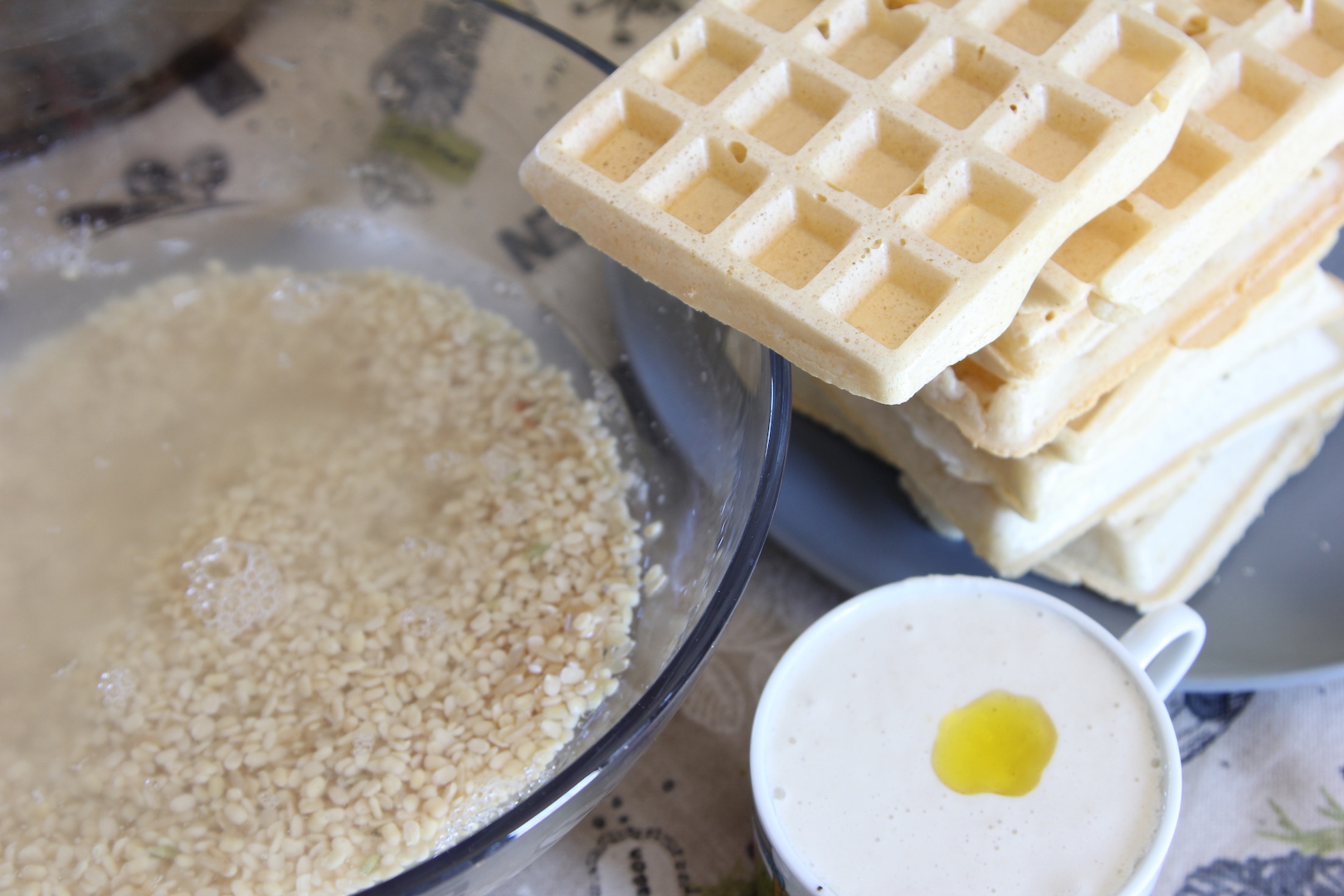 Print Recipe
Urad Dal Waffles
The daily consumption of urad dal provides adequate calcium, iron, vitamin B, and other bone-building minerals. As a result, you will achieve high bone mineral density, avoid osteoporosis, and have excellent bone health. Diabetes can be avoided by eating urad dal, and patients can safely consume it for its excellent ability to control glucose levels. Nutrition in black gram: Urad dal is primed with high-quality protein, potassium, iron, niacin, magnesium, calcium, riboflavin, and thiamine. 1 cup of dal (100 grams) gives - 25g of protein, 982 mg potassium 138 mg calcium, 7 mg iron, 1 mg niacin.
Ingredients
Urad Dal Batter:

2 cups urad dal

1 tbsp coconut or olive oil

Salt to taste

Sweet Filling:

1 tsp maple or rice syrup for each waffle (or raw honey for non-vegans)

Fill up to the heart's content with your favorite berry or any sweet sauce.

Savory Filling:

1 tbsp Pesto sauce or chickpea sauce.
Instructions
1
Soak the beans for 4 hours in water.
2
After soaking, blend the beans with some of the water that the beans were soaked in until you have a smooth yet thick consistency.
3
Add about 1 tbsp olive oil or any oil of your choice to the batter, and season with a pinch of salt and mix well.
4
Pour a sufficient amount of batter on the waffle maker (3 tbsp) and close the lid for 5 minutes.
5
After 5 minutes, open the waffle maker lid. Once the waffle has at least a pale golden color, you can remove it from the waffle maker. You can also opt for a deeper golden brown color if you prefer by closing the lid and leaving it to cook for longer (about a minute or so, depending on your preference)
6
Once cooked, place the waffles on a plate and serve with your choice of sweet or savory toppings or fillings.