Add to Favorites
If you are looking for a nutritional powerhouse in the name of hummus, then our Raw Chickpea Sprouts Humus is precisely what you need. This creamy, fluffy, and flavorful hummus is packed with energy-boosting, gut-healing nutrients and a ton of protein and fiber. 
Sprouting raw chickpeas magnifies their mineral and vitamin content; using them raw helps keep their nutritional profile intact. The sprouting process also does one essential thing: neutralizes their naturally occurring anti-nutrients, which they use as a defense mechanism to keep them from being eaten by grazing animals and insects. It takes two days for the chickpeas to sprout.
The fact that you won't be doing any cooking means the preparation process will be a breeze. If you have made cooked chickpea hummus and loved the creaminess of the hummus, and are apprehensive that using raw sprouts will not yield the creaminess, I can reassure you that you will be pleasantly surprised. The raw chickpea sprouts render a very fluffy and creamy hummus with a light fermented taste.
Combined with prunes and agave syrup, it produces a delicious balance of savory and sweetness, carrying this hummus to another level. Well, now, let's jump right into the recipe so you can get the chance to enjoy this goodness by yourself!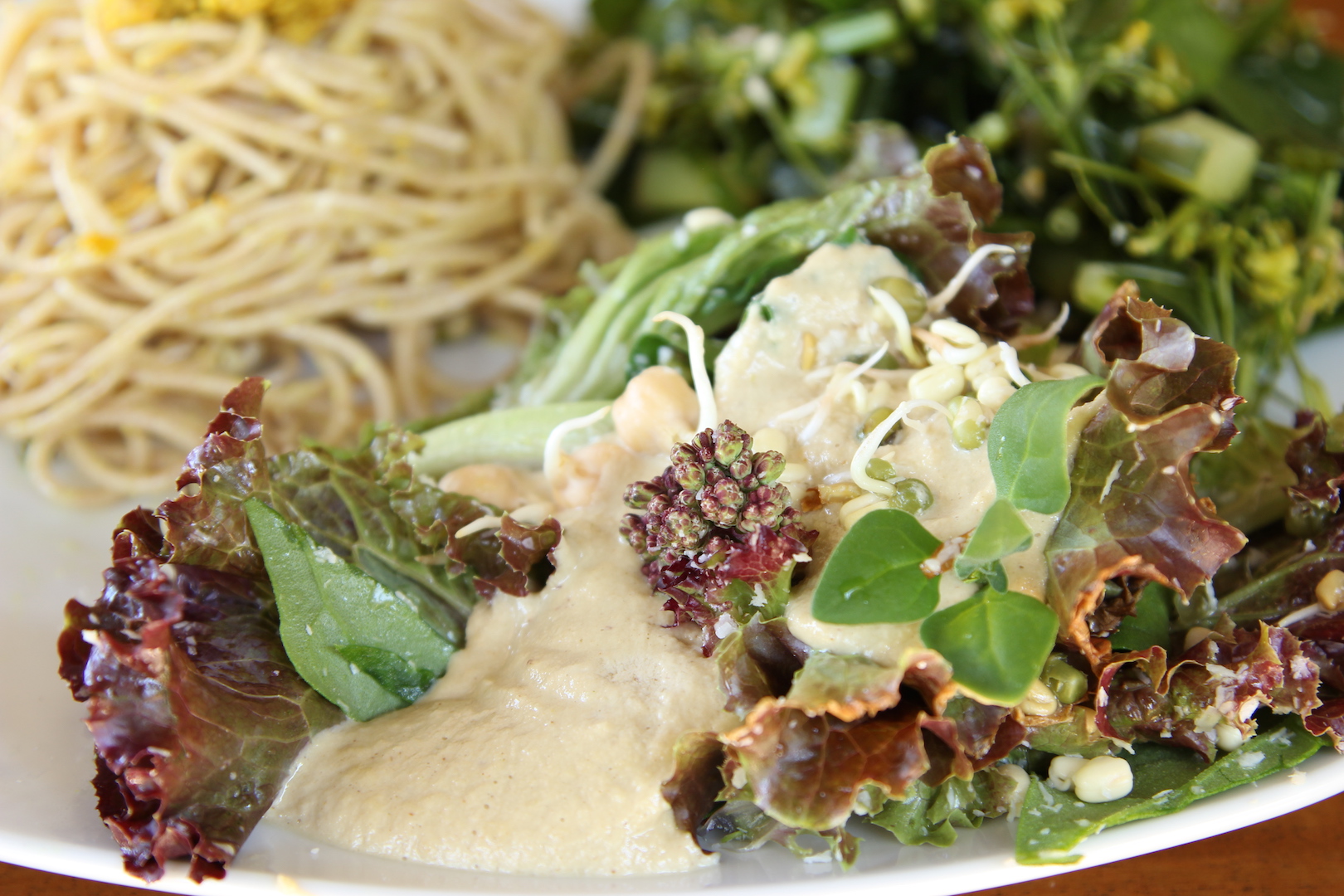 Print Recipe
Raw Chickpea Sprouts Humus
Nutritional Benefits: Chickpea sprouts are a rich source of fiber and protein. Sprouting chickpeas reduces the anti-nutrients level compared to chickpeas that haven't been sprouted, making them more beneficial to your body in terms of providing you with more protein and vitamins. These sprouts are endowed with phytonutrients, vitamins A, C, and E, magnesium, calcium, and iron. Some of the health benefits of consuming chickpea sprouts include lowering blood sugar and bad cholesterol levels, improving heart health, boosting gut and colon health, aids in detoxification, and offers anti-cancer benefits.
Ingredients
2 cups of raw sprouted chickpeas

6 dried prunes

1 tbsp brewers yeast

1 tbsp parsley pesto

3 tbsp soya sauce

3 tbsp rice or agave syrup

1 tbsp salt flower

1/2 cup olive oil

1/2 cup water

1 lemon, juiced

2 tbsp apple cider vinegar
Instructions
1
Soak the raw chickpeas for 12 hours
2
Drain the water, rinse, and place into a small glass bowl.
3
Cover and allow to sprout for a day.
4
Place the sprouted chickpeas into a blender, add in water a little at a time, and blend into a smooth paste. You may need to stop the machine to scrape down the paste on the sides of the blender then continue blending until you get a smooth consistency.
5
You can serve the paste spread over tacos or with salad.