Add to Favorites
We had a cooking class one time when I was in Venezuela. Aubergine and plantain are always in season at the farm, so for this specific class, we prepared them barbeque style.  This quick and easy dish is perfect as a sweet and savory starter or as little bites that are great as snacks.
South American and Asian plantains are often food staples.  It comes in many forms: powdered, sun-dried, fried into chips, or made into raw, cooked, and baked desserts as well. Aubergine's dark anthocyanins give the plant its color and are fantastically grilled and topped with tomato curry sauce.  Aubergine is known to contain good amounts of iron, copper, and manganese, which helps prevent anemia. Plantains on the other hand are a rich source of potassium and vitamin C, both important in keeping a healthy body.
Try making these simple, delicious grilled stacks and enjoy a lovely aubergine banana salad. Read the recipe below to know how to make them.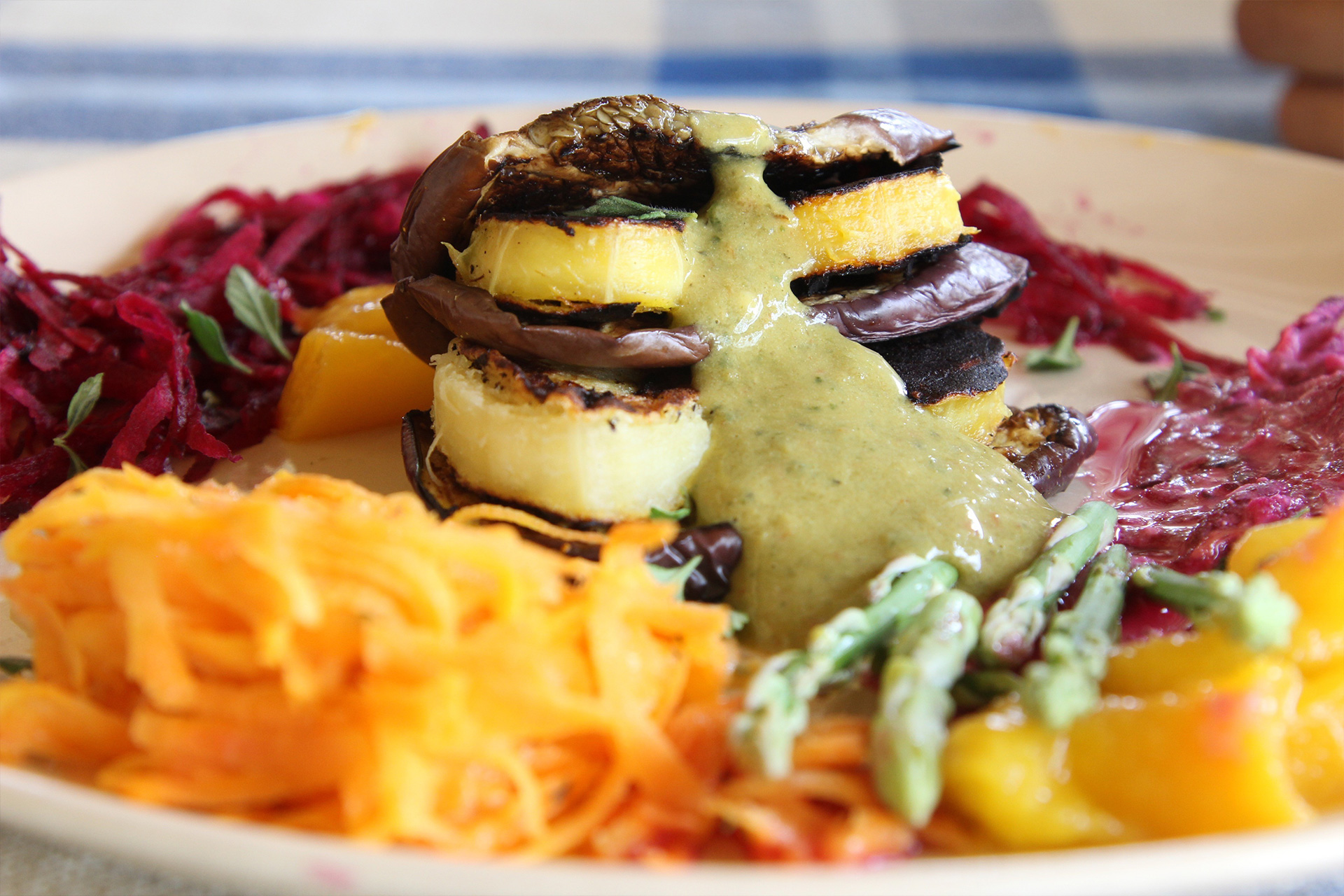 Print Recipe
Ingredients
1 large aubergine sliced crosswise into even sizes

4 ripe banana (platano/plantains)

2 medium carrots, grated

2 medium beetroots, peeled and grated.

1 tbsp of fresh oregano

1 tsp of fresh thyme

1 tbsp coarse mineral salt

A small handful of fresh asparagus, the hard ends snapped off

1/2 cup of homemade pesto or any sauce

Sauce:

1/ 4 cup Olive oil

1/4 cup lemon juice

1/4 cup orange juice

1 tsp salt

1/2 cup of yogurt

1/2 tsp of grated orange zest

1/2 tsp grated lemon zest
Instructions
1
Grill each aubergine and banana (plantain) slice until each side is a light golden brown.
2
Place a grilled aubergine on a plate and add a little sauce or pesto on top of it.
3
Then place a grilled banana on top of the aubergine with sauce and continue this pattern until it is three tiers high.
4
Garnish plate with grated veggies and asparagus
5
In a separate bowl, mix all of the sauce ingredients together
6
Spread the sauce lavishly over the vegetables and aubergine banana tower