Add to Favorites
Cashew Mango is the simplest dessert, make in just 10 minutes. All you have to do is to mix cashew cream with a puree of mangoes and top it will some blueberries. 
The texture is incredible, the flavor is incredible, and doesn't it look divine?
The tough aspect about using fresh mango (which I believe you must do for this!) is that if you use too much, you'll wind up with a straight frozen fruit feel, which is fine for ice lollies but not so great for ice cream!
But, of course, you'll need a lot of fresh mangoes to obtain all of that flavor and that wonderful color. Mango is a nutritious powerhouse, providing all of your daily Vitamin C requirements in just one cup. You also get 35 percent of your daily Vitamin A allowance, which is a difficult nutrient to incorporate into your diet.
The 3 grams of fiber in a cup of mango (12 percent of your daily value) helps you feel fuller for longer and may benefit your digestive health.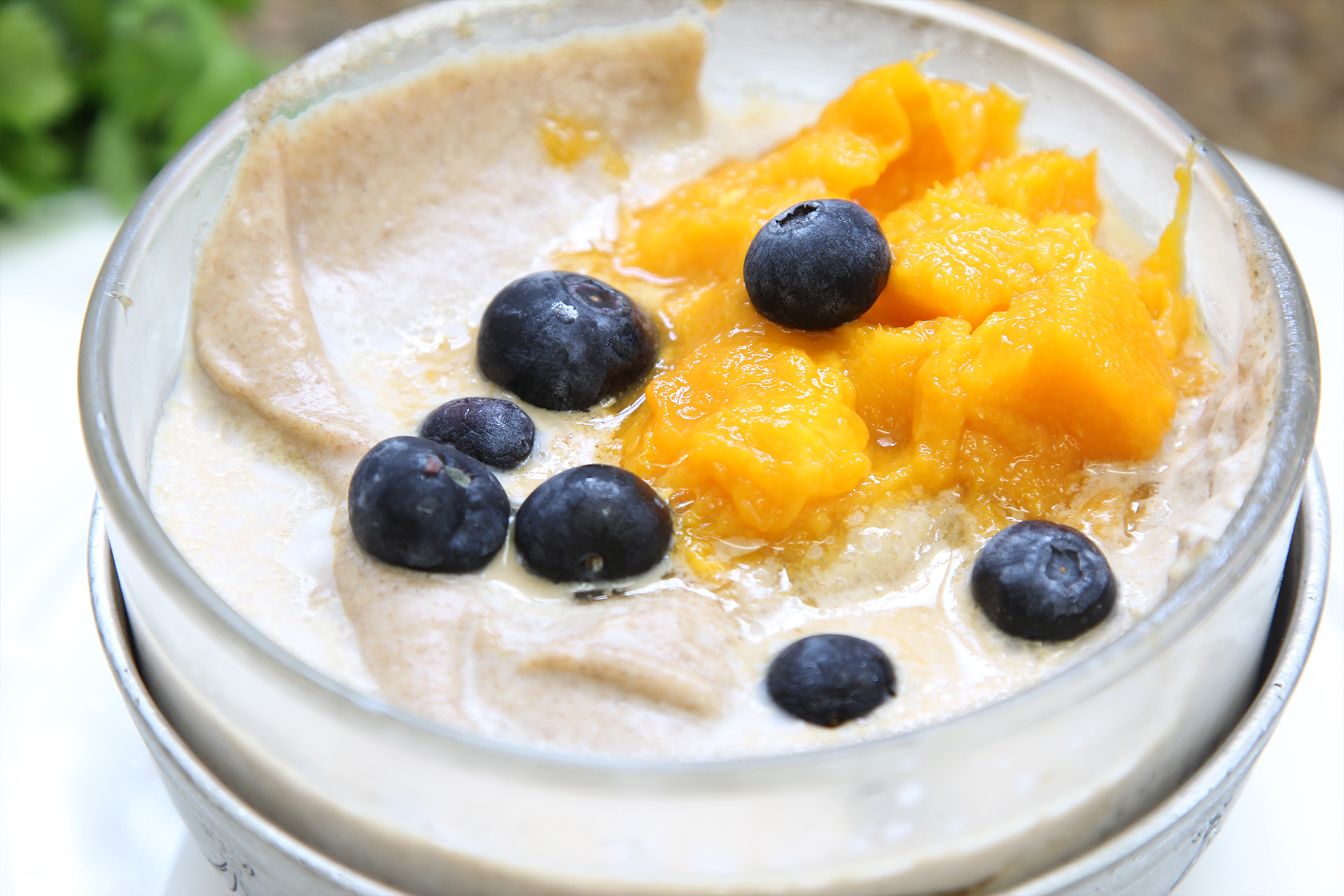 Print Recipe
I-scream Cashew Mango
Mango-flavored Ice cream by adding cashew cream makes a unique dessert. Go for this Cashew Mango Iscream will definitely be loved by everyone.
Ingredients
1 cup cashew raw soaked

1/4 cup coconut milk cream

4 large Medjool dates pits removed

1 ripe mango

1/2 lemon juice

1/2 cup fresh blueberries or any others
Instructions
1
Soak cashew nuts in two cups of water between two and three hours.
2
Place into a blender soaked cashew nuts, dates, lemon juice and blend until smooth
3
Transfer the puree from the blender into a serving bowl mix thoroughly the coconut cream.
4
To make the coconut cream pour the can of coconut milk in a cup and place it in the fridge overnight and the next day it will get firm and creamy
5
Allow it firm in the refrigerator for 30 mins and serve it chill
6
There are several ways to use the mango, Peel the mango skin with a knife slice along both sides of the seed, and you will have two portions of the mango pulp. You can puree the mango and mix in a teaspoon of lemon juice and spread over the cashew nut cream.
7
Garnish top of mango puree with black, blue, or raspberries to make it look delicious, and it's a quick and easy dessert to prepare.
Notes
An all-natural recipe and you may like it sweeter. Add a sauce made from rice or maple syrup with lemon juice or honey mixed with lemon juice (non-vegans)