Add to Favorites
This is a straightforward, easy and tasty dish. It is just like eating out in the street markets in Singapore, famous hawker centers spread all over the city streets, and the most famous attraction for foreigners is Orchard road. In the evening it is full of people from all over the world. To eat and savor the ambiance of a cultural kaleidoscope of palatable joy, go ahead and check out the recipe, make it, and enjoy it.
Kangkong is a leafy vegetable usually found in Asian Cuisines that are rich in vitamins and minerals. Kangkong is also used in herbal medicine to treat fever, liver disease, and, most importantly, diabetes in pregnant women.
Kangkong (Ipomoea Aquatica), Herbal Medicine, also knows as Kangkong (Tagalog, Philippines), Kangkung (Vietnam), Kankun, Water spinach (English), River spinach, Water morning glory, Water convolvulus, Chinese spinach, Swamp cabbage.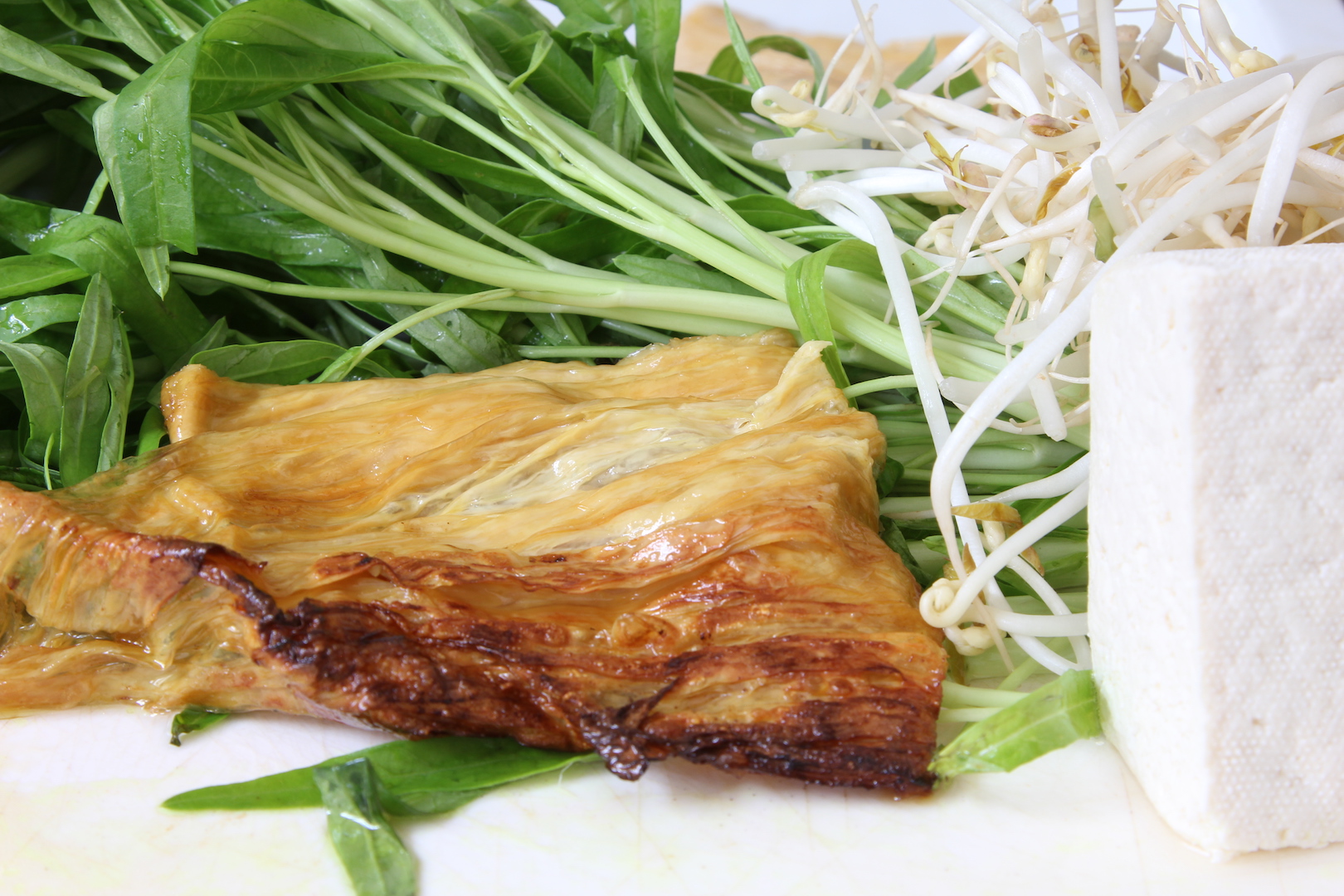 Print Recipe
Tofu Skin & Kangkong Stir Fry
Nutrition Benefits: Kangkong leaves are highly nutritious and beneficial for the body. They are high in vitamins A and C, both vitamins that are good for the eyes, muscles, and skin, as well as boosting your immune system. They are also endowed with phenolic antioxidants like carotene, lutein, xanthin, and cryptoxanthin that fight off free radicals in your system that have been linked to chronic illnesses. They are also a good source of calcium, potassium, and magnesium, all of which are beneficial to the bones and the nervous system.
Ingredients
10oz /300g tofu skin

5oz / 150g sprouts

9oz / 250g Kangkong leaves (Ipomoea aquatica), rinsed and chopped

4 tbsp roasted sesame oil (or coconut oil if you prefer)

1/2 cup roasted sesame oil

1 tbsp sesame seeds

1/4 cup soy sauce

1/2 tsp white pepper

2 tsp fresh ginger rootgrated

Sweet Sour sauce:

1 tbsp apple cider vinegar

1 tbsp molasses (dark brown sugar)

1 tbsp arrowroot flour (rice or tapioca starch if not available)

1/4 cup soy sauce

1 1/2 cup water

1 tsp of red or green chili sauce(optional)
Instructions
Make the Sweet Sour Sauce:
1
In a container, mix arrowroot powder in water and ensure that the powder dissolves entirely, or else it will get very clumpy when cooked.
2
Place the pot over medium heat and mix in the other ingredients. Continue mixing until the sauce slightly thickens and set aside.
3
Heat oil in a skillet and grill the tofu skin on both sides until slightly crunchy.
4
Lower the heat and, while the sheets of tofu skin still are still in the pan, use kitchen scissors to cut tofu sheets into equal pieces.
5
Pour in the Sweet Sour Sauce and simmer for a few minutes over low heat until the layers of tofu skin absorb the sauce thoroughly. Set aside.
6
Place a wok or saucepan with high sides on medium flame.
7
Add sesame oil and sauté the sesame seeds, grated ginger, and white pepper.
8
Add the Kangkong leaves, sprouts, and soy sauce and stir for a few minutes until the leaves shrivel. You will see juice seep out of the vegetables.
9
Add the tofu skin with Sweet Sour Sauce over the vegetables and mix gently.
10
Serve on a plate and enjoy!
Notes
You can also add some coconut milk to the finished dish and remember to have fun while you are cooking, it's so much easier to be creative. Don't be afraid to try new things when cooking. The SimplySentient version Hoisin sauce will remain for several weeks in the fridge. Sesame oil will prevent any dish from oxidation or turn bad as it naturally conserves.