Add to Favorites
This recipes' inspiration was to make a distinctive and wholesome, easy dessert. This poped up banana doughnut is an ayurvedic remedy my master wrote to cure white leprosy with banana fried in ghee.  The rest of the recipe is fun. Peel the banana, pop it on a skillet, slightly sizzle it with coconut butter for just 30 seconds on high heat, transfer to a serving plate, and sprinkle some coconut and for you, chocolate lover, throw indices or nib.  For chocolate substitutes, most natural food stores have carob nibs or dices. Enjoy
Banana is the fourth largest food crop in the world.  In South America, Asian countries, Africa, local people make this wholesome fruit into powders for baking, porridge desserts, a savory dish, etc. When we pick up a fruit, we usually buy it based on how it looks; as shoppers, we purchase our fruits first with our senses of sights, touch, and smell of the fruits and vegetables with no flaw or blemishes. In developed countries, people do not accept blemishes, black-brown spots on the skin of bananas. Usually, an entirely edible banana in boxes goes into dump containers in many European city supermarkets. Very sad indeed to imagine all the potential banana chocolate doughnuts gone to waste.
When the surface of bananas' skin gets spots, the fruit inside becomes sweeter and nutritious. In southern India, dark skins are used in ayurvedic remedies. They are dried in the sun and made into powder for use as medicine for various diseases. Most people in northern Europe throw them away. In Asia, Africa, and  South America, people usually eat ripe bananas as much more nutritious and healthier. The darker it gets, the sweeter it is. Their varieties are immense and colorful. My favorite is called the golden baby bananas as they are wonderfully sweet.
According to Japanese Scientific Research, fully ripe banana with dark patches on yellow skin produces a substance called TNF (Tumor Necrosis Factor) which can combat abnormal cells. The darker patches it has, the higher its immunity enhancement will be. Hence, the riper the banana, the better the anti-necrosis properties. Yellow skin bananas with dark spots are eight times more effective in enhancing the proper conditions of white blood cells than green skin versions.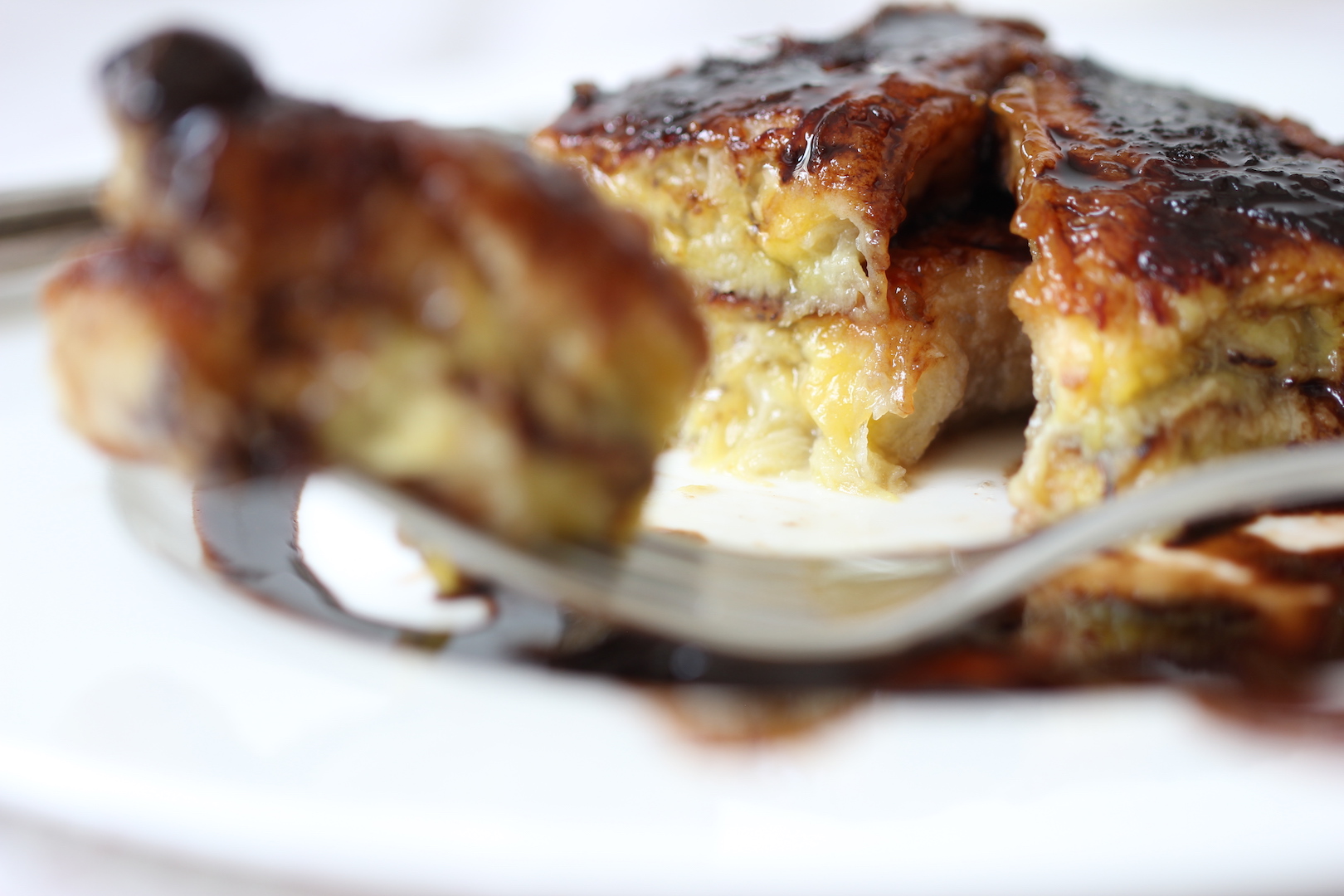 Print Recipe
Banana Chocolate Doughnut
Here is an amazing variation of our favorite doughnuts made with fried bananas and coated in sweet chocolate/carob dip.
Ingredients
4 frozen ripe banana

2 tbsp of coconut sugar

1 tbsp of carob or chocolate nibs

1 tbsp of carob or chocolate powder

1/2 teaspoon of vanilla extract

2 tbsp. of coconut oil
Instructions
1
Let the frozen bananas thaw until you can peel the skin off. Some liquid from the bananas will have oozed out while thawing you can use the liquid in the sauce.
2
Over medium heat in the saucepan, add coconut oil, then carefully place bananas curled into doughnut form, as it can break easily. Turn heat to low, add the sweet liquid from the banana and cook until all the juices slowly thicken.
3
Flip the bananas over and let them sear on the top side on low heat.
4
Remove the seared banana and place it on a plate.
5
Pour the carob or (chocolate as it's irresistible for you) sauce over the bananas and garnish with nibs or little nuggets.
6
You can even place two bananas on top of each other; kids love this.
Sauce: carob or chocolate sauce.
7
Boil water in a medium steel bowl or pot.
8
In another smaller bowl that can fit into the medium bowl, add coconut sugar, chocolate powder, and one teaspoon of water.
9
Keep stirring as the chocolate, and coconut sugar will slowly melt - stir until you have a smooth sauce.
10
Finally, add vanilla extract and lower heat to a minimum.
Notes
Leave the smaller pot with carob/chocolate sauce in the warm water as you prepare the plate of banana, if you remove the smaller pot beforehand, the sauce will turn hard when it cools.