Add to Favorites
Asparagus
With spring comes many beautiful vegetables, and for today, the star of the show is the Asparagus.  It is mostly a European vegetable, and they have a few styles to cook them. They vary in sizes: as thick as your thumb or thin as a pencil and almost white as the earth covers them as they grow not to be exposed to sunlight directly.
Thus most asparagus remains white and doesn't turn green, and that is what you see in bottles with salt solution mostly. These days, asparagus are common at most local supermarkets and is cheaper when in season. There are many ways to cook asparagus: make them the star of the salad, add them in pasta, let them be co-stars with an entree,  make some creamy soup from them, and many more.  Here are some suggestions from our Italian and French friends on how to utilize these spears:
Crazy Raw Asparagus  salad
Most people can't think of eating asparagus raw. But, it is quite good raw! By the way, it is a sprout and is healthy, crunchy, and fantastic with dips. Just cut off the hard woody part at the bottom save it for a soup or stock. Then, cut the spears into diagonal pieces and spread them over the rest of the salad. With a smooth sauce, Soy sauce, dijon mustard, honey, apple cider vinegar, pepper, and salt, they are fantastic. You can try the salad recipe here.
Half-blanched and Still Crunchy
In a saucepan over medium heat, place a thin layer of water and bring it to a boil. Add the asparagus to cook–with only a quarter of it submerged in the water. This way, you don't overcook and lose the nutrition from the sprout. If you like to keep the vegetables crunchy, with a pair of tongs, turn the spears over a few times until ready to be removed.  Then place these in cold water or served immediately with parmesan cheese as a starter.
Well-cooked
If you like your vegetables well cooked, you can tie a small bunch into little bundles and boil it in the water for 3 to 5 minutes, depending on the size and spears thickness.
Steamed
Just place the asparagus spears into a metal steaming basket with a half cup of water and bring to boil over, and cook for three to five minutes.
Skillet or griddled
I love asparagus griddled – drizzle with a little coconut, olive oil, or butter. Turn occasionally and add a dash of cinnamon powder, black pepper, and Parmesan. If you are outdoors or camping, you can barbeque it as well with some olive oil, salt, and pepper.
Roasted
One of the best ways to eat asparagus is by roasting to develop a richer flavor. They're lovely, with some herbs, like sage, thyme, oregano, basil, etc.
Pre-heat an oven to 430ºf / 220°C,
In a baking tray, lay the asparagus spears on tray.
You can drizzle with coconut butter, olive oil or add some milk butter as you like, season with pepper and salt.
You can also add a couple of fresh mints and little-grated lemon zest and roast for about seven to eight minutes.  Enjoy!
Protip: if you snap the asparagus down towards the bottom, they will naturally break at the woody part at the bottom. Read the rest of the recipe below to learn more.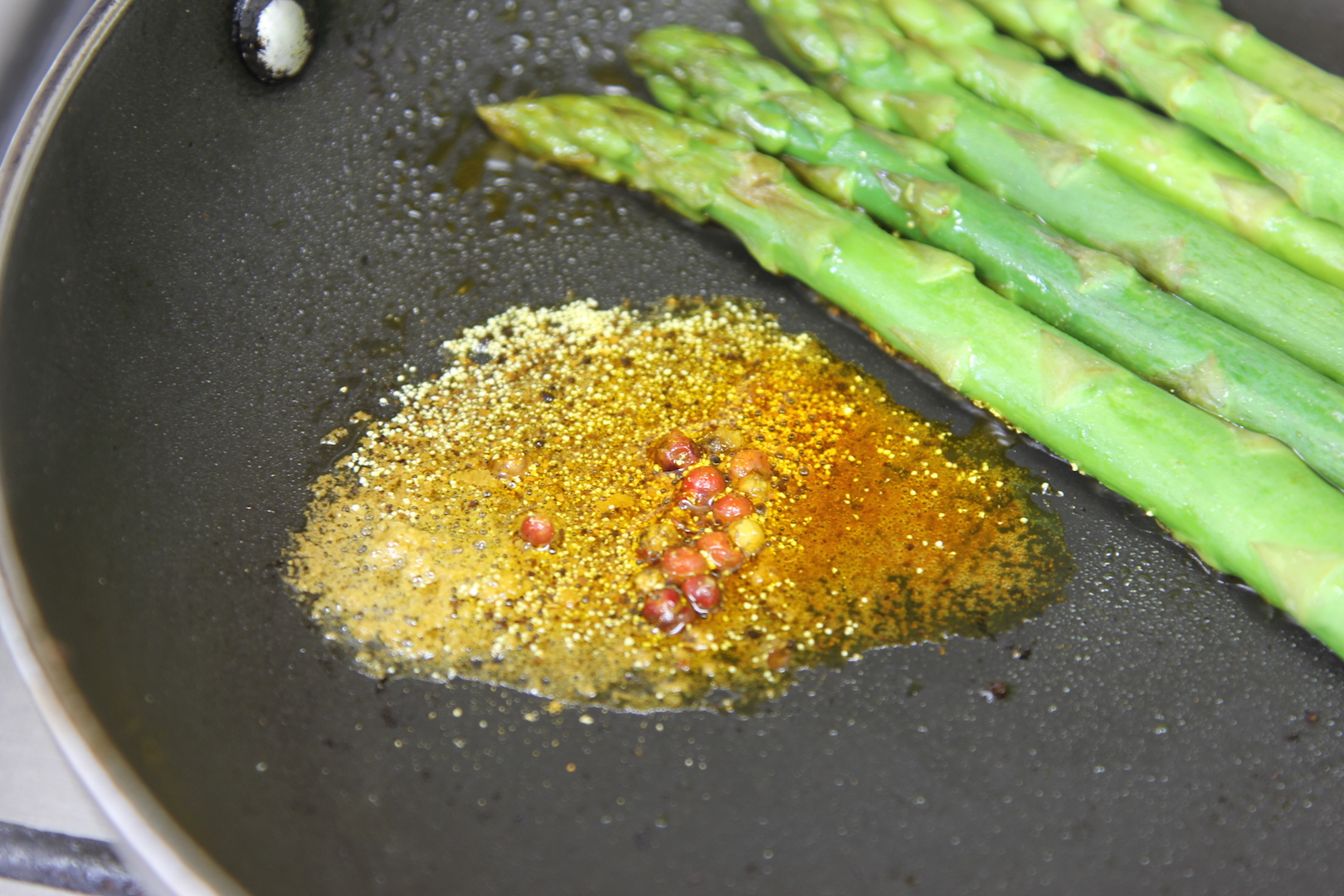 Print Recipe
Asparagus Spears
In Ayurveda, Asparagus has a drying effect that is beneficial to Kapha constitutions, but it can be too drying for Vata in large quantities. Asparagus helps detoxify the blood by sweeping the urinary tract with fiber, and also sending toxins to the urinary tract for flushing. It is also good for reducing inflammation because of its high antioxidant content.
Ingredients
12 asparagus sprout sticks, with the tougher end of the stick, snapped off.

1/2 tsp of thyme

1/2 tsp cumin powder

1/2 tsp turmeric powder

1/2 tsp cinnamon powder

1/2 tsp Himalayan salt

1 tbsp grated parmesan cheese
Instructions
1
Steam, grill, roast, or blanch the asparagus until half or well-cooked. Remove and set aside.
2
On a skillet, heat coconut oil or butter and sauté the spices for 10 seconds.
3
Add the asparagus and roll and saute them over well with the spices.
4
Place on a plate to serve it as it is or with tomato sauce or chutney with pancakes or any other dish you fancy.