Add to Favorites
Vegetarian codfish and with nettle (Bacalhau Com Nata). Is a preparation with tapioca, a under valued roots vegatable where many different kinds of preparations can be made. Urad dal is also known as black gram dal or split black lentils. Urad dal has a strong unique flavor with immense protein value for bean. There are various way you can prepare urad dal.
Nettle is a wild leave with exceptional nutrition value and antibiotic with healing properties. These nettels scientific name is Urtica dioica sting you, is a shrub that comes from northern some parts of southern Europe and Asia. The leaves pretty, heart-shaped leaves that sting you when not careful and yellow or pink flowers. There  is stiff hairs covering the tiny stems, that release stinging chemicals, When you harvest them wear a glove not to get sting.
All this 3 special ingredients combines well with a subtle tastes and flavors to explore for veganized traditional meal. During the winter and spring season they grow wild in out garden where i was conducting a training camp with voluteers.  We had our daily dose of supre greens vegetables and good quantity of natural antibiotic.  During the covid pendamic.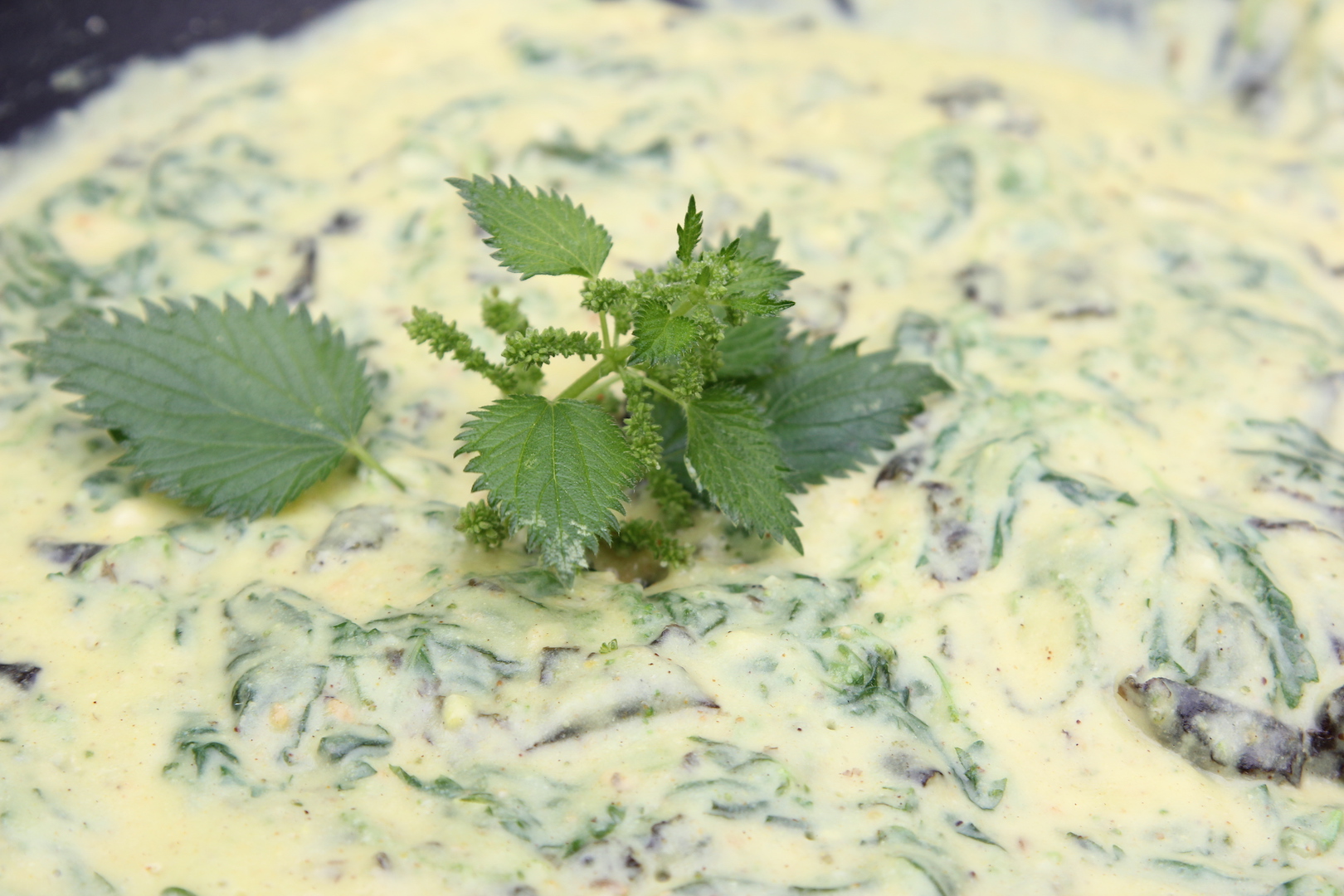 Print Recipe
Bacalhau Abras Com Nata
Nutritional Benefits: Urad dal is very rich in fiber which helps your digestive system by binding to toxins and eliminating them and helping vital nutrients get absorbed. It contains B-vitamins, iron, calcim, manganese and potassium that support heart health, bone health and improve your immunity. It also helps regulate blood pressure and blood sugar. Urad dal boosts kidney health by helping flush out uric acid, excess calcium and fat and toxins that have a tendency of being deposited in the kidney,
Ingredients
3 medium-sized Tapioca roots, skinned and boiled just like potatoes

1 large bowl of nettles

3 cups urad dal batter

3 cups hot water

1 tbsp Black salt (this adds an "eggy" flavor)

1 tbsp cumin powder, freshly ground

1 tbsp turmeric powder

1 tbsp sea salt

1 tbsp Asafoetida (optional choice)

1 tsp black pepper

2 tbsp roasted sesame oil
Instructions
1
In a wok or large pan, in medium fire, add sesame oil.
2
Add all spices and sauté for 20 secs.
3
Add cooked tapioca roots cut into lengthwise strips like chips keep the center stem which resembles the bones of codfish.
4
Fry half of the tapioca and set aside to mix with the main dish.
5
You can add nettle leaves or spinach leaves and cook until all the leaves get soft and release the liquids.
6
Now you can add the urad dal batter and keep stirring and gradually adding hot water.
7
As the mixture starts getting to a smooth consistency with the leaves all completely covered by the dough.
8
Add the cooked Tapioca and fried tapioca to the sauce and mix well until all covered with sauce.
9
Serve it hot with rice and dal.
Notes
You can use spinach leaves of your choice which shrink in size.