Add to Favorites
Easy and Delicious Vegan Cheese
Macadamia cheese is a creamy soft cheese that resembles dairy cream cheese in terms of texture and uses. The great thing about making your own cheese is that you can add some of your favorite herbs, spices, veggies, and (even fruits) to create your best flavor. For example, many types of vegan cheese use cashew nuts as the base ingredient because of their creamy texture and subtle sweetness; however, cashew nuts usually yield a feta and cheddar kind of cheese. So for a creamy and soft vegan cheese, Macadamia nuts are your go-to nuts.
Macadamias are rich in protein, healthy fats, and fiber which may help people trying to lose weight as it curbs their appetite by keeping them full for a longer period. Macadamias are also endowed with thiamin, manganese, and copper.  Health benefits of macadamia nuts include; preventing and healing diabetes and metabolic syndrome thanks to their high healthy fats content that helps lower bad cholesterol levels and blood sugar levels.
Macadamia nuts have a powerful plant compound known as tocotrienols, a type of Vitamin E that helps boost brain function and protect brain cells from degeneration that is often spiked by glutamate, which has been linked to Parkinsonism and Alzheimer's disease.
To prepare Macadamia cheese, soak the nuts for twenty-four hours in the water until they swell to almost double their size. Then, pour the nuts with water into a colander or sieve to drain the water, use part, and set aside the rest for other use later.
Place the soft soaked nuts into a powerful blender and blend until it's an extremely smooth paste. You will have a consistency of soft Philadelphia cheese. You can also use cashew, almonds, hazel, and Brazil nuts as each have its distinctive flavor, rich in nutrients, and wholesome. Be creative with making your cheese; for example, in one batch, I added smoked paprika, olive oil, and salt, and in another, I used olive oil, salt, oregano, and thyme.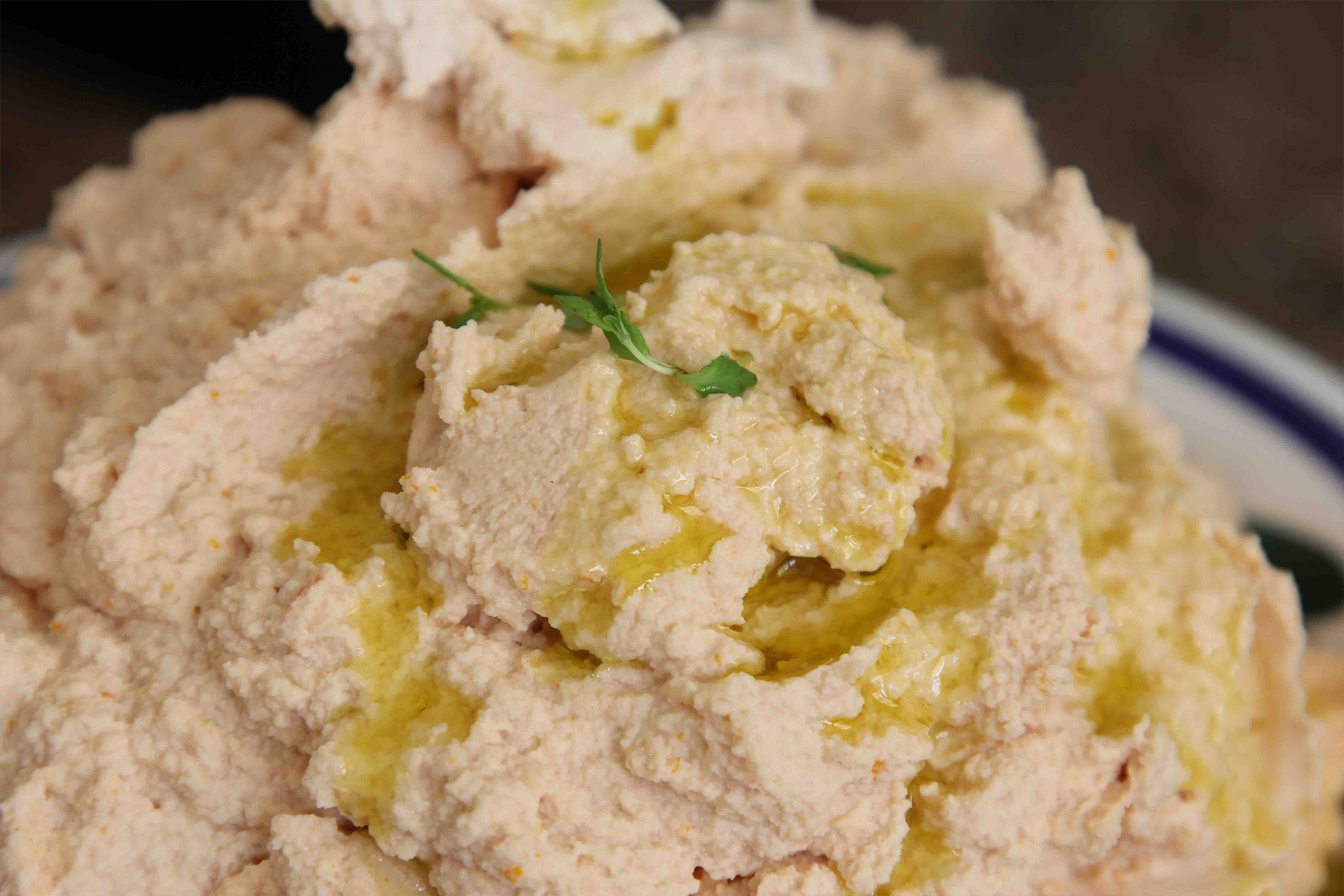 Print Recipe
Macadamia Cheese
A hustle free Macadamia cheese. Simply add the nuts into your blender, add your favorite spices and herbs and blend them until creamy and smooth and there you have it! Easy-peasy vegan cheese!
Ingredients
1 tbsp fresh thyme leaves

2/3 cup coconut or olive oil

1 lemon, juiced

1 tbsp lemon zest

1 tbsp salt

18 oz / 500g vegan cheese

14 oz / 400g macadamia nuts, soaked

1/2 cup dried tomato, soaked in water or olive oil

1 tsp smoked paprika powder (optional)
Instructions
1
Soaked the macadamia nuts in the water for about 24 hours. Drain the water in a container and set it aside for later use.
2
The water must have fermented slightly, thus has a rejuverlac or lemony taste. When rice, beans, wheat gets soaked in water overnight, the water becomes infused with the active probiotic (bacterias), full of active digestive enzymes. At the same time, the sprout grows is released into the water as well.
3
Transfer the soaked nuts into a blender and blend into a smooth paste.
4
Transfer macadamia paste into a cheesecloth, twist the top of the cloth to make a knot.
5
Shove a thin wooden spoon handle into the knot, be sure to keep the knot in the middle to dangle the bag of cheese into a tall container.
6
Once the shaft sits on the edge of the container or support, ensure that the cheese bag is not touching the bottom of the container to have space between the bottom of the container and the cheese bag to allow the access liquid to dip off.
7
Leave the bag in place for 12 to 18 hours to allow the access to water to drip out. You may want to use the drained water for soups or other use. The Longer the bag remains dangling in the open, the sourer it gets.
8
After twelve hours, remove the bag from the container, gently scrape out the cheese, and place it into a bowl, now you have a raw base cheese.
9
You can marinate it with olive oil, thyme, salt, lemon juice, and zest, or different kinds of spices and herbs according to your taste.
10
You can also roll it up like a sushi roll in vegetable paper and keep it in the fridge, and later cut it into slices as it firms up for use as entrees.
11
To store, place it in a container and spread a thin layer of olive oil to prevent oxidation. Store it in the fridge below 5-6 degrees for up to two weeks.
Notes
You can use it as a spread on toast or bread, or even with pesto; it's amazing. International Journal of Vitamin and Nutrition Research found that macadamia nuts contain 82.6 percent of monounsaturated fat. To put this in perspective, the most notable source of monounsaturated fatty acids, olive oil, contains between 70 and 80 percent monounsaturated fat, depending on the hot or cold press method. High squalene content in macadamia nut oils can naturally help skin protect itself from the oxidizing effects of sun damage. Squalene is a naturally occurring antioxidant in human skin that helps fight sun damage and synthesizes vitamin D. Consuming macadamia nuts or applying topical macadamia nut oil may enhance the amount of squalene in skin tissue.