Add to Favorites
Basil-dressed cucumber noodles with Cashew Kafir lime lemongrass dressing is a mouth full. Just the name fills me up. Kafir lime leaves blend with lemongrass and it has a suburb faint lemony taste, smell and the lemongrass just sizzles your taste buds. Mixing these main ingredients with the rest is pure heaven!
You can identify Lemongrass easily by the pale yellow-green stalks and aromatic citrus scent. It has a bulbous bottom with  woody, tough stalks. The white stalk part emits the most flavor and gets more intense the more you cook it. The distinct citrusy note of this herb is a singular blend of tart lemon with a mint brightness.
Nothing quite like the basil flavor that balances amidst sweet and savory; the initial flavor comes with a pronounced black pepper tone, including hints of mint and a touch of anise. It is undoubtedly an aromatic, robust herb that simply adds a positive vibe, a real indication of freshness to salads and sauces.
This sauce is indisputably the best. It takes the magic of lemongrass, basil, kaffir lemon leaves, and cashew to an outstanding palatableness for any dish. This sauce even amazed me, you will certainly have an explosion of  flavors with Basil Dressed Cucumber Noodles topped with a unique dressing. Try this out with your friends and family for a delightful experience on fresh cucumber or even zucchini noodles.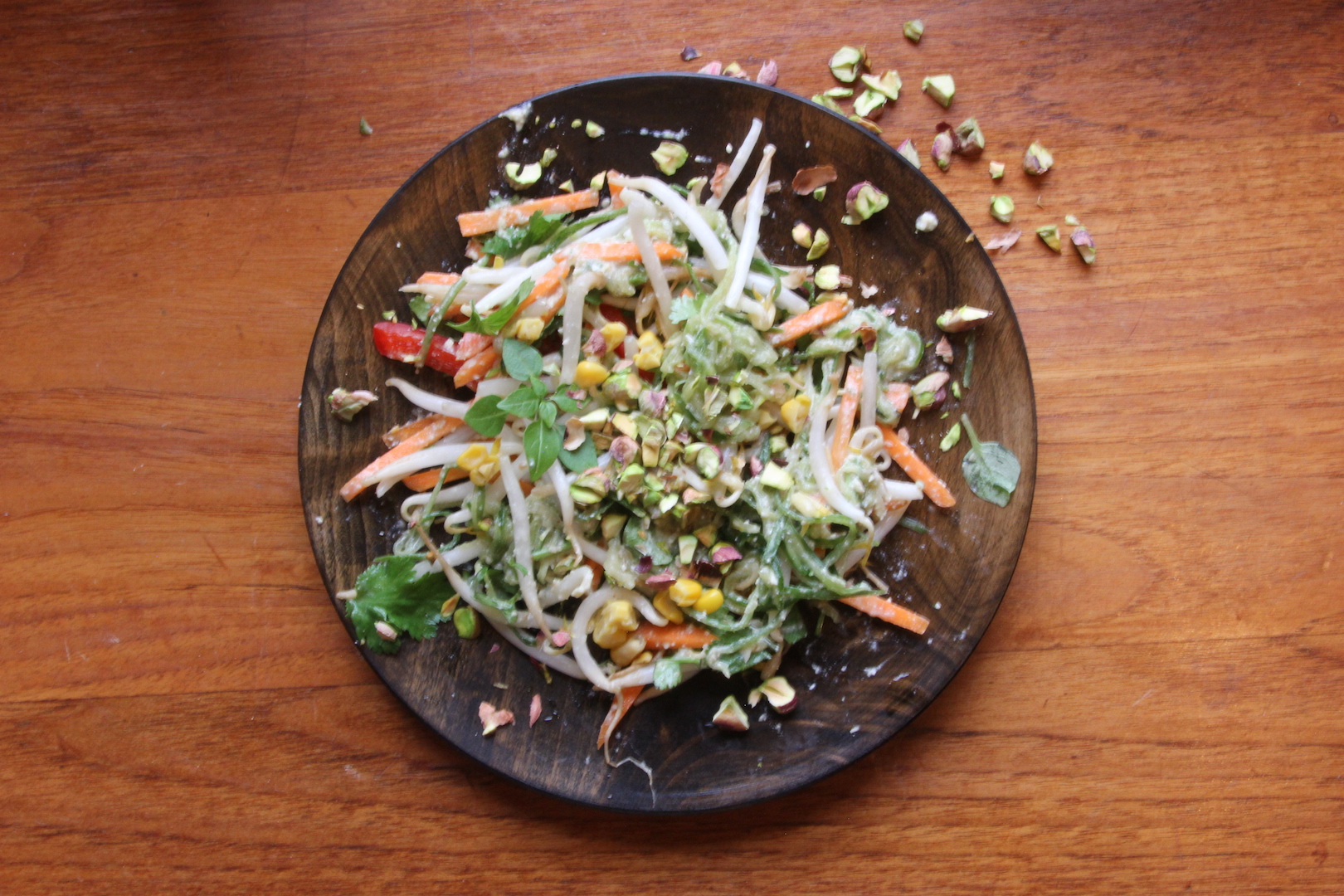 Print Recipe
Cucumber Noodles with Kafir Lime & Lemongrass Dressing
Nutrition Benefits: Aside from the overflow of vitamins and minerals from all the vegetables in this dish, the Kafir Lime and Lemongrass Dressing have their own contribution. It contains cashew nuts with minerals such as magnesium, copper, and manganese, which are important for energy production, brain health, immunity, and bone health. It's also rich in fiber and healthy protein. The Kaffir lime has many medical properties in Asia. It is used in detoxifying the blood, aids in stimulating the digestive system, keeping it healthy, and helps in curbing stress. On the other hand, lemongrass also contains substances thought to relieve pain and swelling, lower fever, improve blood sugar and cholesterol levels, stimulate the uterus and menstrual flow, and have antioxidant properties.
Ingredients
Salad

4 cups spiralized cucumber noodles

2 tablespoons Kikkoman soy sauce, Braggs or Coconut Amino's

2 cups mung bean sprouts

2 cups bok choy, sliced into little pieces

1/2 cup red bell pepper, julienned

3/4 cup carrots, julienned

1/2 cup fresh fennel bulb, sliced

2 tbsp minced cilantro

1 tbsp minced jalapeño pepper

1/2 cup chopped roasted peanuts

1 tsp fresh ground pepper

Basil Dressing:

1/2 cup cashews, soaked until soft

3/4 cup juice from cucumber

3 tbsp fresh lime juice

1 tsp lemon zest

4 Medjool date paste (dates soaked for 15 mins and smashed)

1 tsp ginger, freshly grated

1 tsp chili paste (sambal oelek optional)

1 tbsp lemongrass bulb (or essence oil)

1 tbsp lime zest

1/3 cup small basil leaves, finely chopped

1/2 tsp black Himalayan salt

1/2 tsp fresh ground pepper
Instructions
First, let's prepare the Basil Dressing.
1
Place the soaked cashew nuts and date paste in a high-speed blender and pulse.
2
Add remaining ingredients for the dressing and pulse until combined. I like to keep my sauce crunchy, so I pulse it slowly. You may prefer your sauce more smooth, for that you will have to blend a little more.
Now we can prepare the rest of the noodle dish.
3
Toss the cucumber noodles with soy sauce, allowing them to marinate for a few minutes.
4
Drain the liquids in a colander over a bowl for use later.
5
Toss the cucumber noodles with the remaining ingredients in a large bowl.
6
Pour dressing over the noodle mixture.
7
Top with peanuts and fresh ground pepper.