Add to Favorites
This Kale Spinach Smoothie is an easy, tasty, and filling way to start your day.
Green smoothies, while being very healthy, are not a favorite for most people. However, if you are among the people who wouldn't pick out a green smoothie if there were other alternatives, you will be hard-pressed to resist this sweet, spicy, tangy smoothie. It has an amazing creaminess from coconut butter, and all ingredients work together to provide you with essential nutrients and keep you full all morning.
Kale and spinach are nutritional giants, and as they come from two different plant families. While these two are low in calories, high in fiber, vitamin A, calcium, and riboflavin, kale has two times the amount of vitamin C as that in spinach. On the other hand, Spinach has more vitamin A, vitamin K, and folate compared to kale. These two are high in antioxidants which help reduce oxidative stress damage in your body, and they also boost the digestive process and eliminate toxins from the body.
Something that most people fear when it comes to kale and spinach in a smoothie is the thought that the result must be a weird bitter-tasting smoothie. However, the key is in adding other ingredients that mask the slight bitterness and earthiness. We have added apples, grapes, and grapefruit to add sweetness and a hint of tang, which we also get from the lemon. All other ingredients add unique flavors that all tie up to yield a great-tasting green smoothie.
One great advantage of smoothies is that they utilize the whole fruit or vegetable, so you benefit from the fiber content of the fruit/ veggie. This helps aid digestion, eliminate toxins from your body, and keep you full for a longer period of time. This will prevent overeating which is the main cause of overweight and obesity. There is a major difference between juices and smoothies. You may want to try this juice for weight loss.
Combine all ingredients in your blender and pulse until you achieve desired consistency. Finally, pour yourself a glass and enjoy a healthy infusion of nutrients into your body. ( Note always add soft fruit and vegetables into the bottom of the blender first and don't fill up to the top. Only halfway, not overload your blender.)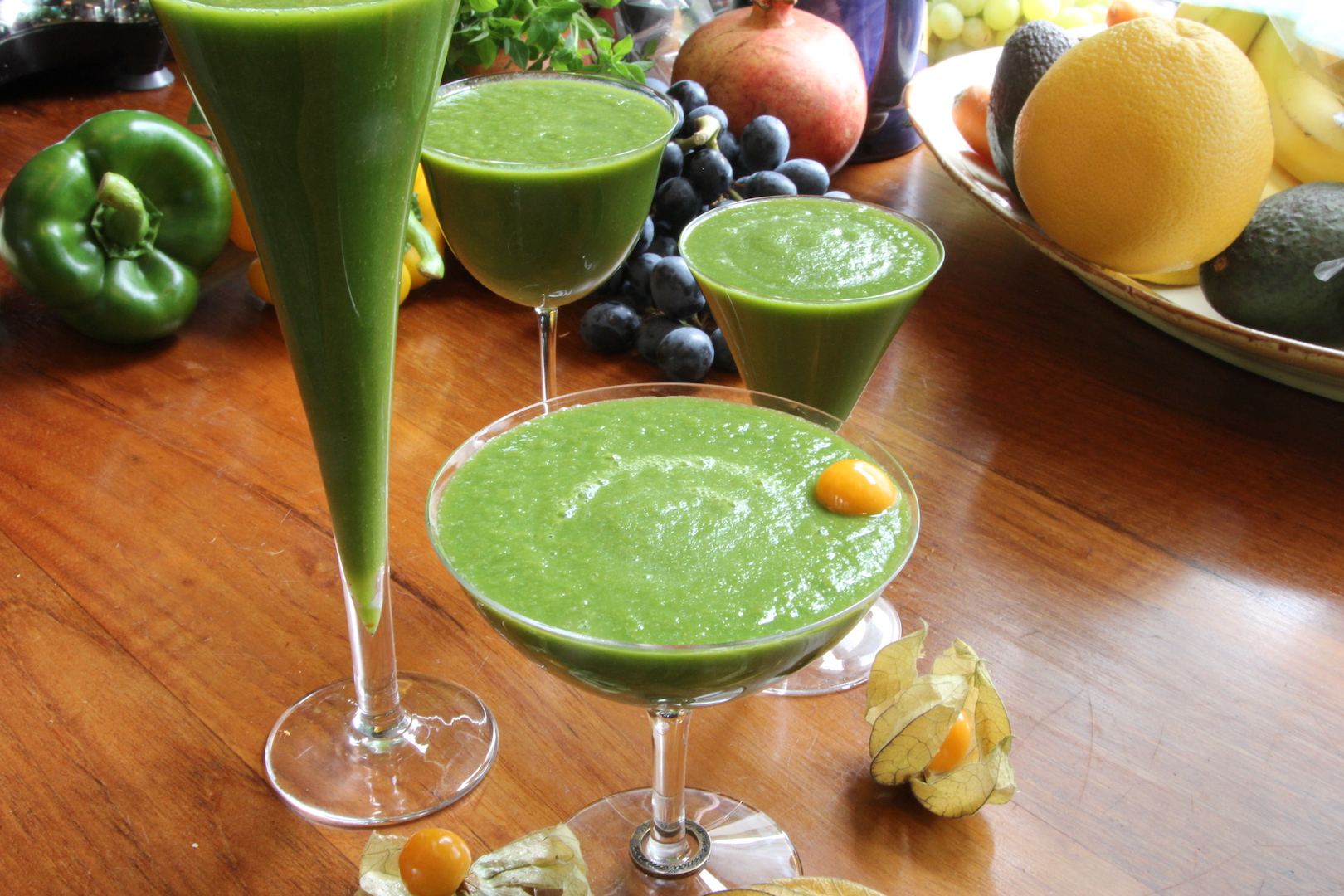 Print Recipe
Kale Spinach Smoothie
Nutritional Benefits: Kale and spinach offer potent phytochemicals and nutrients that help boost your immunity and improve your overall health. Rich in vitamins A, C, and K that help fight off oxidative stress from free radicals. They also have a high fiber content that supports your digestive system and provides relief for constipation. Minerals such as calcium, folates, and iron help lower blood pressure and bad cholesterol to promote heart health. Combine these two with apples, grapefruit, celery, coriander, green grapes, turmeric, and basil for more antioxidant and healing benefits.
Ingredients
2 apples

2 celery sticks

1/2 cup green grapes

2 cup fresh spinach

4 leaves of curly kale

1 lemon, juiced

1 grapefruit

1 small bunch of coriander leaves

1 tsp turmeric powder

1 tbsp coconut butter

some tender basil leaves with stem
Instructions
1
Rinse all fruits and vegetables and cut them into small pieces.
2
Place all ingredients in a strong blender and blend until very smooth.