Add to Favorites
Give yourself a taste of watermelon delight and delectable cake in one mouthful. You'll need some patience to follow this watermelon cake recipe, but the end product will be worth it.
You've probably seen a lot of cakes that look like real objects, and now it's your turn to make a watermelon cake. Prepare all of the ingredients and equipment ahead of time so you don't mess up this watermelon cake recipe.
Watermelon gives you a boost of hydration as well as many essential vitamins and minerals. Watermelon can either be your best buddy in terms of health advantages or it might slow down your digestion to keep you satiated over a long period of time. Watermelon has a cooling and moisturizing impact on the body, according to Ayurveda.
It helps with excessive thirst, weariness, burning sensations, edema, and bladder infections, as well as acting as a diuretic.
Watermelon has over 97% water and is high in vitamins C, A, and B6, as well as minerals including potassium, magnesium, iron, phosphorus, folate, and calcium. In Watermelon there is a rich source of citrulline, an amino acid that can be metabolized to arginine, a conditionally essential amino acid for humans. The skin contains as much nutrition and evermore than the pulp which sadly gets throw away, Fortunately, it's used as a vegetable in some parts of Asia
Arginine is the nitrogenous substrate used in the synthesis of nitric oxide that helps relax the blood vessels tissues and plays an essential role in cardiovascular and immune functions.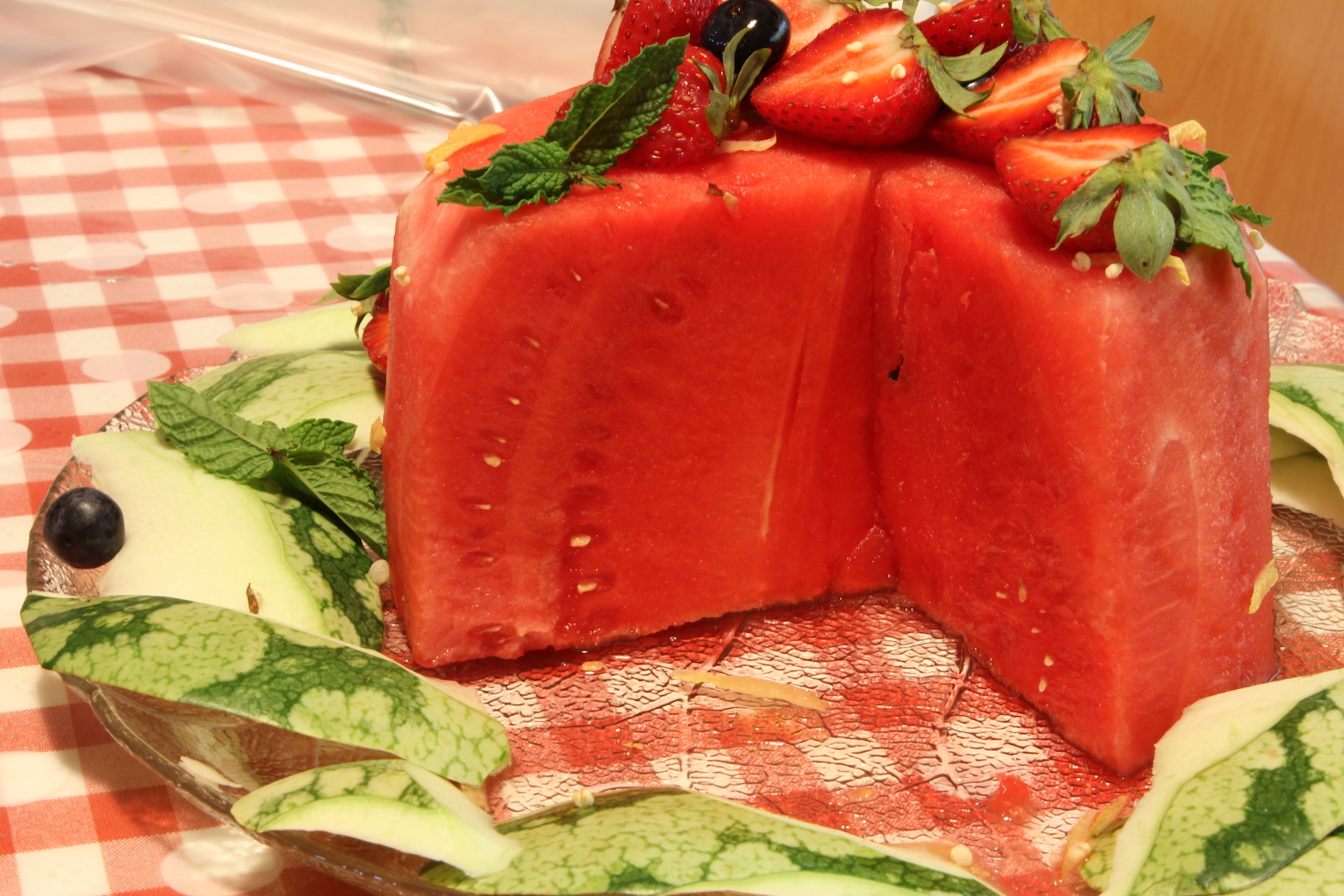 Print Recipe
Watermelon Cake
Healthiest and yummiest watermelon cake is the perfect addition to your dessert entrée. Try it and Enjoy the juicy cake!
Instructions
2
Slice the fruit into a perfect circle as best as you with a knife.
3
Another alternative is to use a ring form to press down on sliced watermelon.