Add to Favorites
Sauces are a tasty part of any meal, snacks, spread, dips, etc. They add an extra oomph to the flavors surprising our taste buds in the right way! The secret to a rawmazing black sauce is using ingredients that complement each other in terms of taste and texture that constitute specific addition of food elements. By adding spices, herbs, fruits, and vegetables to bring out an unexpected but welcome flavor and dish.
Foods with blackish, dark, and purplish hues of colors are endowed with anthocyanins that give black foods their deep dark shade. Anthocyanins are potent antioxidants that fight off free radicals, which cause premature aging. They also promote heart health by protecting your healthy cholesterol from oxidation, thus preventing atherosclerosis and consequent heart attacks. Antioxidants also have anti-inflammatory properties, which are found in prunes as well as black sesame seeds. The sesame seeds also contain healthy fats that help boost digestion and absorption of nutrients.
You will love our super mix: Black sesame seeds, dried prunes, celery, oranges juice, lemon, salt, clear sesame or olive oil, and apple cider vinegar. Blend all ingredients to a liquefier until a smooth paste. Fruity and nutty, spread on rice puff crackers, pancakes, tacos, burritos, etc. It's simple, quick recipes for the go. You can keep it in the fridge for weeks, even months.
As the name suggests, this sauce is raw, thus providing you with high-quality nutrition that is not denatured by the cooking process. It is well endowed with antioxidants to help reduce the effects of free radicals in your body, and it's also perfect for your skin. This rawamazing black sauce is that surprise secret factor try it out, its easy and Enjoy!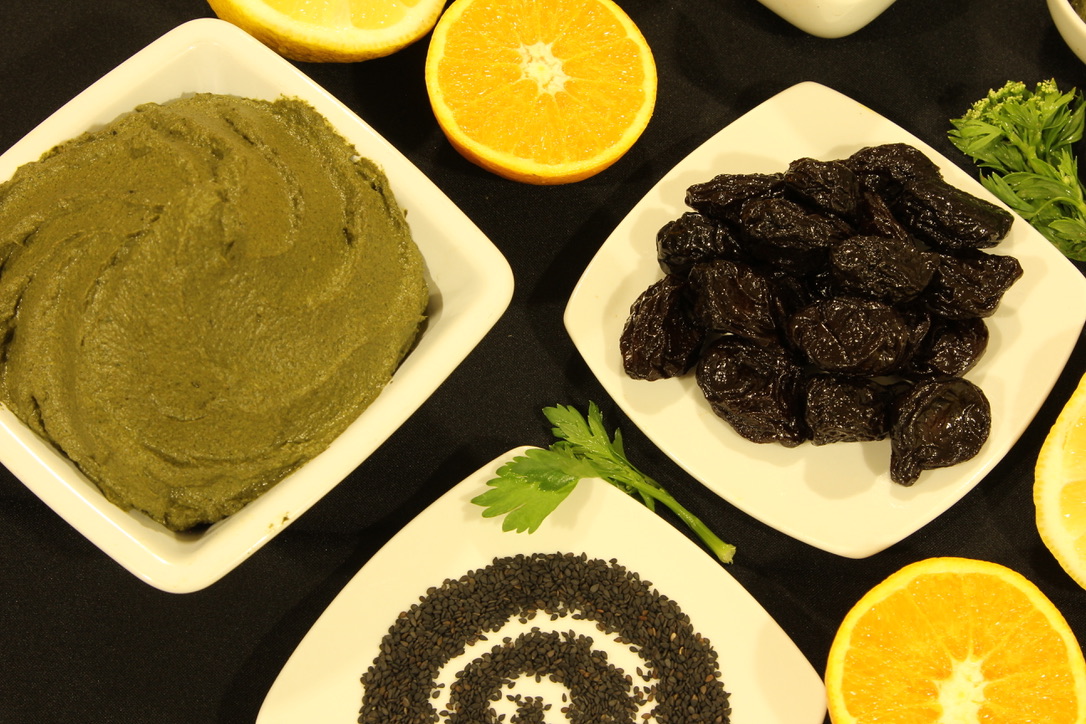 Print Recipe
Black Sesame Seed Pesto
Nutritional Benefits: Prunes are dried plums, and they contain the majority of the essential vitamins, and these are vitamins A, B-6, K and niacin, and riboflavin. They also contain iron, boron, potassium, magnesium, copper, and manganese, which offer health benefits such as providing relief for constipation and hemorrhoids, improving your skin, boosting bone health, and lowering blood pressure. Black sesame seeds have been used for the longest time for their anti-aging and health-boosting benefits. They also provide anti-cancer benefits, help digestion by providing relief for indigestion and constipation, and help lower blood pressure thanks to magnesium, which is a great blood pressure stabilizer.
Ingredients
1 lemon, juiced

1 tsp sea salt or more to taste

12 dried prunes, seeded

2 tbsp apple cider vinegar

1 cup black sesame seeds

2 large celery stalks

1/2 cup sesame or olive oil

1 tangerine with one-quarter of the skin
Instructions
1
Blend all ingredients in a blender into a smooth paste.
2
Transfer to a glass jar and store in the fridge.
3
Lemon juice and olive oil make help preserve the paste for months.
Notes
Tip: After using the sauce, it advisable to cover the surface in the jar with a thin layer of oil to prevent the sauce from oxidation. Any kind of oil will suffice.