Add to Favorites
Gingko Bilabo pesto is the ultimate brain food. Gingko Bilabo leaves are sometimes called living fossils because they have been around since the dinosaur age.  A booster for the brain is one of Mother Nature's gifts to help improve our cognitive function.
You can use the ginkgo leaves powder from natural food stores, as the leaves are not so easy to acquire in most places.  In Naturena, our natural healing center in Portugal, many people from Europe, North, and South America have different natural treatments. Dr. Andre Gomes ( Kamalakant treats patients with distinct electromagnetic technology, colon cleansing, liver and kidney flush, ozone therapies and natural medicine, and a vegetarian diet.) 
My support NATURENA is help patients on psycho spiritual state and mental awarness and focus. I used the Gingko Biloba leaves to create pesto in Naturena for one of my patients, who was suffering from severe lymphatic cancer. While she stayed there, my first task was to boost her vitality and lift her spirit, keep her mind focused. Knowing that her troubles with low energy were related to multiple personal and family issues.
There are several Ginko Biloba trees in Naturena.  I  made a healthy Buckwheat pizza with Gingko Biloba pesto that the patients enjoyed during their recovery process. You will positively relish this recipe. Enjoy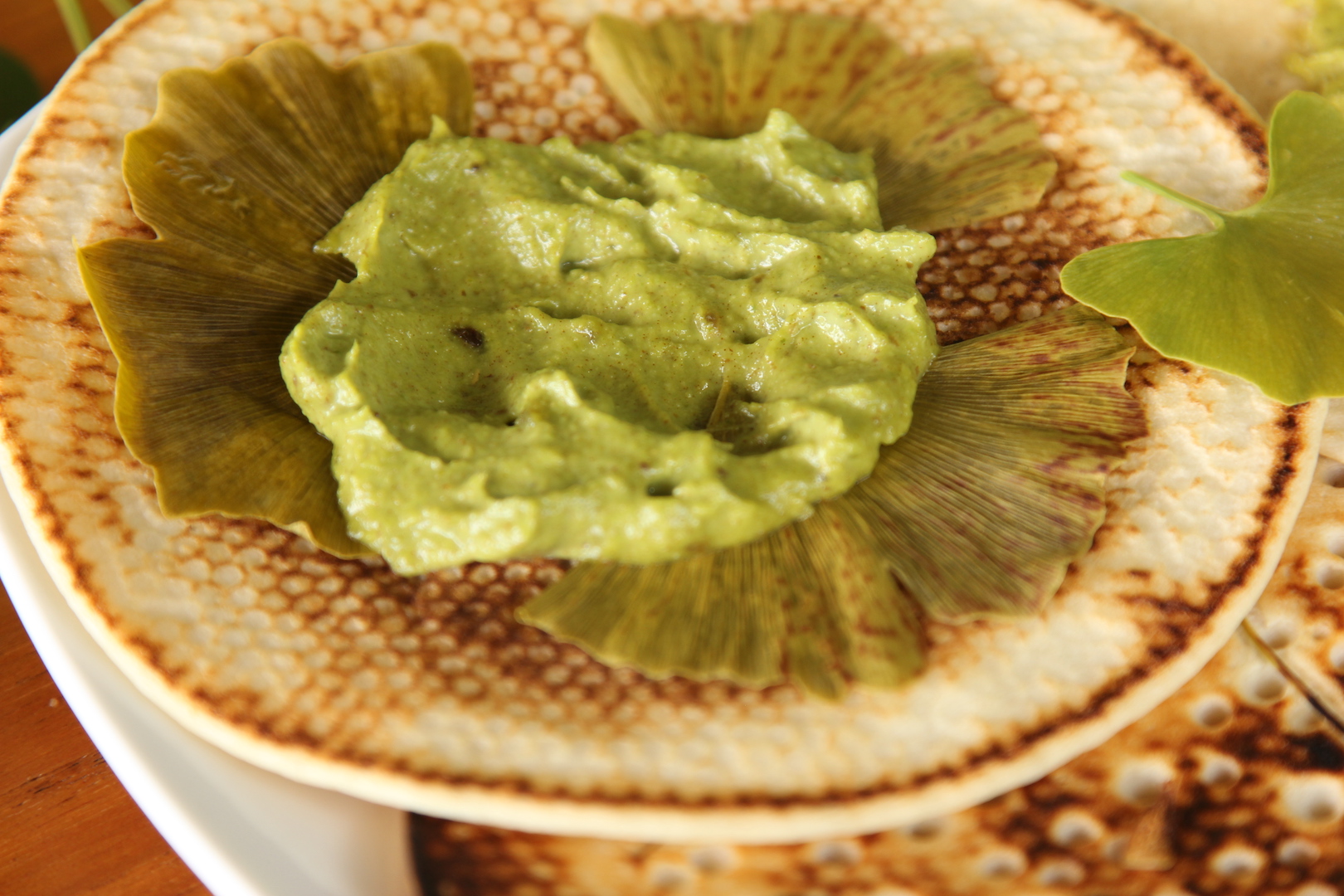 Print Recipe
Gingko Bilbao Pesto
Nutritional Benefits: Cashew nuts are a rich source of unsaturated fats, which have been attributed to lower the risk of heart diseases and also premature deaths. Additionally, they are a great source of fiber and have low sugar levels, and their protein content is almost equal to the amount of protein in an equivalent portion of cooked meat. These add to its heart-healthy benefits. Cashews are also endowed with thiamine, copper, selenium, zinc. Manganese, iron, magnesium, phosphorus, and vitamins B6 and K. Dried dates are an amazing source of polyphenols that provide immense health benefits such as anti-cancer benefits, diabetes management, and improved digestion.
Ingredients
200 gm or 1 large bunch of ginkgo Bilbao leaves

1/2 cup sesame oil

1/2 cup raw cashew nuts

1 lemon, juiced

1/2 cup dried dates

1 tsp salt
Instructions
1
Place all ingredients into a blender and blend until smooth.
2
Use it as a spread on the pancake, toast, bread, or pasta.