Add to Favorites
Salads usually get a bad rep for being boring, basic, and plain. But this vegan cheese salad is not only nutritiously healthy but also fresh, creamy, and crunchy. A friend of mine, who's also a chef, first introduced me to this recipe, and ever since, this has been one of my go-to salads with friends who love exotic salads and light meals.
Made with fresh green asparagus, rocket leaves, cheese, walnuts, and a tangy vinegar-lemon dressing, this salad feels like summer in a bowl. The addition of walnuts not only gives the salad a crunchy bite but also an added umami flavor. It is so filling that it can be served both as an accompaniment or as a main.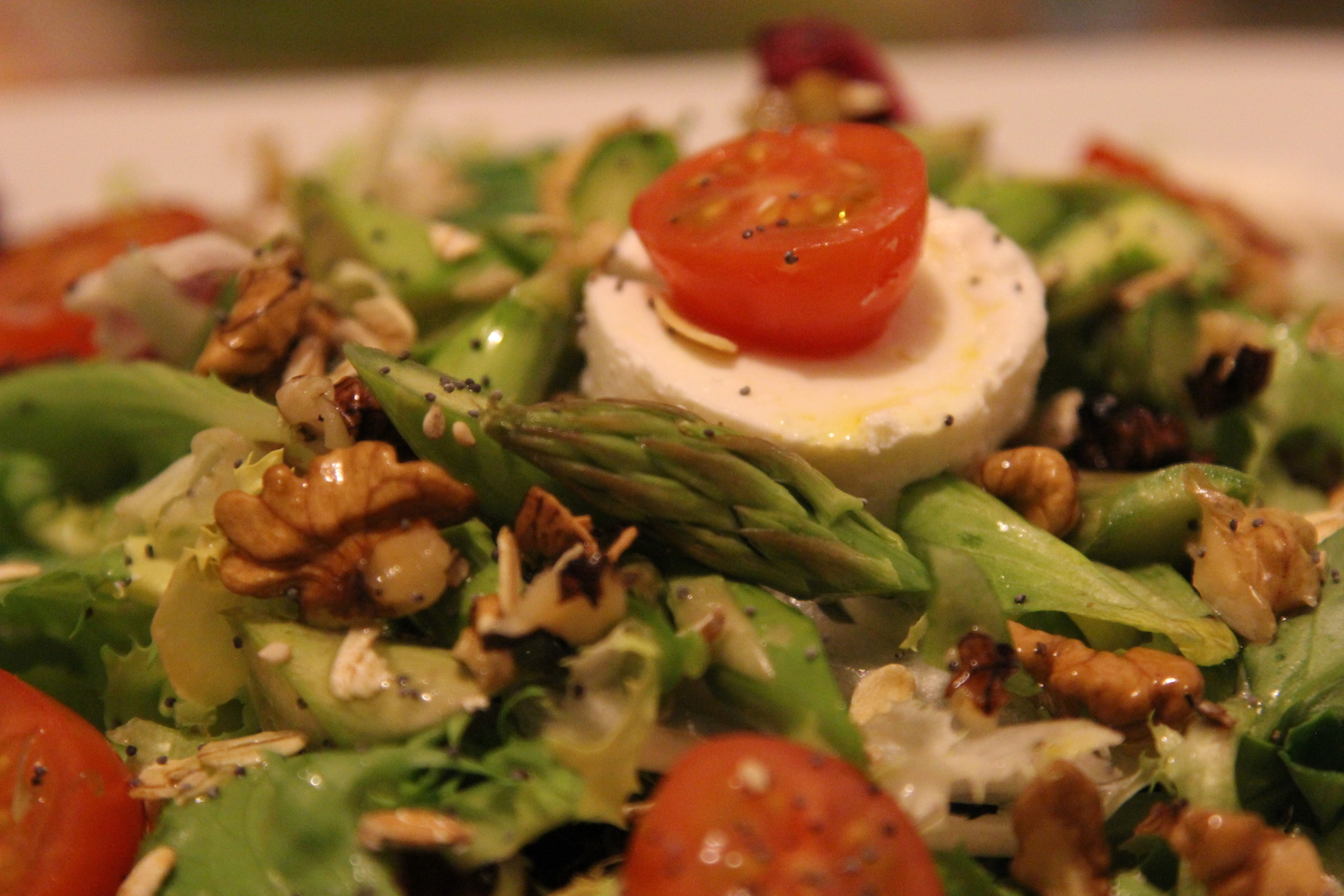 Print Recipe
Vegan Cheese and Asparagus Salad
Ingredients
1 bunch fresh raw asparagus, heads removed and cut into 1/2 inch pieces

1 cup rocket leaves

1/4 cup of basil leaves

1/2 cup extra virgin olive oil

1 roll vegan cheese (or goat cheese for a non-vegan variant), sliced into 12 equal bits

1 cup of cherry tomatoes, halved

1 cup walnuts, crushed

1 tsp rice syrup (or honey for non-vegan variant) + 2 tsp, for the dressing

1 tsp rough ground rock salt

1 tsp ground black pepper

2 tbsp balsamic vinegar

Juice of 1/2 lemon
Instructions
1
In a large bowl, mix basil leaves, rocket leaves, asparagus, and olive oil. Divide it into four portions and transfer each portion onto a salad plate
2
Heat a skillet on high heat. Add sliced cheese and cook for 5 to 10 seconds on each side. Add 3 cheese pieces to each salad plate.
3
Then add cherry tomatoes, crushed walnuts, and mix. Drizzle a teaspoon of rice syrup on top with a sprinkle of course salt and pepper.
4
In a bowl, to make the sauce, combine balsamic vinegar, lemon juice, olive oil, and rice syrup. Mix well and drizzle over the salad.
Notes
Alternatively, you can also make the salad by combining all ingredients in a bowl and adding the dressing on top. But I prefer to do it individually for a classier presentation.