Add to Favorites
What is Farofa?
Farofa is a traditional Brazilian side dish, served especially with rice and beans. It is made from Cassava flour, which is obtained by grinding the root of the Mandioca plant. Farofa can be purchased either in a coarsely powdered form or as raw ground flour. Commonly used in Asia, for making steamed sweet desserts. The name of the source of this plant is Mandioca or yuka in latin America and Asia or Tapioca in english in Asia.
For this Farofa Especial recipe, we need tapioca farofa granules slightly toasted and mixed with veggies and grated coconut, this Portuguese-style "Especial" Farofa is a healthy, tasty twist on the classic variant. Mildly spicy, crumbly, and toasty, this recipe is easy to make and will definitely impress your friends and family alike. You can try a sweeter variant of farofa with banana, which is traditional Rio de Janeiro style, check out this recipe for Banana farofa.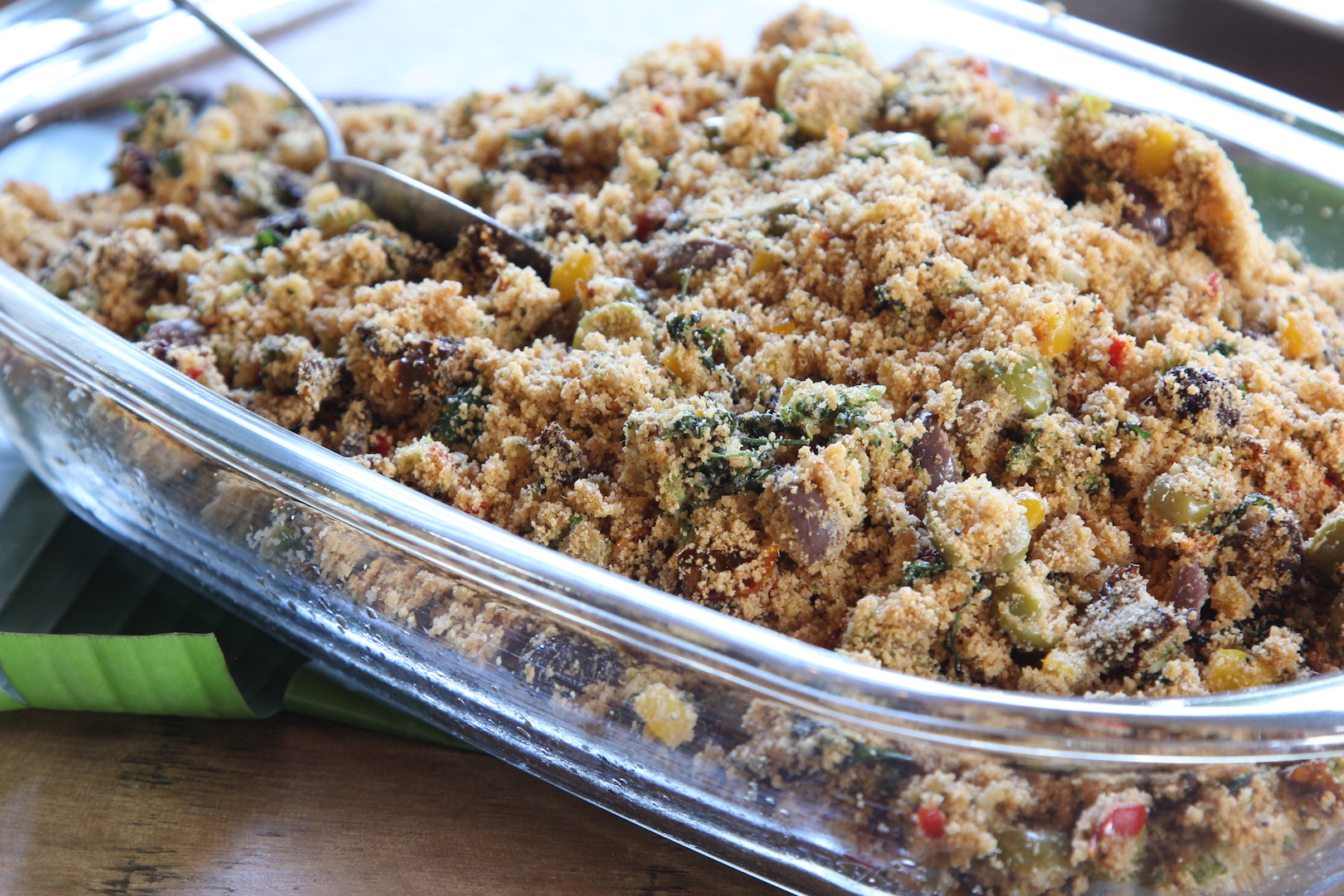 Print Recipe
Ingredients
1 tbsp. coconut oil (alternatively you can use olive oil)

2 fennel bulbs, sliced

1/2 cup parsley, chopped

1 cup dried tomatoes soaked in olive oil and diced

1/2 cup pitted and finely chopped black olives

1/2 cup pitted and finely chopped green olives

1 tsp salt, or to taste

3 cups of farofa ( tapioca flour granules)

1 tsp cumin powder

1 tsp of rose pepper powder

1/2 cup of grated coconut

1 tbsp lemon juice
Instructions
1
In a wok, heat coconut or olive oil over medium heat.
2
Add fennel, parsley, dried tomato, chopped black and green olives, sautéing each ingredient for one minute or so, before adding the next.
3
Add half the salt to bring out the juices from the vegetables. Give it a gentle toss and slightly simmer for another 1-2 minutes.
4
Then add the Farofa flour, gently folding it in with the vegetables.
5
Add the remaining salt, cumin powder, rose pepper, and grated coconut.
6
Finally, squeeze the lemon juice over the dish, and toss everything together.
7
Gently fold the ingredient over and over until it is all loosely formed. Make sure that you can see no more clumps of Farofa flour before you transfer everything on the plate to serve.
Notes
Serving Suggestion: Serve with bean and rice or Feijoada, a traditional Brazilian bean dish.