Add to Favorites
This Macadamia Coco Cashew Pie, with macadamia nuts, coconut, and dates, is a sugar-free dessert that exquisitely satisfies your guilt-free appeal. It will take some effort as there are several steps to prepare, but the eventual outcome of your efforts will be an amazingly creamy, buttery, sweet-tasting pie. Yummylicious!
You can make Macadamia into sweet or savory preparations by soaking the nuts for 24 hours, and blending them into a smooth buttery consistency. Then, adding this creamy nut to cashew cream will bring the flavor to another level. Finally, a subtly sweet taste will delight your palate when mixed with coconut cream.
Cashews are the most delicious and addictive nuts. It is possibly one of the most versatile nuts. These can be used raw, soaked, and roasted, going from creamy milk to decadent dessert to a spicy sauce for lunch and dinner. Cashews' unique sweet buttery taste makes it a favorite snack for kids and adults.
Try this cashew, macadamia, and coconut cream pie, thus the name. Just dropped it into the site after tasting this awesome dessert.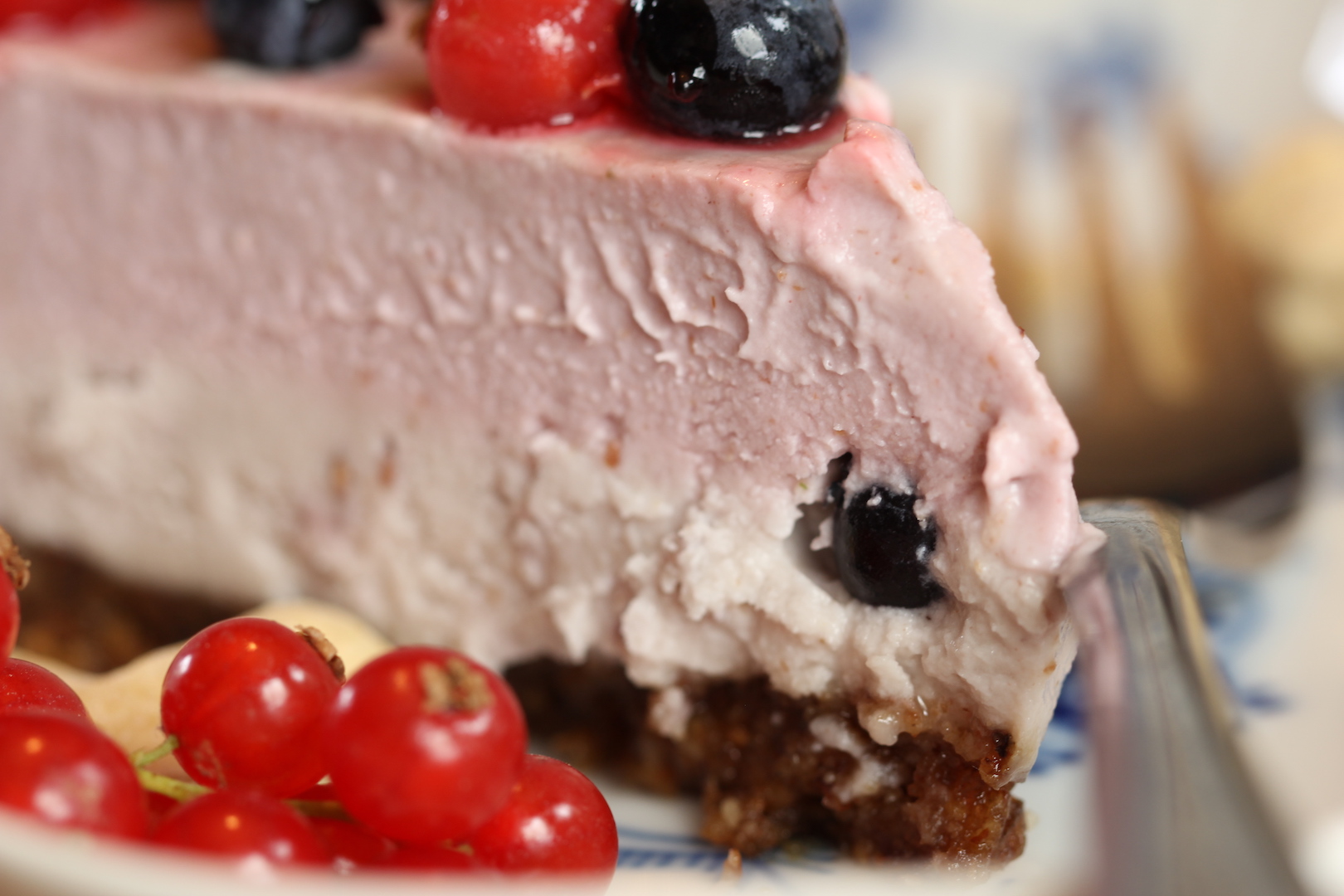 Print Recipe
Macadamia Coco Cashew Pie
This simple Macadamia Coco Cashew Pie is sweet and gooey, with macadamia nuts, coconut, and white chocolate. It's a sugar-free dessert that's exquisitely satisfying.
Ingredients
The crust

1 1/2 cups roasted macadamia nuts

1 1/2 cups naturally dried coconut flakes

2 tablespoons honey, rice syrup, or maple syrup

3 large Medjool dates pitted

2 tablespoons coconut butter, to be used for oiling the pie tin

A dash of sea salt and nutmeg

The coconut cream filling

1 bar of coconut cream (these are whole coconut finely blended into a paste), chilled till firm

for 30 minutes before use.

2 cans of coconut milk cream, chilled in the refrigerator overnight

2 teaspoons fine rice flour or arrowroot powder

1 1/2 cups raw cashews, soaked for 2-4 hours

1/2 cup rice syrup or maple syrup

1 teaspoon pandan leaves extract (optional)

1 tablespoon agar- agar and pinch of sea salt

2 tablespoons natural coconut oil

The topping - raspberries, blueberry, blackberries, strawberry

1/2 cup apple juice

½ cup water to melt agar agar

1 teaspoon agar-agar flakes

1 teaspoon plum juice

½ teaspoon fine rice flour or arrowroot powder

3 cups small to whole medium raspberry and blueberry or (strawberries - hulled and halved)

1 teaspoon coconut sugar

Desiccated coconut flakes for garnish (optional)
Instructions
1
Place all the ingredients for the pie crust, except the coconut butter into the bowl of a food processor and pulse to a crunchy and sticky consistency.
2
Grease an 8 or 9-inch pie pan thoroughly with coconut butter. Spread the crunchy paste evenly in the pan, pressing it down, and pushing it up the sides to form an even crust layer.
3
Place in the freezer while making the filling, for at least 30 minutes.
4
Remove the coconut cream bar from the box, place it in a food processor, add the can of coconut milk from the refrigerator, pandan leaves and blend until smooth. ( the pandan extract will turn the cream into a beautiful mild green color)
5
Combine the rice flour or arrowroot powder with water and mix it up well.
6
Pour the mixture into a saucepan and simmer over medium heat, stirring constantly, until the mixture thickens slightly. Remove from the heat and set aside to cool.
7
Combine the cashews, rice or maple syrup, salt, and nutmeg, in an upright blender and blend until smooth then, add the thickened sauce, and the coconut milk-cream mixture, followed by the coconut oil, and blend again to incorporate all ingredients together.
8
Remove the crust out of the freezer and pour the coconut filling into the crust. Put the pie in the refrigerator while preparing the strawberries.
Topping of Raspblueberry or strawberry topping
9
Combine ½ cup apple juice and agar-agar in a small saucepan. Bring to a boil over high heat, lower the heat to a simmer and cook for 5 minutes, or until all the agar flakes dissolve completely.
10
In the meantime, combine the rice flour or arrowroot with the remaining apple juice in a small bowl and slowly drizzle it over the simmering apple juice, whisking until the mixture thickens slightly. Remove from the stove and cover.
11
Combine the strawberries with coconut sugar and pandan extract in a medium bowl and toss to combine. Pour the warm agar juice mixture over the berries and toss gently but quickly to coat.
12
Remove the coconut cream pie from the refrigerator and top it with the strawberries. Refrigerate until the pie sets, preferably overnight.
13
Serve sprinkled with thinly sliced coconut flakes. Store covered and refrigerated.
Notes
If you don't feel like following the recipe for the strawberry topping, you can make a simpler one. Either mix the strawberries with sweetener and let them sit to macerate, then top the pie with them or top with delicious fresh strawberries if available.