Add to Favorites
Here is a yummy dish with cinnamon and yogurt or coconut cream that can also be mix with other vegetables and cheese. Having visited many markets around the world, it's fascinating to understand different cultures' history through food. In Asia, it's called Okra, known as "Lady Fingers" in the west. Kiabo in South America. And there are a lot of people who don't like Okra. There are ways to prepare okra so that it tastes great.  
Having prepared okra so many times for many of my friends, who at the first mention of "ladies finger" say no thank you. Once the dish is on the table, they can't resist trying it. Once they try the cinnamon lady okra, it's a sure winner even for the most hardcore okra resistance person. Even the kids enjoy the taste of cinnamon and sweet cinnamon, and savory soy sauce and zesty lemon juice make this recipe a sure thing.
Many people dislike cooking okra because of the sliminess of the vegetable when it is cooked. However, when slightly sautees whole, the gooey stuff remains inside the pod. The Okra pods contain a tiny quantity of mucilage, a clear, thick, gel-like flesh found in Aloe Vera. The trick is not to cut the pod rather cook it whole to enjoy the nutrition.
After cutting and cooking them, the stew gets thicken from the mucilage viscosity released by the heat. One reason the gooey stuff expands when you put okra into stew is the presence of exopolysaccharides and proteins called glycoproteins. 
Okra has many benefits, especially for anyone with joints and digestive issues. I know of someone who has a hyper acidic stomach and whose parents discovered the benefits of Okra. After just two weeks of taking Okra, the hyperacidity of this person's stomach disappeared and never returned. She and her family have been eating Okra daily since then. Okra is also rich in Vitamin C, K, and antioxidants. It also contains nutrients that are beneficial for pregnant women.
You can also steam and sauté in spices of your choice. Follow the recipe below for a quick and easy way to enjoy this dish.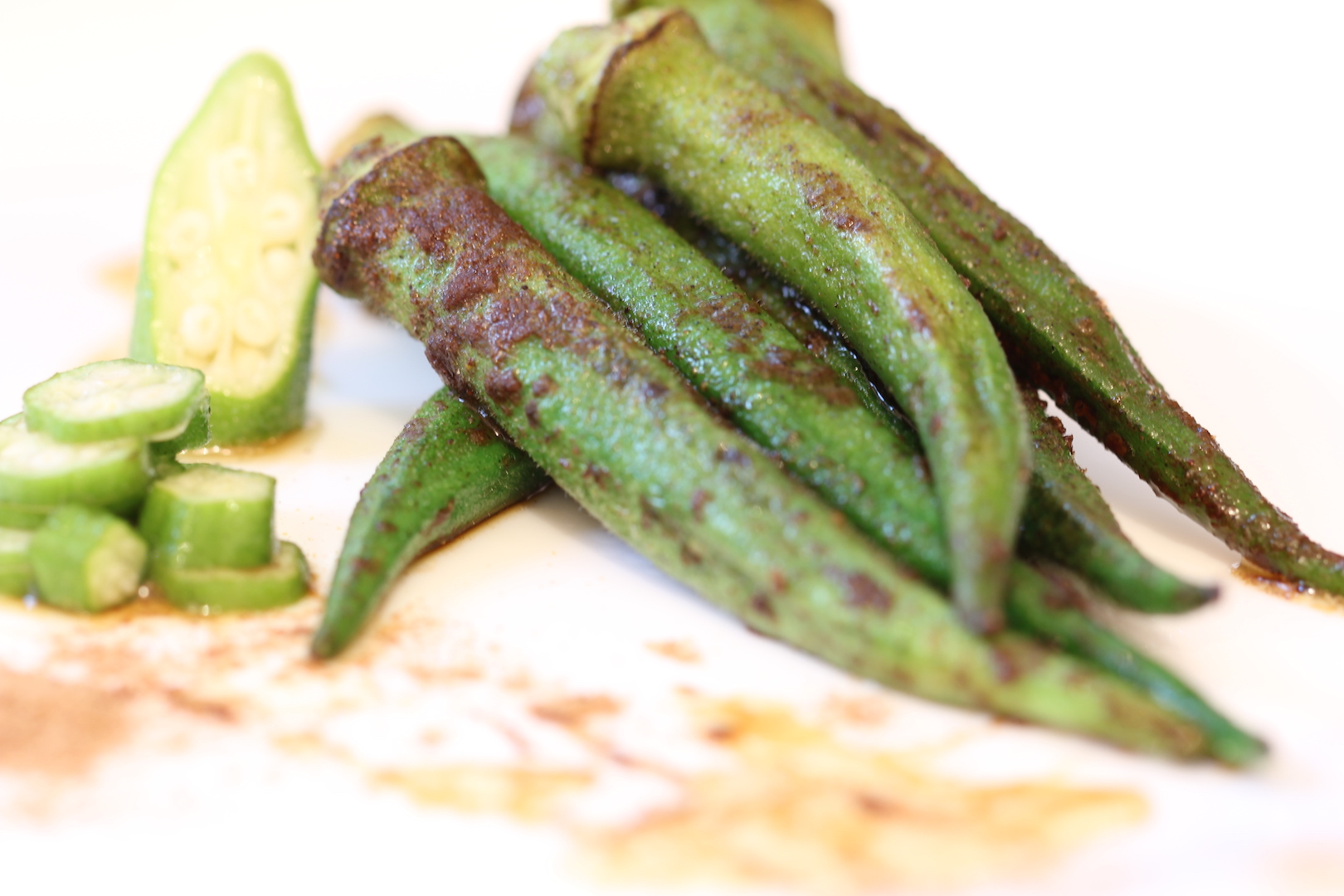 Print Recipe
Ingredients
12 medium-sized young Okra,

1/2 tsp roasted sesame oil

1/2 tsp cinnamon powder

1 1/2 tbsp soy sauce as to your taste.

1/2 of a lemon juice

2 tbsp of yogurt or coconut cream (optional)

Dash of nutmeg (optional)
Instructions
1
Cut off the heads of the okra.
2
In a saucepan over medium or low heat, add half a teaspoon roasted sesame oil and saute the okra whole for 1-2 minutes until it's half-cooked.
3
Add some soy sauce and coat the okra well with it.
4
Sprinkle the cinnamon powder over okra and squeeze the lemon juice.
5
Give a quick mix and remove from heat. All these steps will take you less than 5-6 minutes.
6
The heat will make the Okra's color a more vibrant green. Once this happens, immediately remove it from the heat so that it remains crunchy. If you allow the Okra to cook further, it will get softer and lose its nutritional properties.
7
Pour the coconut cream or yogurt over the okra.
8
You can also mix other vegetables and some fresh cheese to this dish, or finish the dish with a bit of grated coconut. Enjoy!
Notes
Remember not to overcook the OKRA as it will lose its nutritional value.
Lady's Finger (Okra, Bhińd́i, Dhenŕash) Lady's finger or okra is a popular all-season vegetable, The original home of the lady's finger was Africa. The fruit looks like the finger of a lady, hence the English name. It was first introduced into India in the Bhind district of Madhya Pradesh, so it is also called "bhindi." In Bihar, it is known as "ram taroi," and in Bengali, "dhenrash."