Add to Favorites
Beets my memory 🙂  I have some very special memories attached to beets. Once while we were preparing a weekend lunch for the entire family, my mom tasked me to grate the beets and remember this unique recipe vividly. As a kid and in my early teens, frequently assist my mom and sister in cooking. It was always a jolly task to grate beets, because whoa! I'd always be surprised and partly pleased with how red my hands are after and how it does not wash completely off with just one try. 
This colorful salad is a feast for the eyes and the tastebuds. The beetroot's beauty is the lush, deep purplish hue combined with the bright yellow corn, vibrant green pesto, and the pure whiteness of yogurt, or you can make it with coconut cream to veganice the recipe. Can you imagine your salad plate in such colors? The wonderful gift of nature, beautiful colors which no human can mimic!
Some years back while in London at a weekend retreat at a friend's home,  in an elegant, spacious kitchen, our host had purchased all kinds of vegetables and fruits from a local organic farm. After preparing a colorful lunch, I noticed beets sitting lonely and unused the beet memory rushed in coloring my mind, So you guessed it, we made beetroot yogurt salad. Finally, as we set lunch on the table, the colors were gorgeous and charmingly inviting, and after meditation, the students came to lunch and went wahoo! We had a lovely and pleasant meal.
A bit about beets 🙂
When choosing a beetroot, pick it up and make sure that it feels heavy for its size. It is unbruised and has no damage on the surface. It is best to buy beets with green tops still on, looking fresh. The leaves are edible as well, or you can make these into a juice or part of the vegetable stock as well.
Many people just leave these red beauties on the plate after the meal thinking, beetroots are mostly a side dish decor, without much understanding of its valuable health benefits. Once you gain real insight with research on vegetables and fruits' nutritional benefits for health, you certainly will not leave it on your plate again. The sweet and earthy rustic charm of beetroots will be better enjoyed and understood for its well-deserved health credentials.
The purplish-red hue of beets is overwhelmingly vibrant; it will turn all other vegetable red when you mix beetroots. To prevent that from happening, soak the sliced beetroots in water mixed with two tablespoons of vinegar. And if you don't want your hands all looking bloody red appearing, rub some cooking oil over your hands before handling beets. The color that comes from beets is betanin, anthocyanin a pigment. It is commercially extracted to create natural food coloring and dyes. 
Beetroot salad: You can slice and roast these with coconut oil, squeeze lemon juice over them, and add a sprinkle of cayenne powder. Layer it with macadamia cheese, goat, or sheep cheese.
Raw: Consuming beets raw is best, but most people like to cook and eat them soft. When cooked, the powerful betalain is significantly lost, and the oxalic acid may form calcium stones in the system when heated.
Juice: Beet juice goes well with a combination of pineapple, ginger lemongrass leaves or apples, lemon, and ginger. Blend everything until smooth and filter the juice or put it all in a slow juice extractor. You can also add carrots, cucumber, and celery. Don't drink beet juice concentrated by itself as it is too strong for the system and may provoke vomiting or diarrhea. Instead, always mix it with other vegetables and fruits.
Pickle/Sourkraut. Peel it, grate it, add apple cider vinegar (unpasteurized), sea salt, honey, or raw agave (and herbs). Let it stand for at least 24 hours or at room temperature.
Inflammation: Anthocyanins cause the deep purple color, and Choline is a vital and versatile nutrient in beetroot; this chemical helps with skin, eye, and liver health: sleep, muscle movement, learning, and memory. 
For more info, read on. Then, follow the recipe below to make this lovely salad. Coming soon, a signature "Veganiced" version of this dish.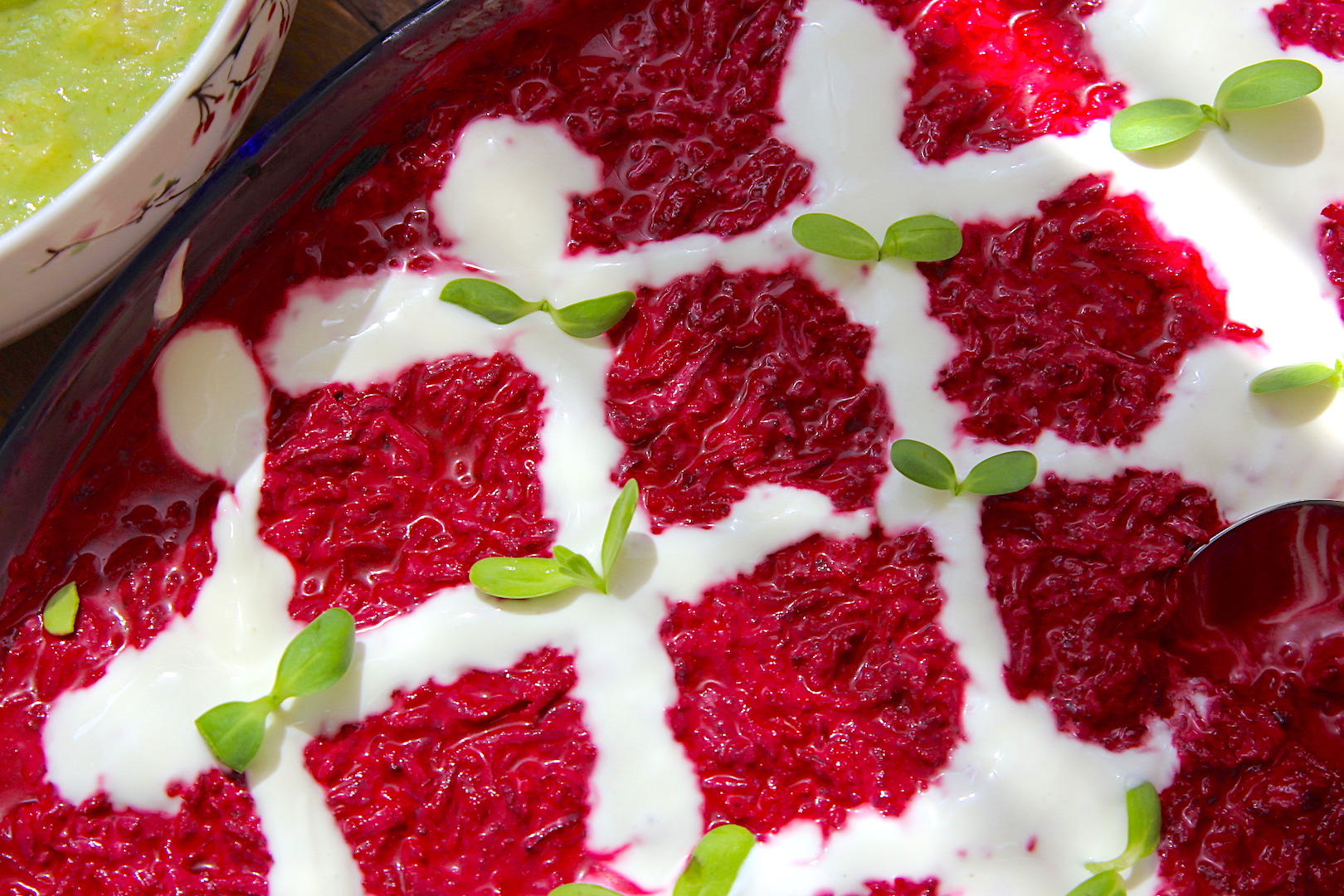 Print Recipe
Ingredients
2 medium beetroots skinned and grated fine

2 cup thick yogurt or coconut cream

1/4 cup honey or rice or maple syrup

1 tsp black pepper

1 tsp salt to taste

1 tbsp of grated ginger for juice
Instructions
1
Grate Beetroots and place them into a bowl.
2
Add coconut or yogurt cream, salt, pepper, squeeze ginger juice, rice syrup, or honey and mix well.
3
Decorate the beets with coconut or yogurt cream on the surface to give a pleasant and appealing look.
4
You can serve it as a salad dressing or as a salad as it is.