Add to Favorites
Fresh Panzanella with Fennel and Sweet Pea wholytalian Panzanella salad- is a traditional Tuscan salad made with tomatoes, old bread (croutons), olive oil, salt, and vinegar. This green Panzanella recipe with sweet peas and fennel gives a fresh, herby twist to the traditional salad. Crunchy, hearty, and packed with healthy deliciousness. As in many traditions old bread are recycyled into various dishes. 
Italian Panzanella was originally a simple dish originating from the peasant tradition of soaking Tuscan stale bread and mixing it with tomatoes and vegetables. Panzanella was a popular way to use up the good harvest of tomatoes and stale bread. This recipe builds on the traditional one, giving it a healthy touch of fresh greens. When you end up with left over bread try this salad.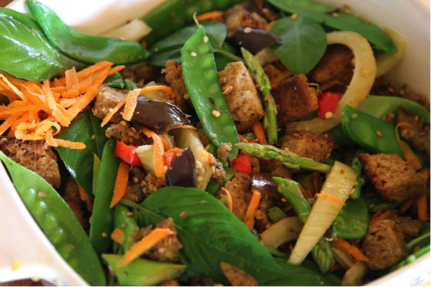 Print Recipe
Fresh Panzanella with Fennel and Sweet Pea
Ingredients
A day-old loaf of bread, chopped into 1 cm / ½ inch croutons

10 basil leaves, finely chopped

1 cup thinly sliced fennel

1 cup sweet peas (sugar snap peas)

4 tbsp extra-virgin olive oil

1* 350g block of tofu

¼ cup balsamic vinegar

A pinch of Himalayan salt or to taste

1 tbsp fresh rosemary, minced

1 romaine lettuce, shredded

1 tsp ground black pepper

1 lemon, juiced

1 tsp Kikkoman soy sauce

¼ cup parmesan, grated

1 red pepper, sliced

1 cup cherry tomato, halved

6 – 8 dried tomatoes, soaked in water and finely chopped

¼ cup pine nuts, toasted
Instructions
1
Preheat the oven to 175°C / 350°F.
2
Place the croutons on a baking sheet and toast for 7 minutes or until they are well toasted and crisp (but not browned)
3
Put half of the basil leaves, oil, and Himalayan salt in a mortar and muddle until the basil leaves are infused into the oil.
4
Heat the basil-infused oil in a skillet over low heat. Add croutons and saute for about 5 to 6 minutes on medium heat or until all of the oil is absorbed by the croutons, and they turn light golden brown with the subtle flavor of basil.
5
In another saucepan, bring two cups of water to a rolling boil. Add the tofu and cook for 1 minute or until tender. Once cooked, transfer the tofu to a blender and blend into a smooth paste.
6
In a wok, heat 3 tablespoons of extra-virgin olive oil. Add red pepper and tomato, and sauté for 2 minutes on high heat—season with Himalayan salt and black pepper. Remove from the heat and add basil, lemon juice, Kikkoman sauce, tofu paste; bring it all together with a gentle mix.
7
Toss in the croutons, chopped fennel, and sweet pea. Top off with toasted pine nuts and serve!
Notes
If making ahead, to prevent the bread from getting soggy keep all the ingredients ready and toss them in together with the dressing just before serving.