Add to Favorites
Pineapple and ginger are a combination that we are accustomed to. Add in coriander and not so much. However, the juice from these ingredients is highly rich in vitamin C and is a perfect detox juice. Freshly squeezed juice has many health benefits compared to the canned or boxed variety that also contains preservatives.
Pineapple is rich in iron and bromelain. Bromelain is a protein-digesting enzyme that provides relief from inflammation, especially in the digestive tract. It also supports cardiovascular function as well as helps improve bone density.
With pineapple being the base for this juice, you can adapt the juice with a tinge of pungency to lightly spice up the juice for optimal absorption, as we have done by adding ginger. The coriander adds a great earthy tone while providing more mineral benefits. Most pineapples are already naturally sweet. On the other hand,  if you crave sweets without wanting those extra calories, you can make it sweeter by adding sweet fruits such as orange and natural sweeteners. But, if you are looking for detox and weight loss benefits, then this Pineapple Coriander Juice is the recipe for you.
Fresh juice is best taken immediately. As you can see in the last image above, When you allow the juice to stand, it will separate due to oxidation or using the high-speed centrifuge juicing machine.  Store the juice below 4°c as it will keep for two to three days. However, my suggestion is to make a habit of drinking the juice immediately after its made. Drink it slowly by swashing it in your mouth before you swallow the juice.  Mixing the juice with saliva is an essential part of the digestive process, as this is where it all starts.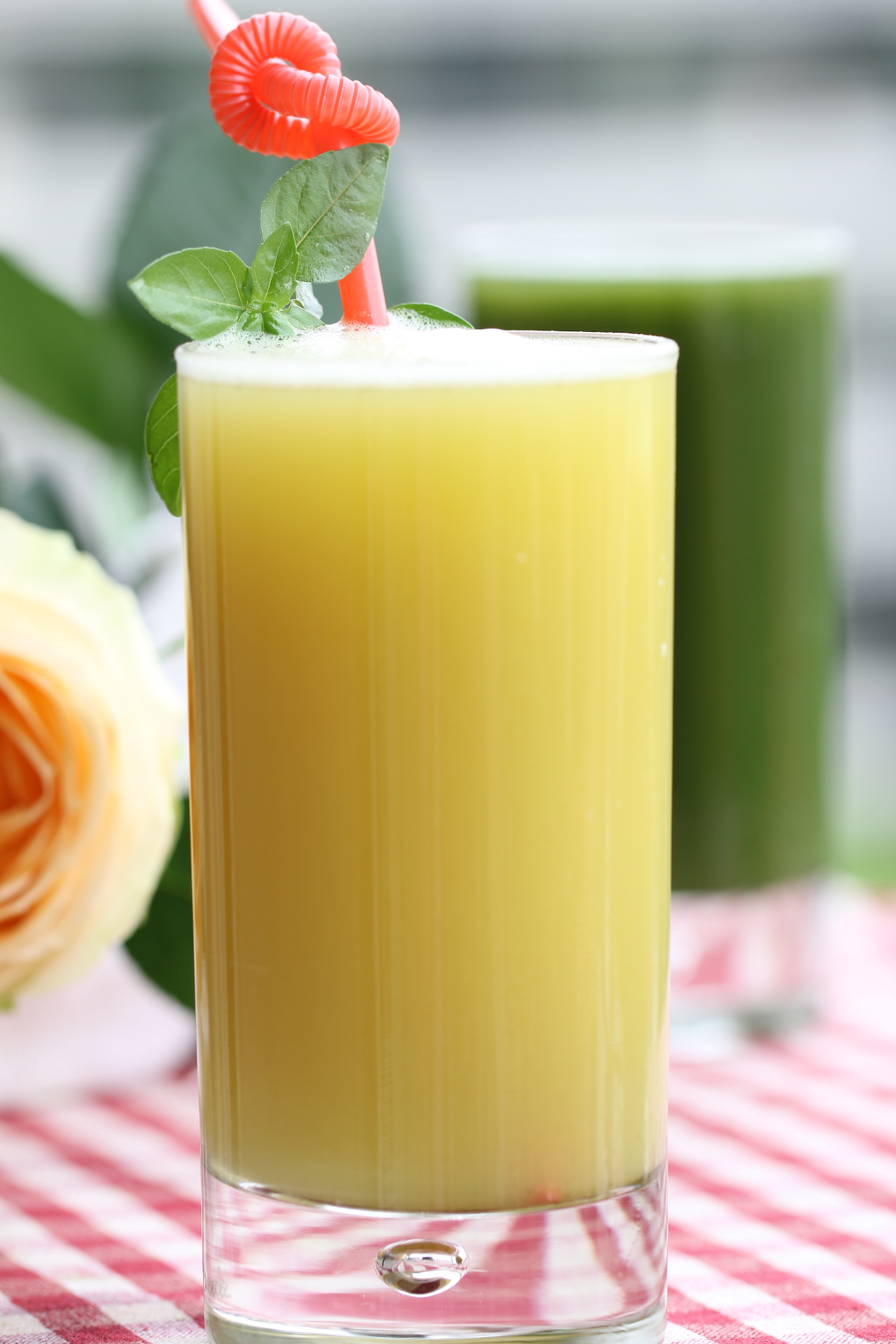 Print Recipe
Pineapple Coriander Juice
Nutritional Benefits: Pineapple juice provides immense health benefits in the form of anti-inflammatory and metabolism-boosting benefits, gut health booster, and a rich source of potassium and vitamin C, which is a potent immune booster. Ginger comes in with antibacterial and anti-inflammatory benefits, which is very beneficial when it comes to soothing sore muscles and providing relief to people with arthritis. Coriander is endowed with calcium, vitamins A, C, and K, and potassium which are great for lowering bad cholesterol.
Ingredients
1/2 pineapple

1 medium bunch coriander or parsley with roots

1 thumb-sized ginger root
Instructions
1
Peel the pineapple and slice it into small pieces for juicing.
2
Either use an extractor or a blender with a cheesecloth.
3
Extract the juice and enjoy the boost of nature's gift of health.
Notes
One of the health benefits of pineapple juice is that it flushes out toxins from your system. Coriander and parsley, especially the roots, can crush stones in the digestive system. Ginger plays multiple roles in improving the digestive system as well.