Add to Favorites
Vital Greens for Vibrant Vitality & Dynamic Health
Detox juices rapidly aid in recovery from illnesses. Diseases occur when the environment in the system turns acidic. The `dis-ease' gradually disappears when we transform the internal environment to its natural alkaline state. When you drink green dynamo regularly you will certainly experience a rebound of vitality.
Kale, cucumber, and celery are three highly nutritious ingredients. Celery and cucumber are rich in manganese which helps your body activate the proteins to help it form blood clots and balance hormones tasked with your reproductive health. In addition, kale, celery, and cucumber are rich in vitamin C, vitamin A, potassium, and magnesium which offer healing and preventive benefits to your body by boosting your immunity.
The body needs "Green Dynamo" fluids with vitality, the base for cell survival, to facilitate the proper function of the cells. Like our little blue planet, our bodies are approximately 72 percent fluid. The cells thrive in the environment when sufficiently replenished with fluids. Lack of water can destroy the ecological balance of any environment. Look at all the drought-ridden places on earth. The human body is designed to thrive and function efficiently and last a long time, and it is not intended to get dysfunctional or break down prematurely. The structure's sustainability depends on three factors that allow the cell to operate most efficiently: "ONT" adequate amounts of Oxygen, Nutrition, and Toxin elimination.
Inadvertently whichever circumstance you are in, the body will accumulate toxins through the food you eat, the water you drink, the air you breathe, and the clothes you wear. The chemical detergents we use to wash clothes transfer chemicals onto our skin and then penetrate the body's skin cells. We invariably inhale the vapor of chemicals we use for washing and cleaning our homes. All these beautiful-smelling chemical fragrances carry harmful toxins in the form of vapor. We unconsciously inhale all these released toxins in the air from the elegantly labeled cleaning detergents. Tap water is different from what it seems, clean crystal water is confused, and the natural structure of water is distorted due to static vibrations and chemical pollution.
This residual vapor puts our internal organs into overdrive to discharge these harmful chemicals. The liver, the largest organ, has to work diligently to maintain (the homeostasis) balance of the system by purifying the blood. The cells have a tremendous task to discharge them as efficiently as possible. Removing the toxins is critical because we have a heavy price to pay for accumulation and build-up if not removed.
One of the main reasons for the heap of toxins in the body is an overindulgence in processed food and a stressful lifestyle. Due to an unhealthy diet and lifestyle, the system loses efficiency, and the metabolic system begins to slow down and deteriorate. These are primarily due to a sedentary lifestyle, excessively refined food, and constantly consuming processed food. These diminish the cells' ability to discharge the toxins efficiently. Today, most people get sick due to overconsumption of protein and carbohydrates, which causes excessive cholesterol and toxins in the cell. In addition, most individuals in developed and developing countries have protein poisoning due to the nutritional overload of proteins.
Note: Green Dynamo juice will help rev up your body's natural detoxification process and release oxidative stress.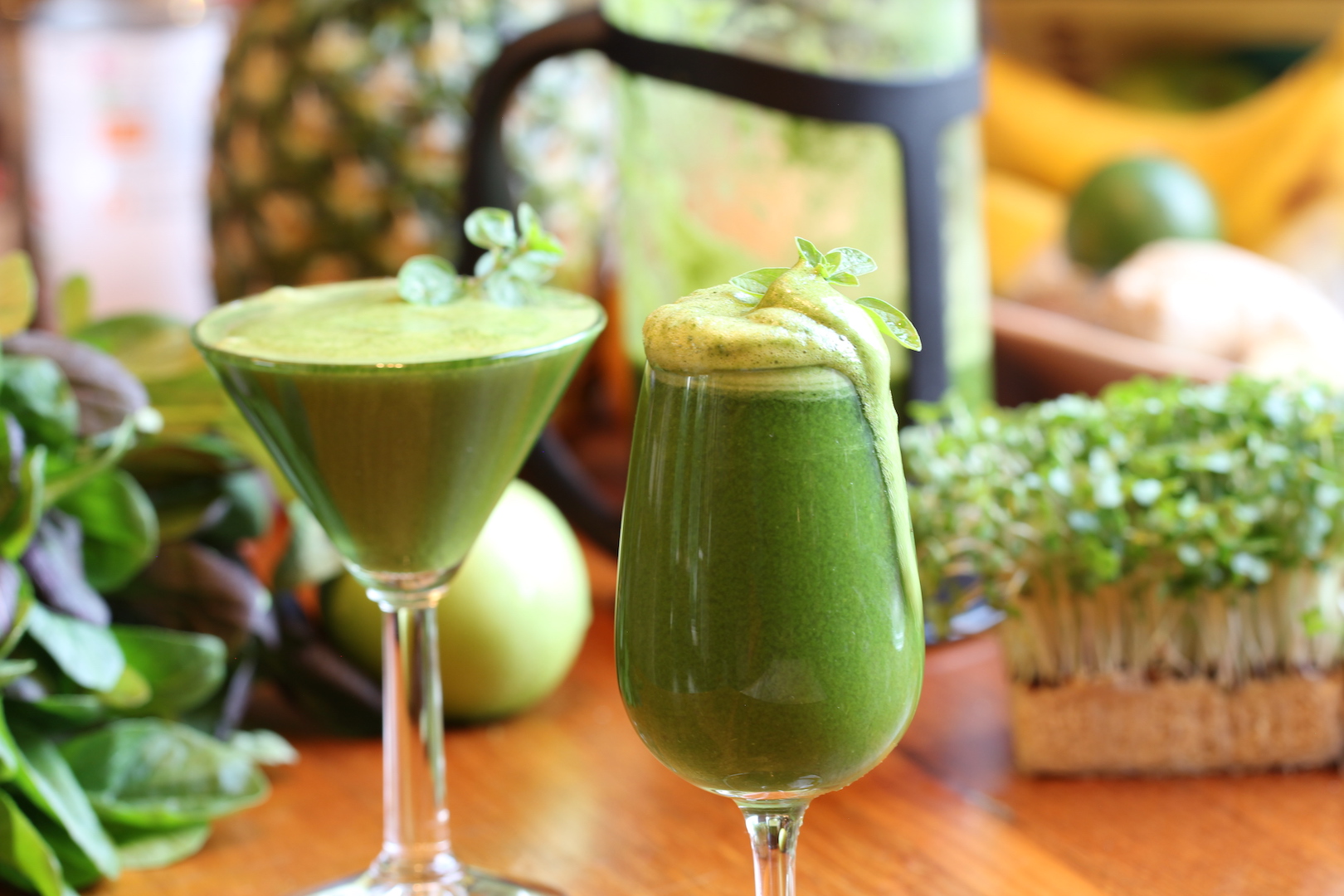 Print Recipe
Green Dynamo
Nutritional Benefits: Mustard sprouts are a staple in Chinese medicine as they are very rich in vitamin C, a potent immune booster, vitamin A, which boosts lung, heart, and kidney health, and antioxidants which fight free radicals, thus lowering your risk of chronic diseases. Kale, lemon, apples, celery, cucumber, red grapes, ginger, pineapple, and almond milk collectively provide you with disease-preventing and healing benefits from their richness in antioxidants, fiber, and minerals.
Ingredients
4 kale

1 lemon

2 apples

1 cucumber

3 celery sticks

2 cups red grapes

1 thumb size ginger

1/2 pineapple medium

1 small bunch mustard sprouts ( or any kind)

1/2 cup almond milk
Instructions
1
Rinse all vegetables and fruits and run them through a juicer. You can as well blend them in a blender and strain in a cheesecloth.
2
Stir the almond milk into the juice and mix well. Serve right away!
Notes
Remember to make a broth of the pulp; don't throw them away. It will make a fantastic stock for your soup. When you leave the juice to stand too long, the milk and the juice solids may separate. Just shake it well before you drink. It's easy to sprout seeds, and you can also buy them in a well-stocked health food store.