Add to Favorites
Kids are fuzzy with their meals depending on how they have been brought to eat their vegetables. Most nonvegetarian parents who are transiting from an animal-based diet to a plant-based diet have an uphill task to guide their kids along on the new path. We have created this site with many recipes that will you and your kids' transit joyfully to a vegetarian or vegan convert.  You will be surprised how easily you can prepare game-changer recipes for you and your kids.
Who says healthy, plant-based food should be boring? There are many ways to make healthy food simply delicious. One perfect way to make vegetarian recipes delicious is by adding a bit of cheese. This recipe features healthy, scrumptious bites with some Halloumi, a semi-firm, slightly salty sheep cheese that originated in Greece. The high melting point in this cheese makes it possible for the cheese to not break under high heat, making it suitable to grill, roast, and oil-free pan-fry.
The Halloumi is actually what became the binding agent for these mini pan-fried or grilled vegetable cakes. It also contributes to the nutrition content of the dish, a good source of calcium, zinc, and magnesium, as well as vitamins A and B. Along with the high fiber and vitamin content from carrots and the number of antioxidants in zucchini, this simple starter packs a punch in terms of both flavor and nutrition.
Next time you're thinking of a starter or some snacks for you or your family, try making these delicious Halloumi Zucchini Carrot Cakes. It's a great way to introduce your kids to vegetables, and a perfect savory bite for the adults as well.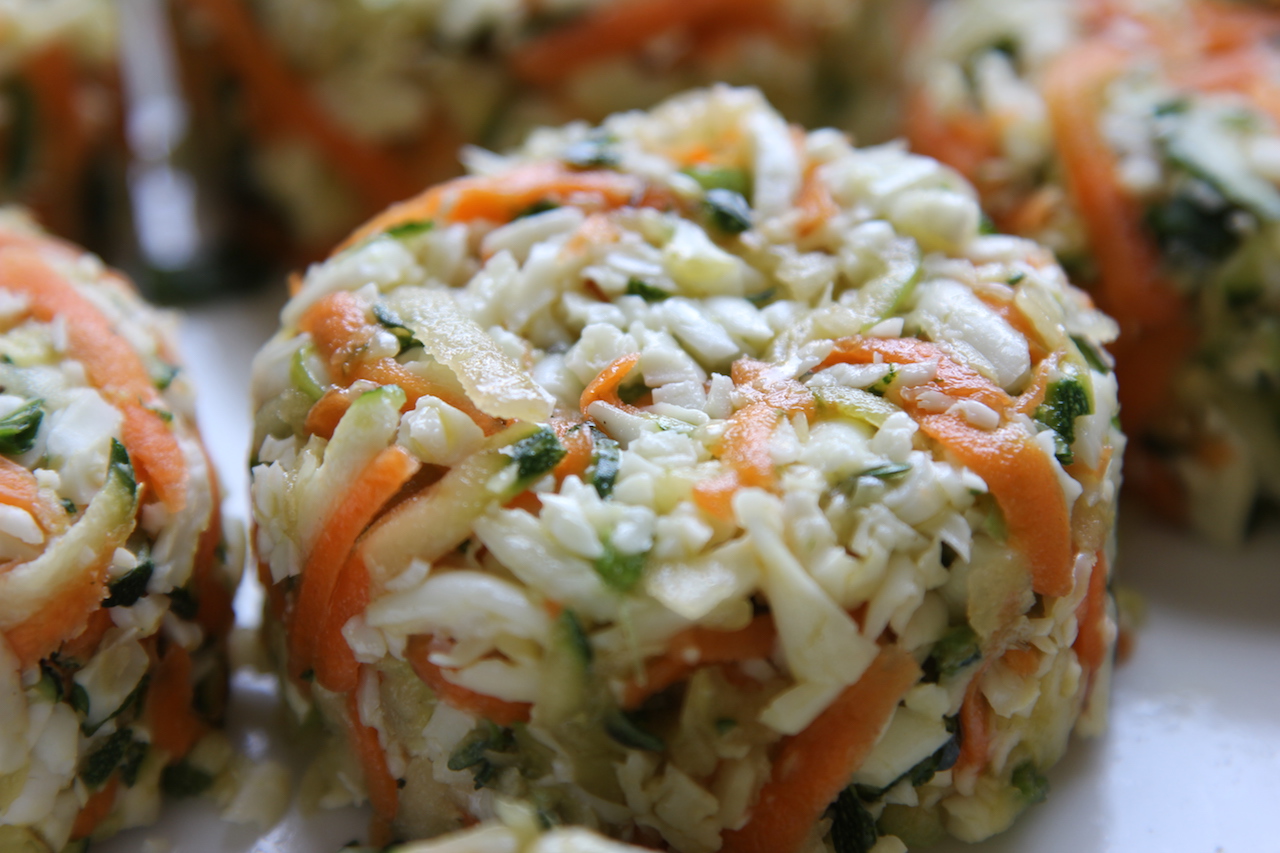 Print Recipe
Halloumi Zucchini Carrot Cake
Ingredients
1 carrot, grated

1 zucchini, grated

1/2 cup fine rice flour

1 tsp Himalayan salt

1 tsp fresh thyme leaves

1 tsp white peppercorns crushed

1 block, Halloumi original sheep cheese, grated

1 tbsp mints leave finely chopped

1 tbsp coriander leaves finely chopped

1 tbsp vegetable oil for cooking

Sauce:

1 tsp vinegar

Juice of 1 Lemon

1 tbsp soy sauce

1 red chili, finely chopped

1 tbsp toasted sesame oil

5 sprigs of fresh coriander leaves, finely chopped
Instructions
1
Squeeze the veggies well for few minutes to drain the juice out and set aside* (see note).
2
Place the grated vegetables and halloumi together in a bowl. Season with salt and pepper and mix.
3
Sauté rice flour in a saucepan on medium-low heat for few minutes until golden brown. Add Himalayan salt and the juice from the vegetables until it forms a thick paste.
4
Mix in the paste with the vegetables thoroughly and form cakes like little burgers.
5
Place these little cakes in the freezer for 30 minutes.
6
Meanwhile, combine all the ingredients of the sauce in a small bowl and set aside.
7
On a skillet, heat the vegetable oil and cook the mini cakes on each side until golden brown.
8
Serve on a plate with the sauce on the side.
Notes
To effectively drain the water from the zucchini, you can add a little pinch of salt after grating it and leave it for 5 minutes. Then you can use a piece of cloth to place the zucchini in and close it like a pouch. Wring clothe to drain the excess water out.