Add to Favorites
I had some leftover basmati rice from the day before and had to make a quick lunch for friends. There were some noticeably two aubergines sitting around in the kitchen corner. So I diced them up, marinated them in some spices, then left, then grilling in the oven for 20 minutes. Meanwhile, the dried kombu algaes were rehydrated in water for a soft salad. Luckily, some leftover hazelnuts soaked from the previous day to make milk out of it, but that did not happen! So it got roasted, and into the stir fry, they went nice and crunchy.
This is what that came out in 35 minutes: warm and fragrant basmati rice that is well-seasoned with spices, along with a hint of smokiness coming from the grilled aubergines, the softness inside from the crunchy potatoes, an element of freshness from the sweet peas, then with the nuttiness from the hazelnuts coming through plus a bit of a crunch, it is a pleasant journey for the senses! Truly joyful lunch it was.
What a way to give my leftovers a makeover! This is a quick and easy stir fry.  It also goes well with aubergine canapé, pesto, and kombu salad. Learn how to make the recipe below.
Also, if you're interested, here are the recipes for the Aubergine canapés,  Smoky Pesto, and the Kombu Algae Salad.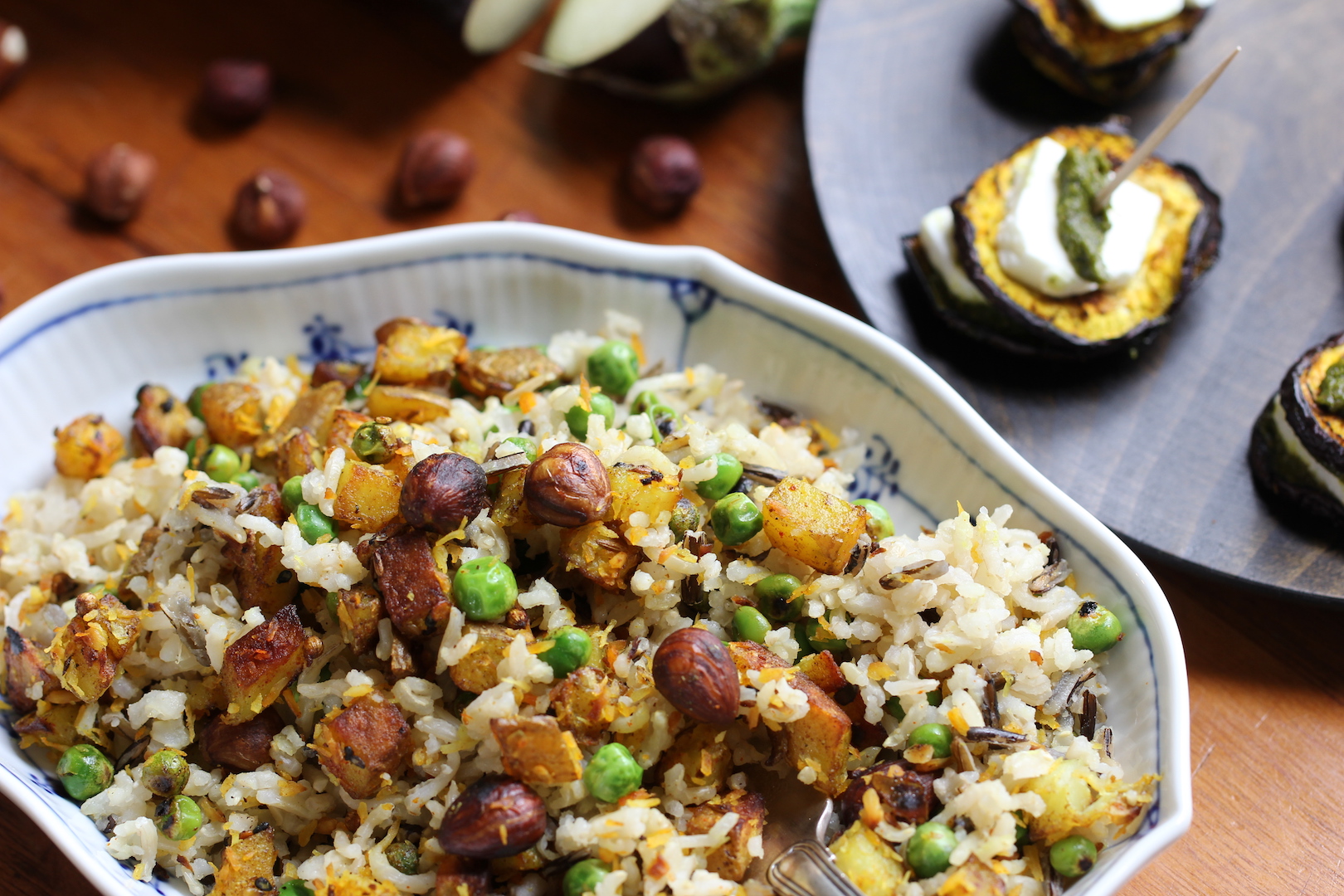 Print Recipe
Basmati Hazelnut Stir Fry
Nutrition Benefits: Basmati Rice isn't ordinary, in fact, it has a low glycemic index that helps manage sugar levels. Aside from that, this kind of rice is also rich in fiber, which helps in keeping a healthy digestive tract. It also contains thiamine which is important for brain health and function. Hazelnuts, on the other hand, add more nutrition to this dish. It is suggested that eating hazelnuts are can help lower the risk of heart disease and lower cholesterol levels because of their high antioxidant content and activity.
Ingredients
2 medium potatoes medium-diced

1 cup sweet peas

1/2 cup Hazelnuts soaked in water overnight

1 1/2 cup whole basmati rice

3 cups of water

6-7 Saffron stamens

1 tsp cinnamon powder

4 pods cardamom, crushed

1 tsp coriander seeds

1 tsp cumin powder

1 tsp turmeric powder

1 tablespoon coconut butter

1/2 cup dry desiccated coconuts
Instructions
1
Wash the basmati rice three times until the water is no longer murky, then drain the water.
2
Place this in a saucepan with 3 cups of water and cook over medium heat for 30 minutes.
3
Meanwhile, in a saucepan over medium heat, add the coconut butter and sauté the potatoes in it.
4
Add all spices and allow the potatoes to turn golden brown.
5
Add hazelnuts and toss, allowing them to roast and get crunchy on the outside.
6
Then add the sweet peas and sauté everything together. Season with salt and pepper to taste.
7
Add the desiccated coconut, toss briefly and remove from the heat.
8
When the rice is done, use a fork to loosen it up. Then, add the sautéed mixture into the rice and fluff it up a little.
9
You can serve these with canapés, pesto, and kombu algae.