Add to Favorites
It was when I visited Johannesburg in 1991 that I first tried this wheatgrass juice. It has been one of my favorite juices ever since. At that time, a shot glass of this juice cost me a dollar. My first thought was, "mmm, pricy for a tiny shot," but as soon as I tried it, I realized it was totally worth the price.  It was like an instant boost of chlorophyll – fresh, earthy, cool, and with a mild grassy sweetness.
Some people might be apprehensive about consuming grass. Now, look at a cow, one of the healthiest and gentlest creations of nature. You can see that it eats wild grass all day and has the energy to plow fields for hours and produce a high amount of nutrition-rich milk. Cow's milk is design for baby cows, yes. In rural villages of India and some places in Asia, mothers often provide emancipated children with cow milk to help them grow and recover faster.  Or even when lactating mothers themselves have no more breast milk, they feed cow milk to their children—one of the primary reasons cows are treated as sacred, especially in India.
After the first time, coming back to wheatgrass for as long as I stayed in Jo'burg, I had a daily shot of wheatgrass juice. It was like a healing magic potion. But, apart from its power-packed nutrition, what I also loved about this juice was that its fragrance,  sweet, organic, pure and fresh-cut lawn.
A little shot of this wheatgrass juice packs a punch of nutrients and higher quantities than most fruits and vegetables. When grown in organic soil, it absorbs approximately 100 out of 102 minerals from the earth, essential for SUPERDUPER good health. Just like most natural foods, wheatgrass also has antioxidant, antibacterial, and anti-inflammatory properties. It also contains several micronutrients like vitamin A, C, E, and K. Iron and magnesium vitally crucial for blood and brain, 17 amino acids, and is one of the best organic sources of chlorophyll.
What is wheatgrass?
Scientifically known as Triticum aestivum, wheatgrass has immense health benefits. Wheatgrass is often consumed in a juice form, and it is also available in powdered form. Studies have shown that wheatgrass helps prevent and reverse many lifestyle diseases like type 1 2 diabetes. So, try out this fresh wheatgrass juice recipe and drink it daily as a health tonic that will help in boosting your immunity, eliminate toxins from the body, boost your metabolism, and lower your cholesterol levels.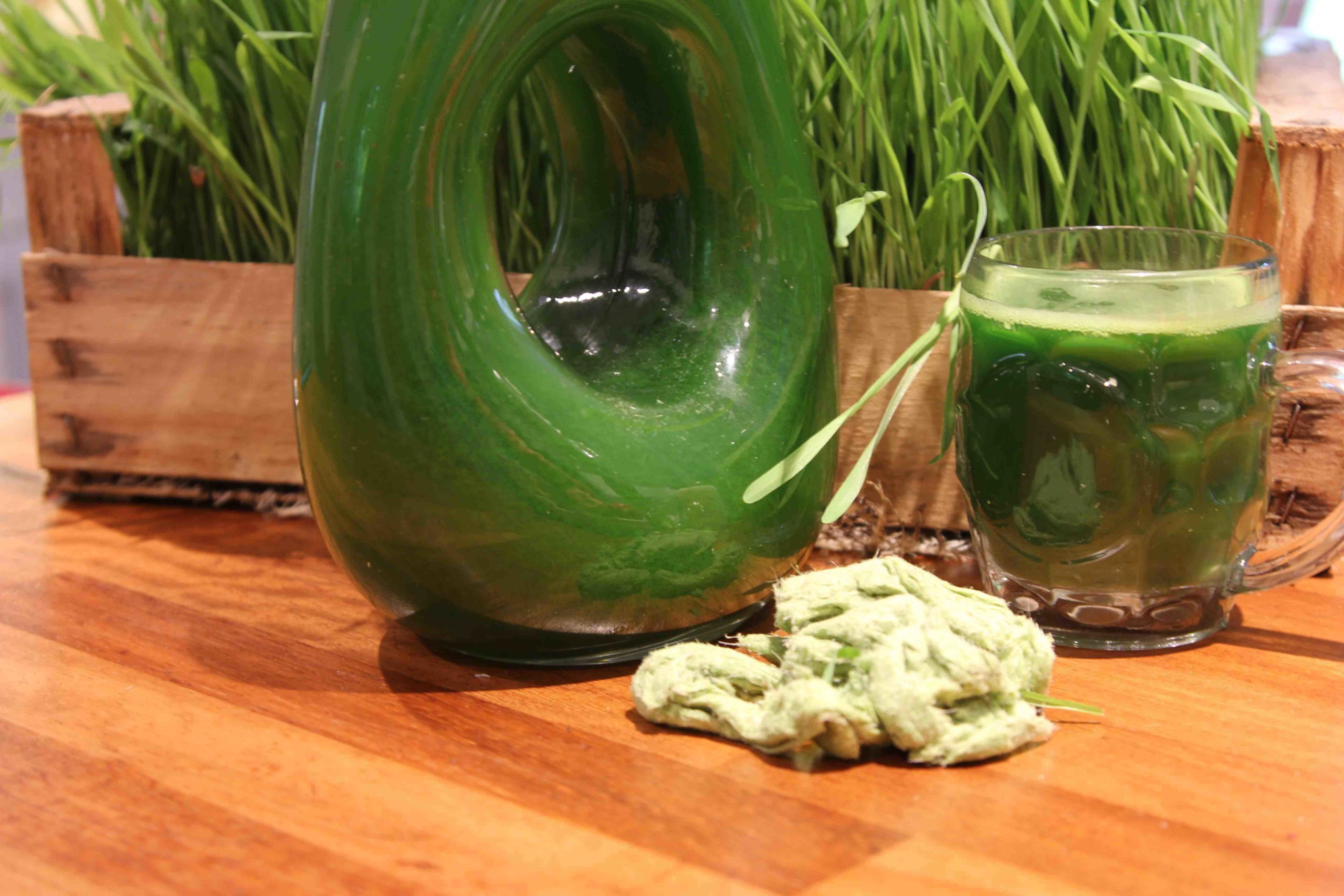 Print Recipe
Wheatgrass Juice
Nutritional Benefits: Wheatgrass contains a potent mix of nutrients that support all the functions in your body. It is endowed with 17 amino acids, B-vitamins, vitamins A, C, E, and K, chlorophyll, enzymes, phytonutrients, and minerals such as magnesium, calcium, and iron. The health benefits of consuming wheatgrass include eliminating toxins from your body attributed to chlorophyll, which also supports your liver function. The enzymes in wheatgrass support the digestive function by helping in the breakdown and absorption of nutrients. It is also a great metabolism booster which is important for people trying to lose weight. Additionally, wheatgrass helps boost your immunity and reduce bad cholesterol levels, therein supporting cardiovascular function.
Ingredients
300g fresh wheatgrass, thoroughly rinsed

1 cup water
Instructions
1
Cut wheatgrass as close to the root as possible, rinse thoroughly and discard any yellow leaf.
2
Put small portions of wheatgrass (around one handful) through the juicer. The juicer might get jammed with wheatgrass pulp, so remove the pulp manually at regular intervals and then continue till you get all the juice out of the wheatgrass.
3
Add wheatgrass and water in a blending jar and blend till you get a smooth liquid. It is important to break down the wheatgrass completely to extract all juices from it.
4
Pass the liquid through a cheesecloth or fine-mesh strainer and squeeze out all the juice from the pulp.
Notes
You can refrigerate and store the juice for up to 1 week (but the longer you store, the more nutritional value will be lost from the juice, so ideally, do not store for more than 3 days)