Add to Favorites
Ever struggle with your meals and your energy levels throughout the week? You want to eat healthy though time is short. Navigating through the day, the week, then the months, especially when multitasking, is brutal. I know where you are at, been there, done that. So the next best thing is to eat out, right? Grab whatever and go. Wrong strategy! You'll end up dead tired, you start putting on weight and be wiped out even before end of the day.
Why? Because acidic and fast food are unhealthy, made mostly carbs and fats. Finally because of vibration from the people you buy the food from are stressed with low energy. which are industrially made and unnatural. Eating food from fast food shops makes you stressed as well,
Instead of taking the easy way out and eating out, how about this? Let's make some buckwheat galettes and pack them in a ziplock bag, ready to be eaten with freshly prepared  coconut chutney or vegetables and coriander pesto throughout the week. I also always have some sauce ready-made for the week. Read the recipe below to learn how to make this to make, easy to pack meal!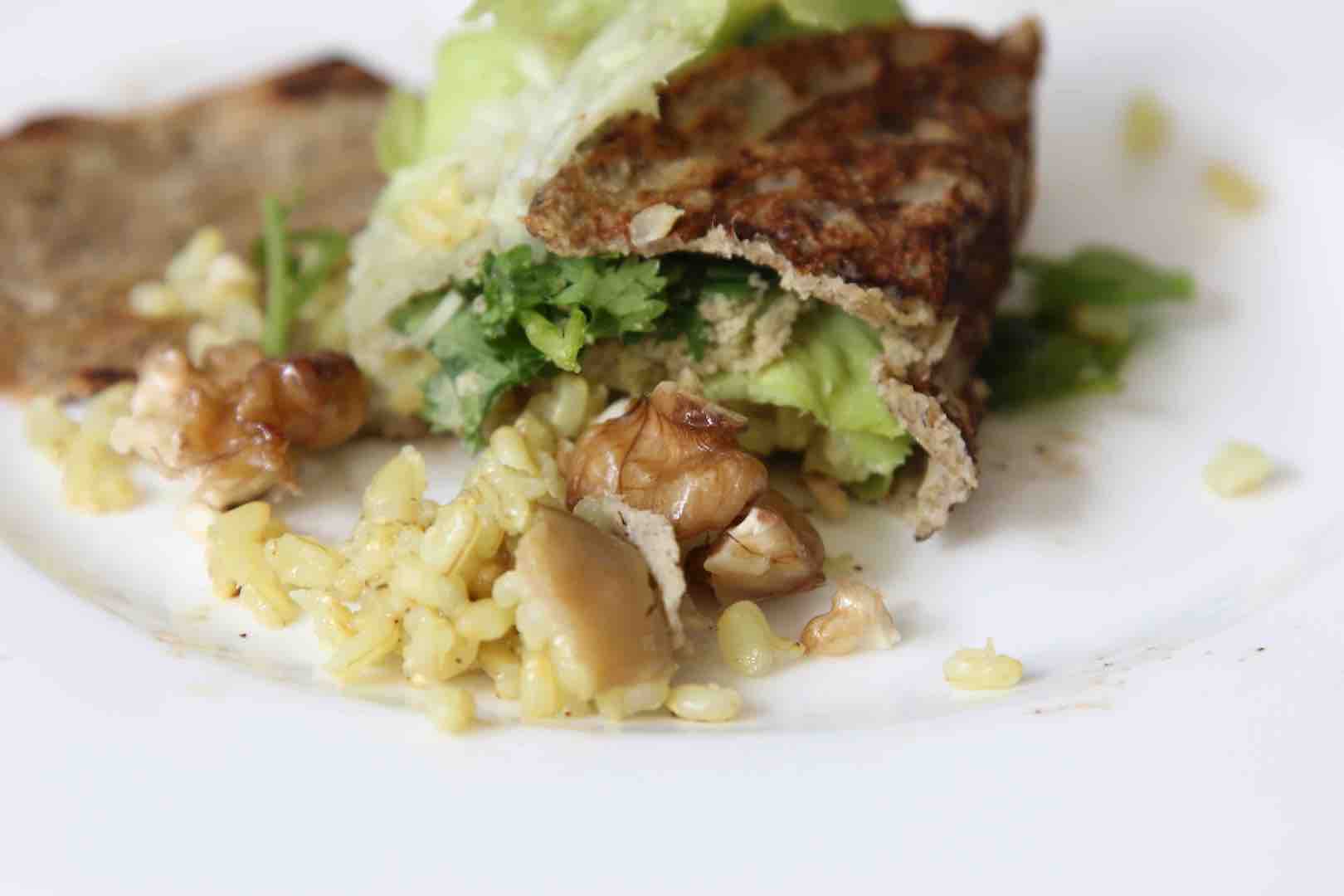 Print Recipe
Buckwheat Galette Soft Taco
Soaking the buckwheat groats will take approx 1 hours Cooking Time: 30 min – Total Time: 1 hours 30 min
Ingredients
For the Galette:

1 cup buckwheat groats

2 cups of water

1 tsp salt

1/4 cup olive oil

1 cup basil leaves, roughly chopped

Filling for the Taco

1/2 cup of basil leaves, roughly chopped

1 cup mung sprouts or any other sprouts you prefer

1 apple, julienned (ie cut into matchstick sized slivers)

1 cup of coriander leaves

1/2 cup nori flakes

2 tsp mango pickle

1 tbsp fresh thyme leaves

1 kiwi, skinned, and julienned sticks

2 cups Chinese cabbage, chopped finely across broadside

1 small piece of green chili, finely chopped (optional)
Instructions
1
First, soak the buckwheat in water for an hour or so.
2
After soaking, place this in a blender along with the rest of the ingredients for the galette. Blend until smooth. But If you are in a hurry, use 1 cup buckwheat flour instead of natural fermentation, and use half a teaspoon of bicarbonate soda or baking powder.
3
In a medium crepe or non-stick frying pan on medium heat, heat about ¼ teaspoon of oil, add a ladle of batter and let it spread evenly. ( you can also dab a napkin with oil and rub it over the saucepan to prevent the pancake from sticking to the pan.
4
Cook till set at the edges turns light brown, and the top is bubbly, then flip to cook the other side. Keep them small initially until you get the hang of it. Set aside the galettes over a wire rack to cool for a bit. Depending on the diameter and thickness, you will make approximately 6 to 8 galettes.
5
Mix all the ingredients for the filling in a bowl. Divide the filling into equal portions depending on the number of galettes.
6
Place the filling inside the galette, and roll it up. Serve with a bowl of pesto or one of our unique sauces on the side. Enjoy!
7
These galettes can be made in bulk and stored in a ziplock bag in the fridge for up to a week.
Notes
Please click on coconut chutney and coriander pesto for the link on the text box.