Add to Favorites
White Beans and Spinach Stew
White beans are soft, easy, and quick to prepare, unlike other beans. While visiting my friend in London in 2012, I made this recipe during a get-together. It's a delicious, hearty, rustic stew made out of beans and spinach. You can also add some other vegetables to the Fagioli Branco elSpinaci, or cook some vegan sausage in the skillet before adding the fresh spinach, readily available in most supermarkets.
We are all busy people, right? I want to make our lives easier, especially for new mothers who desire to make easy homecooked meals. Here is something I do to facilitate prep time for this lovely dish.
When making Fagioli Branco el Spinaci, you can leave the beans to soak overnight. In the morning just before breakfast, take a minute to throw the beans into a colander, rinse it, and pour it back into the pot, replace them with fresh water, and allow the beans to cook without the lid to prevent the water from overflowing. As the beans take time to get soft, you are free to do other tasks. It takes between 45 minutes to an hour to cook depending on the beans. Turn the fire off and you have the major task done before lunch prep. I don't use canned stuff dues to many reasons, one main reason is that there is more vital energy and nutrients in fresh food! Low energy canned foods will drain your vital force-at least it does for me.
In macrobiotic cooking, they place a slice of wakame algae to allow the bean to soften faster and remove toxins. If you don't have it, add some baking powder while soaking overnight. An hour before lunch, the beans are ready to prepare within 30 minutes. Follow the recipe below, or add a twist and whip up your own to enjoy these soft white bean Fagioli and believe me, everyone will love the Fagioli Branco el Spinaci.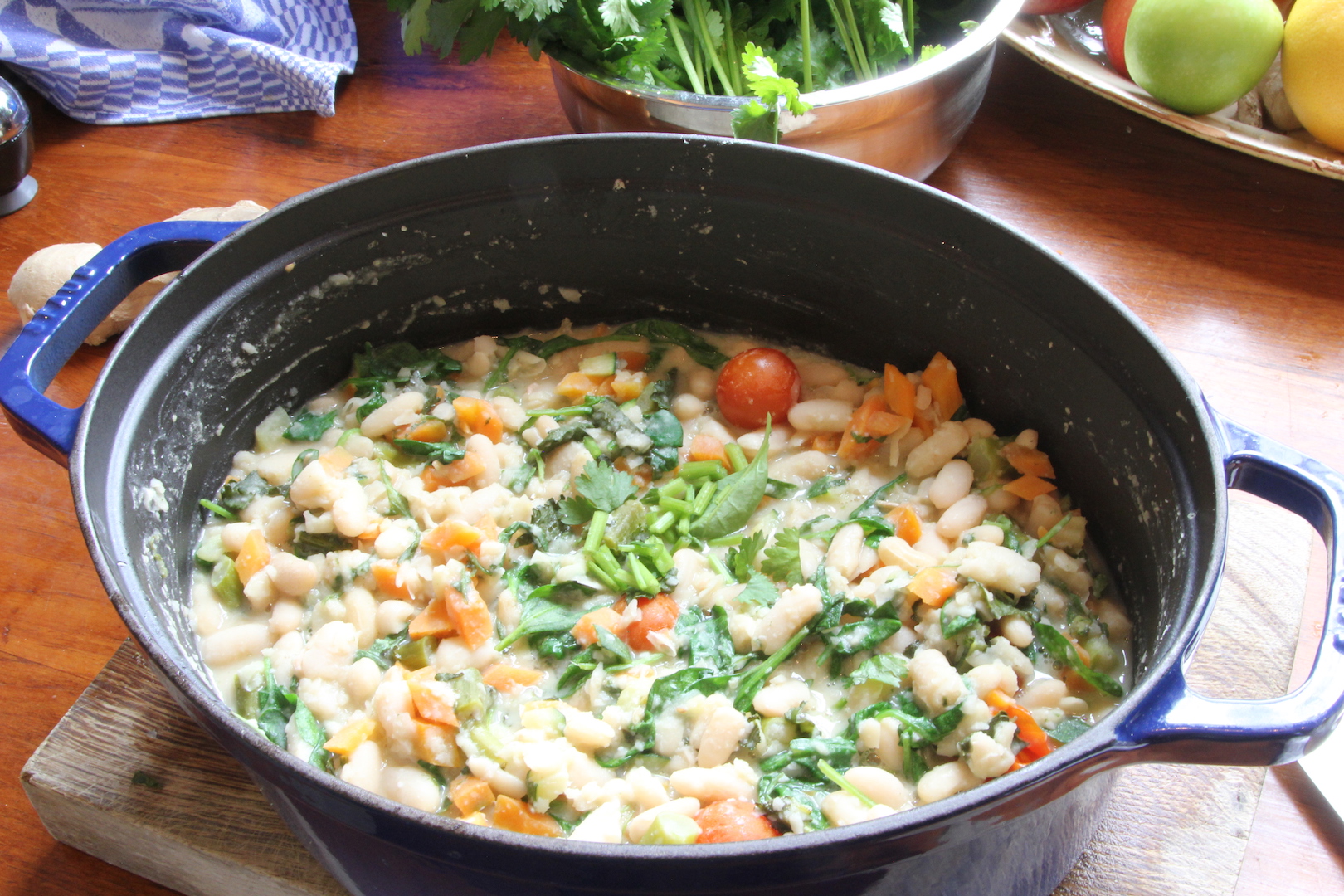 Print Recipe
Fagioli Branco el Spinaci
This Fagioli Branco el Spinaci is not only easier to make than a boxed dinner, but it's also more flavorful and tasty. Ingredients are all-natural. It's ideal for a busy weeknight.
Ingredients
2 cups white beans soaked in water overnight and cooked

2 medium carrots, cubed

1 medium zucchini, cubed

1 handful of arugula salad

5 cherry tomatoes

2 large handfuls of baby spinach leaves

1 tbsp olive oil. (butter optional)

1 tsp fresh thyme

1 tsp oregano

1 tsp fresh rosemary

1/2 tsp nutmeg

1 thumb-sized ginger, finely chopped or grated.

10 baby broccoli stems
Instructions
1
Soak the beans in water overnight. Drain and then cook in a pot of boiling water for about 30-45 minutes or until soft.
2
In a sauce over medium heat, sauté ginger and all herbs in olive oil for 1 minute. Then add the vegetables and continue to sauté for a few minutes.
3
When the vegetables are half-cooked (about 10-15 in), pour the cooked beans into the pot and give it a gentle mix.
4
Add the finely chopped fresh coriander leaves and baby spinach and stir well.
5
Remove from the heat and serve in a bowl with a side of salad.
Notes
You can also add boiled pasta if you are not on low-carb diet.