Add to Favorites
Here is a complete lunch with Chickpea pancake with tomato chutney and asparagus spears sauté. Chickpeas and its flour are a  popular ingredient in many Indian and Mediterranean dishes such as hummus, chana masala, curry, and falafel. It can also be found in plenty of Spanish and Portuguese stews. While it mostly a savory ingredient for different main dishes,  to be ground up as paste for dough or batter. 
The brunch plate for today's recipe features three main components: the Chickpea Pancakes, some Tomato Chutney,  and Sauteed Asparagus.  This beautiful dish is a perfect combination of sweet, spicy, and savory and has all the elements.  Packed with nutrients, this legume helps start the day and keeps you all day long.
The Chickpea pancake is light and aromatic and has a slightly spicy bite, while the tomato chutney counters this with a hint of sweetness coming from coconut sugar. Finally, this is rounded off with the freshness that comes from the asparagus as it lends a bright, tangy flavor that cuts through all the dish's components.
You will enjoy the quick and easy distinctive trio recipe; below is something to sample.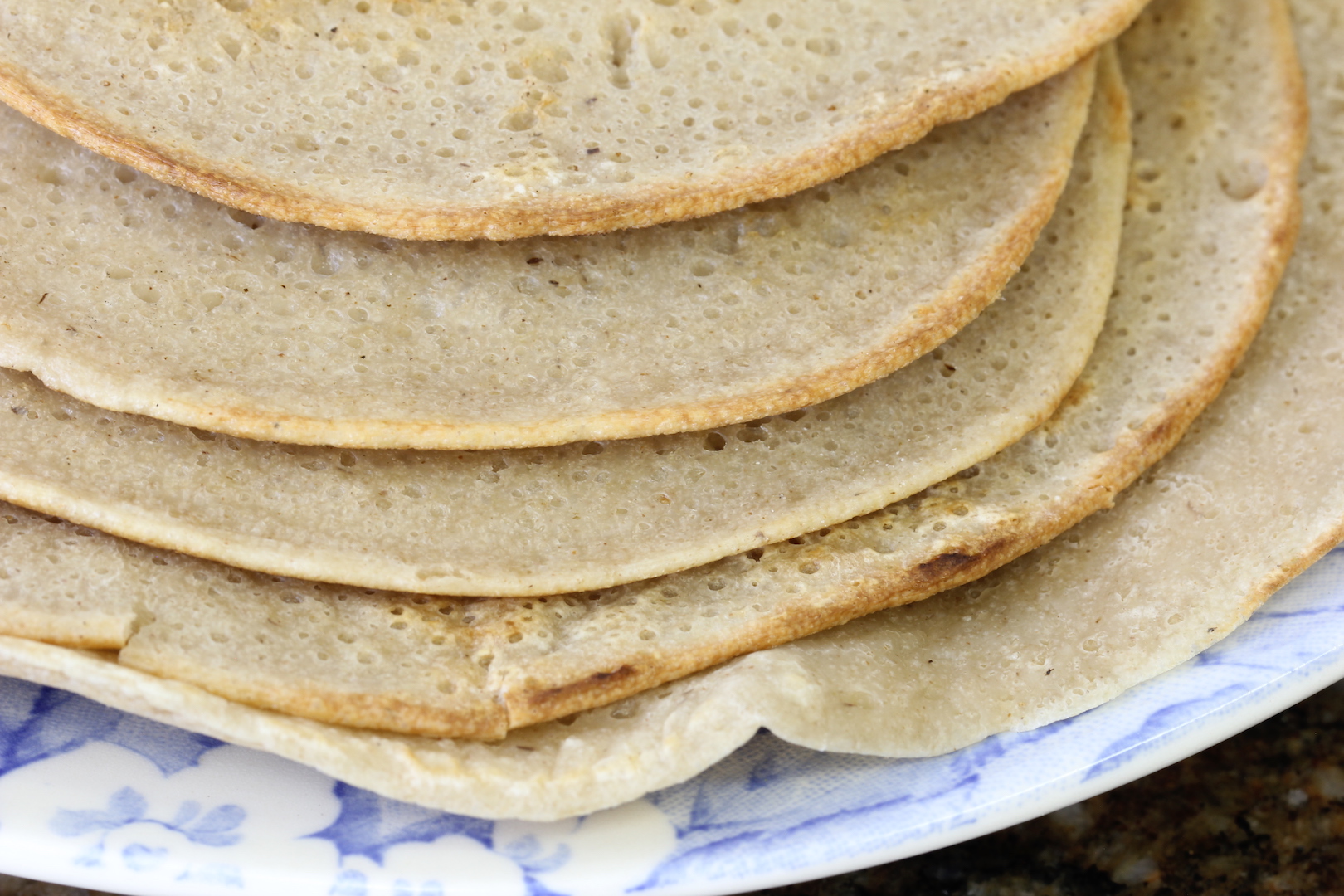 Print Recipe
Chickpea Pancakes
Nutritional benefits: It's a great source of protein and minerals. It's also a good way to support weight loss as it helps control the appetite and helps to control blood sugar levels as it is low glycemic and slows down the absorption of carbohydrates. 
Ingredients
For Chickpea Pancakes

3/4 cup gram or chickpea flour

1 fennel bulb (white part), finely minced

1/2 fresh coom green chili, finely minced

a few sprigs of fresh coriander, finely minced

1 tsp dried pomegranate seeds, crushed (see note)

1/2 tsp cumin seeds

1/2 tsp ground coriander

1/4 tsp ground turmeric

1/2 tsp fenugreek seeds, crushed

Red chili powder, to taste (optional)

1-2 tbsp Sunflower oil

For Tomato Chutney

50g/1.5 oz golden raisins, soaked in 1/2 of water

100g/10.5 oz ripe tomatoes, diced

1/4 thumb-sized fresh ginger root, finely grated

6 sprigs of fresh coriander

1 tbsp sesame oil

1 tbsp panch phoran (see note)

1 small dried red chili

1 tbsp tomato purée

100g coconut/palm sugar

1 tbsp apple cider vinegar

1/2 tsp ground coriander

1/4 tsp garam masala

For Sautéed Asparagus

6 asparagus

2 tbsp olive oil

1 tbsp aged balsamic vinegar

A pinch of salt

A pinch of black pepper
Instructions
1
Toast the cumin seeds in a dry frying pan for about 5 minutes.
2
Transfer the toasted cumin seeds and stir in coriander, fennel, green chili, chickpea flour, ground spices, and 220ml of normal water (add part and more as a need for batter); mix well and season with sea salt, black pepper, and chili powder to taste.
3
Grease a large non-stick pan with a little sunflower oil, then cook one pancake at a time until all the batter is used up. Stack the pancakes between layers of greaseproof paper until it is time to serve the pancakes.
4
Saute the raisin on medium heat with coconut oil and set it aside.
5
Heat the sunflower oil on a pan over medium heat.
6
Fry the Indian five-spice (panch phoran) till it crackles, then adds the tomatoes, ginger, coriander leaves, raisins, and the remaining ingredients.
7
Add salt and simmer for 20 minutes or until thick.
8
Place pan over medium heat, add olive oil and sauté asparagus for 2-3 minutes sprinkle salt and pepper.
9
Garnish asparagus with chutney and serve as a side dish to the pancakes. Serve with a generous amount of tomato & raisin chutney on the side.
Notes
Tips Panch phoran is an Indian blend of the five-spice mix, usually cumin, fennel, fenugreek, mustard, and nigella seeds. There are also Chinese five spices: cinnamon, fennel seed, star anise, and cloves. They use a variation for the fifth spice in different regions, call it a wild card amid white pepper, Sichuan peppercorns, and ginger.