Add to Favorites
Love making this recipe for my friends. This particular Emperor's Kurma is a unique South Indian Fusion preparation. The coconut milk, lemongrass, nutmeg, and mace give this Kurma special touch instead of yogurt or milk cream.
In India, each state makes Kurma uniquely their way. In different parts of India, they pronounce Korma or Kurma according to their culture. During their reign, the Emperors of India's Persian and Mughal empires commissioned their chefs to come up with extraordinary cuisines, a preparation with a cross-cultural link.
In this particular recipe, the flexibility of vegetables to use in Kurma or Korma, whichever you call it, makes this dish an indelibly versatile mix of gravy or Kurma, and vegetables will undoubtedly imprint in your memory the sensual fragrance and aroma for a long time.
Every state has its variety of Kurma or Korma in India, from the aromatic, smooth exotic, mellow coconut flavor of Southern India to the rich fragrance and slightly spicy taste of Northern India. You can make this recipe your own and enjoy this magnificent recipe's superb taste and texture. Or simply make your own version of this emperor´s kurma.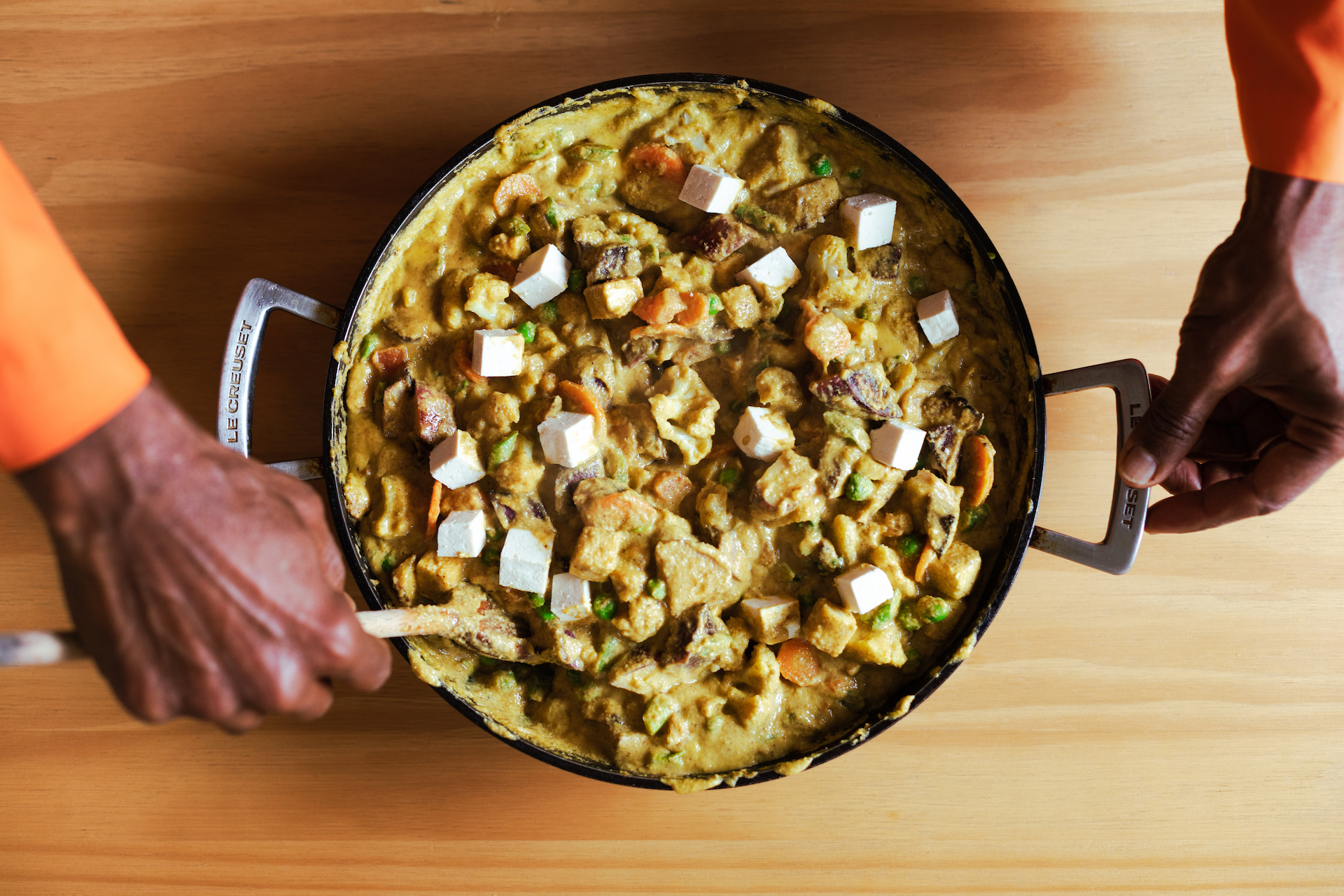 Print Recipe
Ingredients
Vegetables

1/2 cup Fresh green peas

2 medium carrots cubed size your prefer

2 cups florets of cauliflower

1 cup of sweet potato cubed and sautêed.

1 1/2 cup of tofu or paniir cubed

1 tsp nutmeg fresh ground

1 tbsp mace (nutmeg flower nut cover)

1 cup water

Spice mix for vegetables

2 cloves

2 cardamon

1/2 tbsp fennel seed

1/2 tbsp cumin seeds

2 tsp coriander seeds

1 tsp red chili powder

1 tsp asafoetida powder

1/2 tbsp turmeric powder

1 tbsp Cascas white poppy seeds

Blend all ingredients until a coarse powder

Masala for Kurma sauce

Add two green chili

2 teaspoon coriander leaves

1-inch fresh ginger grated fine

1 cup of grated coconut

2 tsp cascas poppy seeds soaked in water

1 cup coconut milk or cream

1 cup raw cashew nuts soaked in water and blended

2 chopped tomatoes

1 stalk of fresh lemongrass

Blend into a paste and cook in a saucepan.

1/2 cup ghee
Instructions
1
Add oil, cook the masala for 10 minutes, add cooked vegetables, add salt, and stir gently.
2
Grill tofu, and for non-vegans, you may use buffalo cheese. Add to the sauce just before serving.
4
Blend all spices into a coarse mix and set aside.
5
In a pot, add two tablespoons of ghee and sautee the spices; blend and add vegetables and cook until half cooked. and set aside
6
First, blend cashew and coconut cream into a paste and set aside.
7
Next, blend all the masala ingredients and cook all the spices made into a paste in ghee until it is all smooth and silky.
8
Add all vegetables and simmer for two minutes. Add paniir or tofu cubes, garnish with coriander, and serve it hot with rice or roti.
9
Add korma masala sauce to vegetables, mix gently, and simmer for a few minutes to incorporate all the flavors.
10
Serve Korma with rice, papadam, and salad. Lentil, grated coconut, and green peas.