Add to Favorites
Mung beans and spinach, Mung Fagioli el Verdura, As the name in Italian, in short, it is an easy-to-digest preparation for those who need to break their fast, which is usually done on new and full moon days.
The inspiration for this dish is Kidchuri, an old Ayurvedic recipe for mung dal that used to cleanse and rejuvenate the body as it's so nourishing, easy to digest, and is great for rebuilding the body. In Ayurvedic culture, people are sometimes recommended to eat just this dish for a week or more – mung dahl for every meal! Kidchuri is a vegetarian equivalent to chicken soup.
On average, every four months, it's wise to a cleanse depending on your lifestyle and diet, or just for a day in a month do a mono diet. Just mung dal for breakfast, lunch, and light vegetable soup for early supper that does you an of the world of good.
Mung beans, which have a green covering and small yellow beans inside, are among the most alkaline beans. When you get them at the store, they're usually split yellow. To facilitate digestion, soak the beans overnight; it will also speed up the cooking. As the beans swell and sprout, the nutrients multiply. They're excellent sources of folate, soluble fiber, and rich in amino acids, which is important for the cells to produce protein and regenerate. These beans are also great sources of Vitamin B complex, calcium, and potassium.
While it is a cleansing dish, it's also comforting and creamy. Mung dal mixed with coconut milk at the end of cooking is like soul food. Try it! I'm sure you will love this dish. Read further below to know how to make this lovely dish.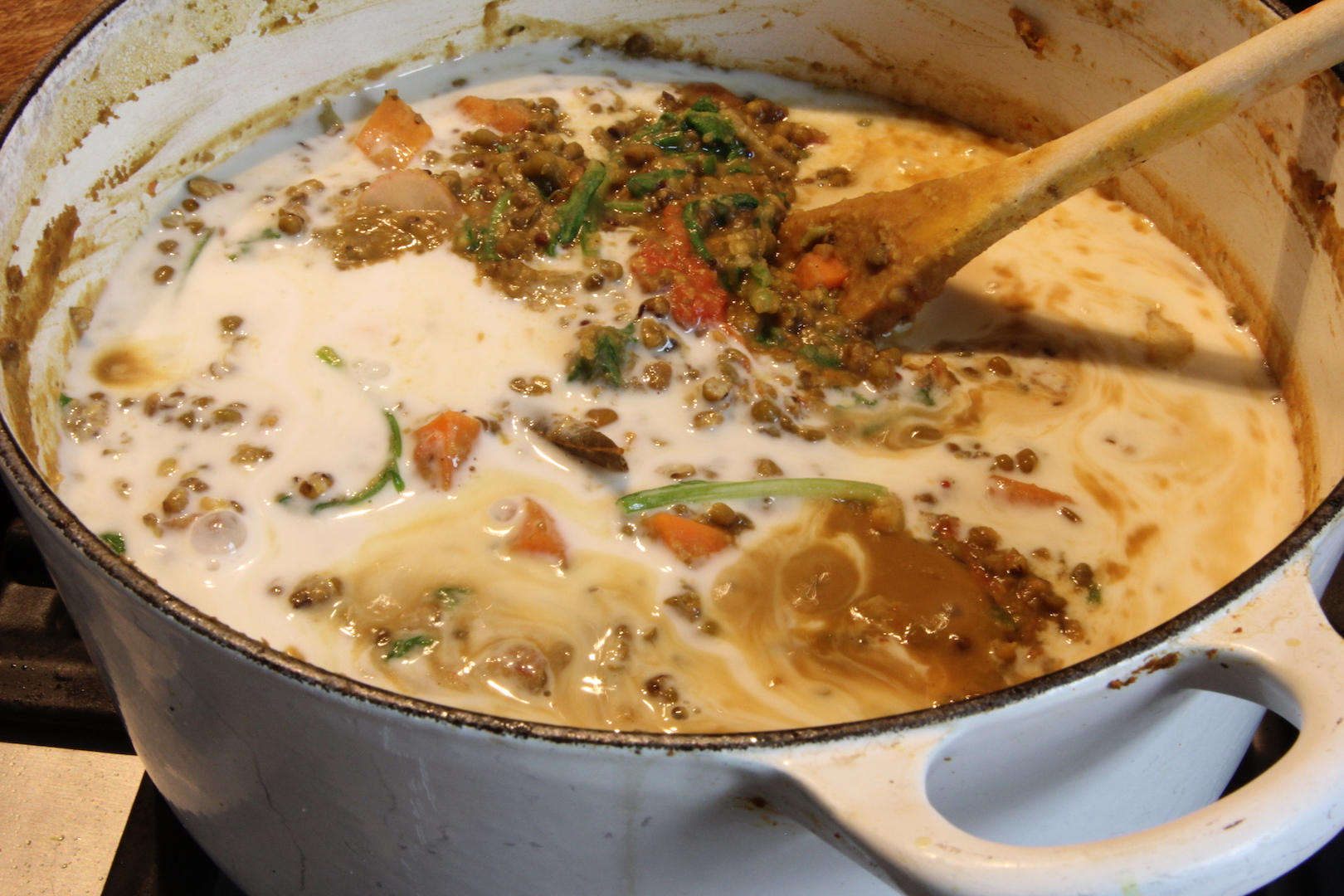 Print Recipe
Mung Fagioli el Verdura
Health Benefits: Mung beans are considered to be one of the healthiest legumes. It has a low glycemic index, making it safe to consume for diabetics. They contain a lot of alkaline minerals like calcium, magnesium, potassium, and sodium. They also contain a lot of Vitamin C. They contain carbohydrates, proteins, and dietary fiber. From an Ayurvedic perspective, mung dal is traditionally used to cleanse and detox the body. Mung is unique in that it is both nourishing for the tissues and immune system (due to its sweetness) and light and easy to digest. Its sweet quality helps soothe and calm the body and is Sattvic, which means it aids in the direct cultivation of peace, clarity, and contentedness.
Ingredients
17.6 oz / 500 grams of mung beans

4 large layers of fennel bulbs, sliced sauteéd

2 thumb-sized ginger, grated

2 large carrots, cubed

2 medium zucchini, cubed (optional)

6 baby radish, finely diced, and save the greens on top

2 handfuls of greens, e.g. baby spinach, baby kale

2 handfuls of coriander, stems and leaves, finely chopped

Juice of 1 large lime or lemon

1 large lime or lemon cut into wedges for serving

2 cups of water extra to make dal soupy

1 tbsp coconut oil (non-vegan ghee)

Sea salt or a gluten-free soy sauce to taste

Approximately 2 large pinches of sea salt and 1 tablespoon of Tamari

1 tsp of freshly crushed corn of black pepper

1 tbsp freshly cumin powder

1 tbsp turmeric powder

1 tsp freshly ground coriander seeds

1 tsp whole coriander seeds

6 cardamom pods, crushed open

10 pieces of fresh curry leaves

1 fresh green chili to taste (optional)
Instructions
1
In a large pot, soak the mung beans for a minimum of 6 hours or overnight. Remember that they will swell and double in size, so it's good to use a large saucepan or bowl.
2
Drain and rinse the beans, add fresh water and cook for about 30 minutes, or until beans are soft.
3
You can enhance the fragrance of the spices by dry frying these in a large deep frying pan for a minute over medium heat - keep stirring to prevent burning.
4
Add ginger, diced chili at this point if you like this a little spicy.
5
Add coconut oil/ghee in the same pan and fry the fennel until soft and brown stirring occasionally.
6
Next, saute the hard vegetable first. Add carrots and kale to the spices then add salt, pepper, and other vegetables.
7
Add the sauteed vegetable and spices to the cooked mung dal.
8
Give it stir and allow to simmer until half-cooked with the lid on for 3-5 minutes over medium heat.
9
Pour more water if you want the dal little soupy.
10
Stir with a spoon to prevent burning at the bottom of the pan.
11
When it's all done add in the chopped coriander, radish greens, and coconut milk.
12
Enjoy with a juice of lime or lemon (optional).
Notes
To really enjoy the flavor and taste use organic/natural ingredients wherever possible.