Add to Favorites
Beetroots, otherwise known as Beets, are popular root vegetables that originated in the Middle East. A quick look at its history: at first,  it was being cultivated for its greens, but eventually, the plant's root made its way to the kitchen table. It's also popularly used for food coloring and medicinal purposes. 
There are many varieties of beets, some coming from existing varieties. Most beetroot varieties have a deep crimson hue except for sugar beets which come as a conical white root crop. Sugar beet is mainly used as a source of sugar, starting in Poland, then spreading to France, as decreed by Napoleon. Soon enough, the production of sugar using sugar beets became more popular across the European and North American continents. 
 This root vegetable has a lot of health benefits. While it's the vegetable with the highest sugar content, it's a rich source of iron, folate, calcium, magnesium, potassium, vitamins A, B6, and C, and soluble fiber, and it's full of antioxidants.  The high concentration of nitrates in beets also helps keep the blood pressure in check.  Recent studies have also shown that drinking beetroot juice helps improve athletic performance due to its nitrate content. 
This beet-spiced wedges recipe is a great starter or snack and can easily be served at parties at buffets. The spices lend a pungent kick to the earthy tones of the beetroot wedges.  These also taste great with any dip or sauce. You can check out our sauces and dips here.  Sauce for the wedges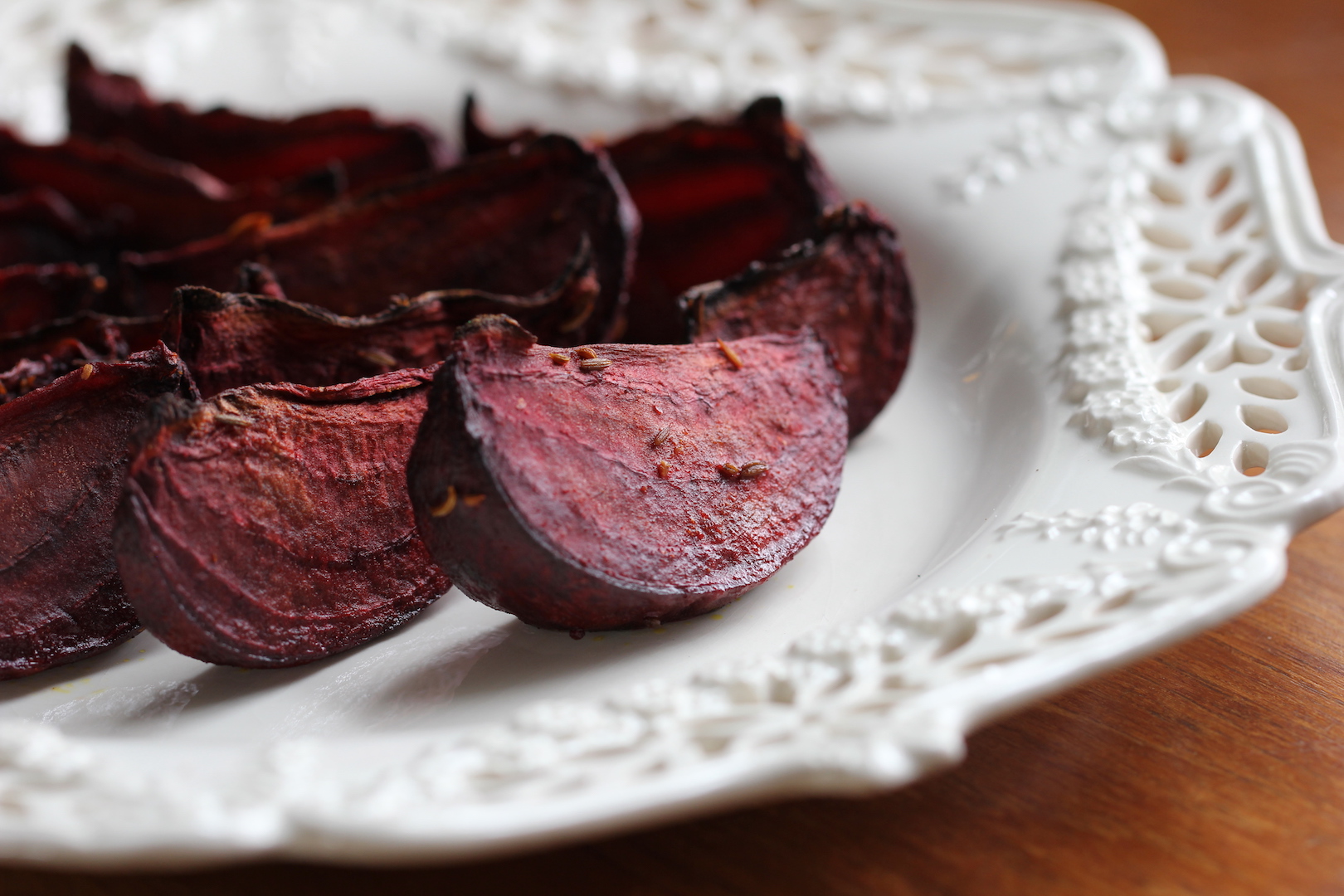 Print Recipe
Beet Spices wedges
Like most vegetables, beetroots also prevent cancer and inflammation. The vegetable sugar content in beets helps boost your stamina, which also supports detoxification. Beet greens are packed with nutrients that help strengthen our immune system and support brain and bone health.
Ingredients
2 medium beetroots

1 tsp cumin powder

1/2 whole cumin seeds

1 tsp turmeric powder

1 tsp brewers yeast

1 tsp smoked paprika

1 tbsp olive oil

Salt to taste
Instructions
1
Preheat the oven to 180°C / 356°F.
2
Peel and cut the beetroot into wedges.
3
In a bowl, add all spices, brewer's yeast, oil, and 2 tbsp of water.
4
Add the beetroot wedges and toss until the beetroot wedges are well coated in the spice mixture. Season with salt.
5
Arrange the beetroot wedges evenly, without overlapping, on a baking tray and bake for 20 minutes until cooked through.
6
You can serve it with coconut cream or any sauce you prefer.